indie art & design blog
feature artist: madeleine stamer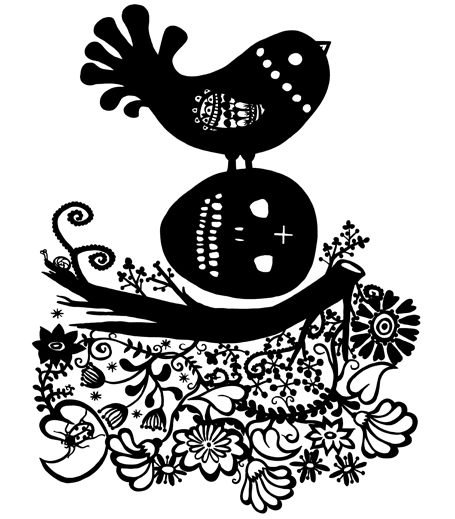 indie art & design first featured the work of Madeleine Stamer back in February 2007 - almost a year ago now! Since that time, Madeleine has created many gorgeous new works and has also joined The Jacky Winter Group. With the Group exhibition on in Melbourne tonight, we wanted to revisit the work of this inspiring artist & delve a little deeper into her motivations and creative process.
Madeleine's work is strikingly beautiful. Her line work is bold & fluid. The shape of her subjects has been simplified, yet within the lines, the characters are richly adorned with symbolic designs. To learn more about her unique style, we asked a few questions...
I For many of your works, you use either black & white, or a limited colour palette consisting of reds, pinks & yellows. These colours create a beautiful aesthetic... How do you choose your colours & what do they signify in the artworks?
MS Over the years, I have modified and refined the use of colour. This has been a challenge for me, as I love going berserk with it! I would use colour indiscriminately, kind of like when a child draws an outline and picks the 'right' colour to fill the space, it was always a random choice and my reasoning would be 'what ever felt right at the time' sort of mentality. Now I put more thought and effort into my colour choice, which I guess, isn't as spontaneous.
I love using a monochromatic palette and creating basic black & white images. The two techniques are quite separate. When I use colour I tend to be more unplanned and unscripted. The result is often more painterly, decorative and busy. The colour choice is often symbolic to the subject matter; the two go hand in hand. My black and white images allow me to have more control over my work. I like the primitive and simplistic nature of bold organic line. When I limit myself to a black and white palette, the process appears simple and less decorative yet it is very time consuming because I aim to be neat and thorough. I am dead keen to start a series of drawings limiting myself to blues and a yellow series too. Finding the time is the biggest challenge!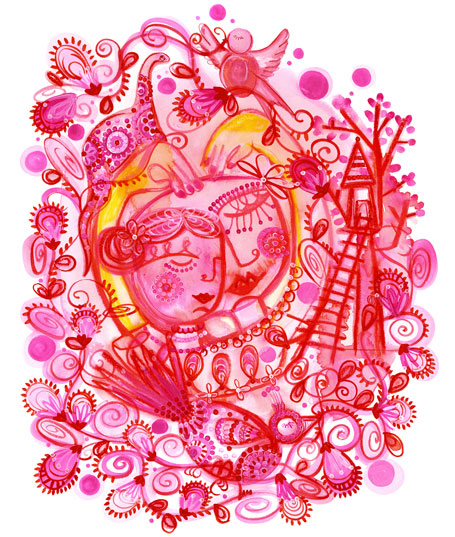 I What have been your biggest influences over the years & how have you developed your unique style of painting?
MS There are so many influences which fall into many categories. Nature, natural history, mythology, graffiti, Aboriginal art, European folk art, vintage toys and the decorative arts all play a big role. I love a bit of kitsch too, I guess the most significant artistic influences for my colour and line choice would be Picasso and Chagall. Culturally I am a sucker for folk art, particularly Mexican ceramics and traditional Mexican decoration and religious iconography. The Mexican culture has an instinctive way of including vibrant colour and mixing surreal elements in everyday life, it is a sensory delight!
It's not all sweet and saccharine, my influences are wide and varied and I love badass, lowbrow art too. Artists such as Mark Ryden depict the mysterious darker side of life, his work is amazing.
Painting/drawing has always been second nature to me and has developed instinctively. I have never considered myself a particularly strong drawer, however, I love every aspect of the painting/drawing process. Compared to ceramics, you are guaranteed a relatively risk free outcome. Working with clay you are up against so many odds. A lecturer once insultingly compared my style to that of 'cake decoration' which I thought was a laugh and probably an accurate description! My background is in ceramics, so when I would design a piece I'd always draw a detailed image representing the 3D form. My ceramic pieces were at times more of a sculptural palette for my drawings, heavily decorative and patterned hence the cake decoration comment...
I draw the way I do because I'm inspired to create from the heart with a little injection of humor (as trite as it sounds) but that's how it happens for me. This attitude gets me in trouble sometimes as I wear my heart on my sleeve!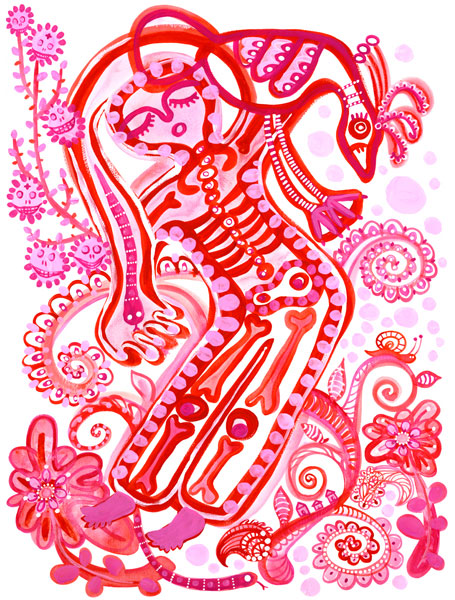 I Are the skeleton shapes within your living forms about the physicality of being alive (& how it feels to interact with nature), or the inevitability of death & how the body will continue in the cycle of the natural world..., or something else again?
MS All of the above and more! The skeleton characters are inspired by my fascination with mythology, natural history and interest in Dia de los Muertos (The Day of the Dead). The Mexican culture has an irreverent way of dealing with life, death and grieving. The attitude towards such inevitable events are dealt with in a deeply spiritual, joyful and playful manner, something Western culture should adopt more often. Calaveras (skulls) and skeletons represent passed loved ones and commemorate the souls of the dead.
I have always had an affiliation with Mexican art and craft. As a child, my Mother decorated the home with hand made Mexican ornaments which I loved. When my Father passed away, I began using skeleton imagery increasingly in my work to celebrate his posthumous journey and to represent his spiritual presence. My skeleton characters always signify someone special, be it person, bird or beast.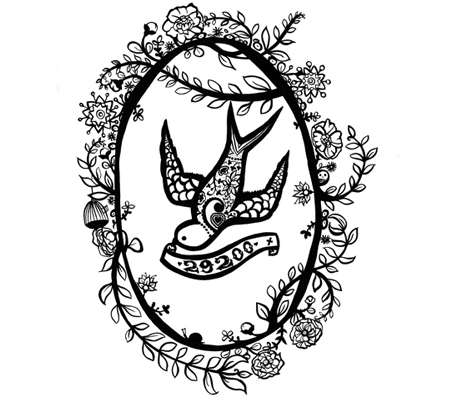 I You obviously have an affinity with the nature - the people you depict are very much a part of it too. Is this a reflection of the way in which you view the world, or are your images more from a dream world?
MA A combination of both. I had an idealistic childhood; my parents worked hard yet prioritized family life. I am the youngest of five and I am very close to my siblings and adore my parents. We were never spoilt but we were privileged in the sense that my parents invested so much time and love with all of us. My Father instilled a love and respect for nature in me and both parents always encouraged my love of art. I have always had a vivid imagination and a yearning to daydream which is something my parents also encouraged. Such imagination and naivety led me to believe that Father Christmas, the Easter Bunny, Gnomes and other phantasmagoric creatures were real even as a (early) teenager! My images contain anecdotes from life, often spiced up with a dream snippet or two. In a perfect world I'd be surrounded by animals and family living harmoniously in a magical realm. This is easier to make happen with art.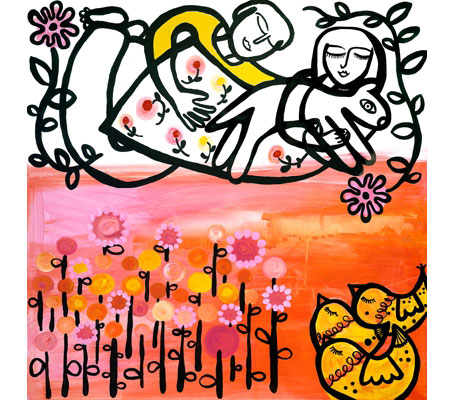 I One recurrent theme in your artworks seems to be family relationships - has becoming a mother influenced your choice of subject matter or the way in which you depict relationships?
MS Becoming a mother and being married to a very supportive husband has certainly cemented and validated the use of such imagery. Being brought up Catholic I have always had a fascination with the symbolism of Madonna and child, angels and devils and a healthy balance of good versus bad. When I create a mother and child scenario, it represents various relationships such as me with my daughter, or my mother or an ode to motherhood/parenthood in general.
Many of my drawings make strong reference to an experience or contain sentimental significance. 'The Second Month' and '29200' are dedicated to my Father. He passed away on February 29 2000, a very unusual and tricky date to commemorate being a leap year. Although my art is very personal, I welcome people to interpret their own special meaning. It is not exclusively intended for my eyes only. The physical making of the work is a cathartic process which is very rewarding. I am not sentimental to the extent that I don't want to share the true meaning and symbolic gesture of the work with outsiders. So many people share similar experiences in life. My work is intended to be joyful and enjoyed by many.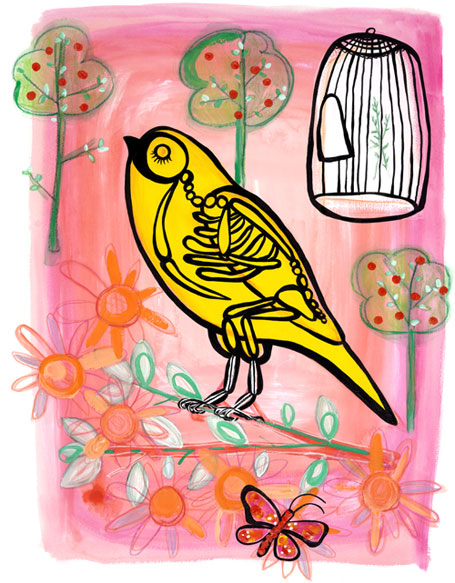 'The Happy Warbler' is another work that depicts fond childhood memories infused with anecdotal reference. The image is of a canary in skeleton form. We always had canaries growing up and one of my favorite movies was 'Birdy'. Such beautiful looking creatures with the song of an angel. The title is also inspired by something an old gentleman said who lives around the corner from us. He explained that the local wild rabbit that has survived on its own for several years, was left behind by a family when they sold their home. He refers to the rabbit as 'the happy wanderer'. This is a true story! It has befriended neighborhood cats and they sit side by side in alliance on the driveways (I've seen this with my own eyes!) It lives under houses and is fed by the locals who throw carrots to it. I haven't seen the rabbit for a couple of months but apparently it is doing fine…
I I love the new works you've added to your web site! Is there a particular focus you're working on at the moment?
MS 'fierce protectors' and 'wake up sleepy' are the first in an ongoing series of work dedicated to my imaginative little characters affectionately called bird buddy worms. Birds are an important aspect of my work and they are a reoccurring theme, birds symbolise and represent many facets of my personal life. I have introduced the fierce looking worm buddys who guard and protect the birds against oncoming harm. Unlikely guardian angels perhaps...
In a nutshell: These chubby, slow floating and loyal creatures with sharp teeth blow vaporous bubbles in the direction of nasty beasts which threaten the idealistic existence of birds. The attackers are met with a cocktail of gaseous wafts which inflict short term paralysis. They are often caught in their own back fire thus falling prey to their assault. Fortunately the experience is short, sweet and strangely pleasant with no documented side effects if it entails a soft landing.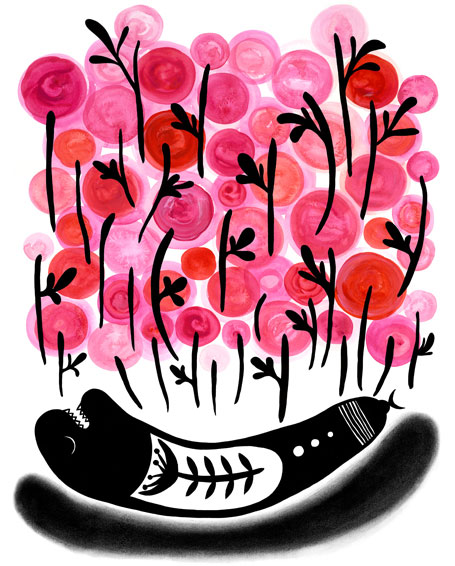 There is an unwritten law within the bird world that no worm shall ever be pecked, scratched or harassed and nest sharing is encouraged. Empty and used egg shells may be given as treats. Sounds strange but I enjoy working on these kooky little chums!
I How did you come to be a part of the Jacky Winter Group, and which of your works will be on show at the Group exhibition?
MS In 2007, I was privileged to become part of The Jacky Winter Group. The agency was established by Jeremy Wortsman, a truly lovely person dedicated and passionate about contemporary Australian illustration. He currently represents 24 amazing Australian artists all with unique and varied styles. I feel very humbled to graze in such pastures and pinch myself every so often to remind myself of my good fortune. I think all my planets were aligned the day I emailed Jeremy my portfolio. He had come across some of my images along the way and he was keen to meet up and view my work in the flesh. The moment I met Jeremy I sensed his genuine interest and enthusiasm. He refers to the other artists in the agency with such respect, passion and pride.
The Jacky Winter Group is named after a native Australian Robin that shares the same initials with Jeremy. This instantly hit a soft spot with me due to my fondness of all things feathered. The agency is having its launch December 20-21 at The Carlton Hotel Gallery in Melbourne. Each artist from the agency will display a small selection of work spread across nine rooms. I have 2 pieces available as 100 x 120cm limited edition photographic C type prints. One is 'Birds are both beautiful and fascinating' (pictured at top) and a new image titled '3'. It will be a grand celebration to end a momentous year.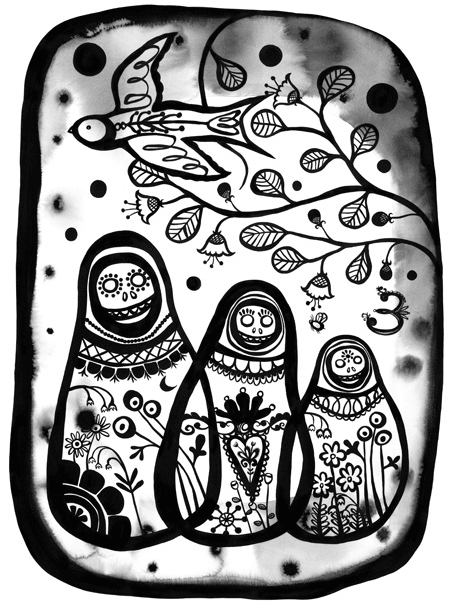 I Thank you Madeleine, for this wonderful insight into your artworks & creative process! To see more of Madeleine's work, visit the Little Circus Design web site - Limited edition giclee prints and selected original paintings are also available to purchase. Best wishes to all the artists exhibiting with The Jacky Winter Group tonight :)
Thursday, December 20, 2007.