indie art & design blog
magic graphics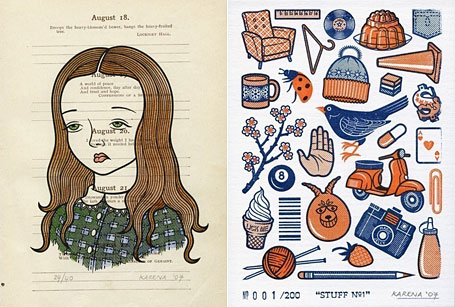 Could I be under the influence of a sugary spell, or have I simply fallen in love with the wonders of Magic Jelly? I have a feeling that the powers behind this flavoursome label have decided to use their artful magics for good - with just hint of evil here & there. The powers of which I speak take the form of Karena Colquhoun, a professional artist, illustrator & designer from Adelaide. She has an impressive range of artworks & gift items available for sale through her Etsy store at www.magicjelly.etsy.com and you can also find her at www.magicjelly.com.au and her blog www.magicjelly.typepad.com.
Pictured above are two limited edition art prints. On the left is "Miss Ruby", a hand-painted screen print from a limited edition of 40. Here, the inspiration, image and substrate have been intertwined to create a unique work. The gaze of the subject transfers her character into the present while the viewer is taken back almost 100 years into the past. Karena has printed onto pages of an old damaged book called "The Tennyson Birthday Book". The book itself was given to Miss Ruby Holder on her birthday, 29.3.1911. Since the book is filled with the hand written names of her friends and family, Karena chose to depict Miss Ruby, looking a little weary as she may have done after posing for a portrait photograph from that era. She created the print (US $35.00) using her Print Gocco and hand-coloured the image with acrylics.
On the right, we have the popular "Stuff No. 1" limited edition Gocco screen print (US $12.00). This is Magic Jelly's tribute to spot illustrations & limited colour palettes, a celebration of halftones, ink & paper! Light-hearted in orange & indigo, it is filled with the flotsam & jetsam that collect in our lives & remain vivid in our memories.

Among the Magic Jelly goods on offer are the greeting cards "Magic Jellies" - such a jaunty design (as my great aunt would say!), and "Heart Attack" which spreads the peace & love with little red hearts (US $4.50 each). Both have been screen printed using the Print Gocco. Isn't it great when your greeting card really is a gift in itself?
The pocket mirrors pictured above would make fantastic gifts. The "Black Forest" design (US $12.50) comes personalised with the recipient's name, surrounded by a few shadowy friends, and the "Good Dog" (US $9.50) is my favourite - his zipped up smile is so cheeky & his brown eyes so adoring! The Magic Jelly packaging with handprinted backing cards tops it all off.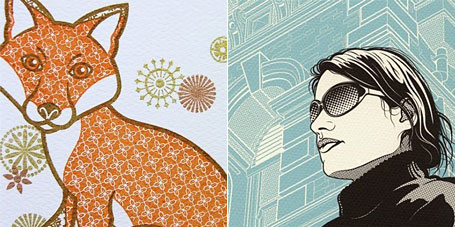 Above left is the 4 colour Gocco limited edition screen print "Fox and Flowers" (US $12.00). The fox's coat features a gorgeous orange pattern, complimented by the floral star shapes in the background. The "Sunday Morning" digital art print (right, US $12.00) is a striking comic-style illustration named after the Velvet Underground song of the same title.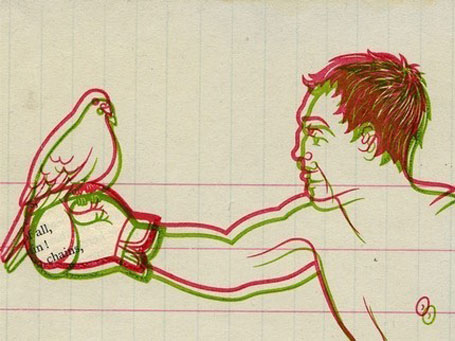 "Floyd's epiphany arrived in the shape of a fat white dove just as he was about to deliver a killer right hook to his opponent. He pulled off his gloves & went for a walk in the sunshine... Everybody needs an epiphany sometime!" (from Magic Jelly's description)
This two-tone image has been Gocco screen printed onto the pages of a surveyer's notebook from the 1930s. The inks are vibrant and the double image seems to suggest the moments just before and after that sudden change of heart. Another detail that you may not notice at first, is the boxing gloves have been cut independently from a second page of text creating a subtle contrast between the gloves & the rest of the image. Another limited edition, is it available for US $18.00.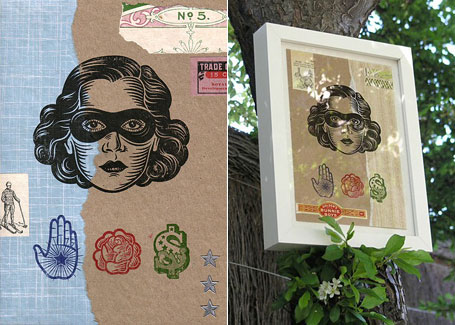 "No. 5" (left, $45.00) is an original mixed media artwork from the "Benediction" series of 60 unique pieces. It features screen printed and collaged elements (from vintage ephemera and new papers). There is a wonderful balance created by the careful selection & placement of textures and colours, and by the arresting gaze of the masked woman's face. The photograph on the right shows a different piece from the "Benediction" series framed.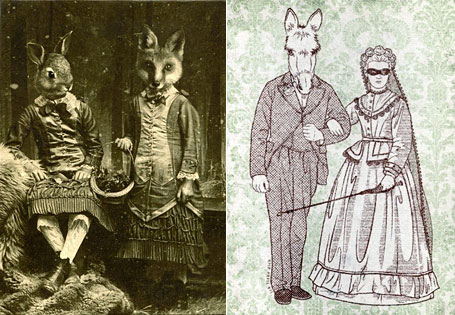 Both the images above are limited edition art prints on canvas panels. On the left is "Gone To Earth, Plate Two" (US $18.00), an eerie meeting of fairytale woodland creatures and a carefully arranged human portrait. "Giddyup" (right, US $18.00) is similarly wicked but drawn in the elegant style of vintage engravings, using lines & halftones.
One final surprise: when I contacted Magic Jelly (whom I discovered on Indiepublic), Karena was kind enough to offer me some of her goodies as samples! So the first Indie Art & Design giveaway will really be something special - certainly not to be missed! Stay tuned for my next post...

Sunday, October 07, 2007.