indie art & design blog
fruits & flowers
Wednesday, September 05, 2007 | by Carolyn Price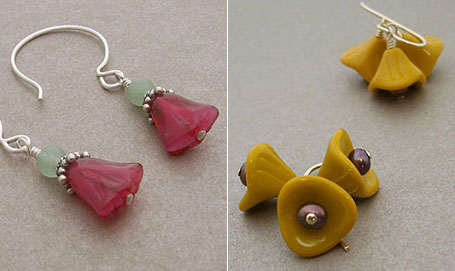 Jewellery designer Renee from Cocoapod lives in a cute little town in Western Australia, where she draws inspiration the different people & cultures that surround her. She loves things organic and retro - a passion clearly evident in her unique beaded earrings and accessories. Renee sources vintage glass beads and combines them with natural materials such as wood, fiber and freshwater pearls. Rounded, irregular shapes and slightly muted colours characterise the range which is feminine and quietly sophisticated.
Pictured above left are the Dew on a Petal earrings (US $15.00), for which Renee has placed a serpentine dewdrop atop a fuchia Czech glass petal, accented with a silver lacey cap. Such pretty colours & such a peaceful concept! The Retro Blooms earrings (above right, US $17.00) are probably my favourites, with the clusters of mustard yellow Czech glass blooms and burgundy freshwater pearl stamens. (I must confess to being a bit of a nature nut myself.)
Rich desert colours distinguish the Desert De Chocolat earrings pictured below right (US $15.00). The pink glass cubes feature horizontal colour variations in which you can imagine sandy sunset horizons... Finally, I just had to include the Vintage Strawberry hair slides (US $4.50 each). What can I say - they are too cute! All of these pieces and more are available from Renee's Etsy store at www.cocoapod.etsy.com.