indie art & design blog
feature interview: poppies for grace
Welcome to another Indie Art & Design feature interview! This time round, we are graced by the virtual presence of Alana & Sara from stationery label Poppies For Grace.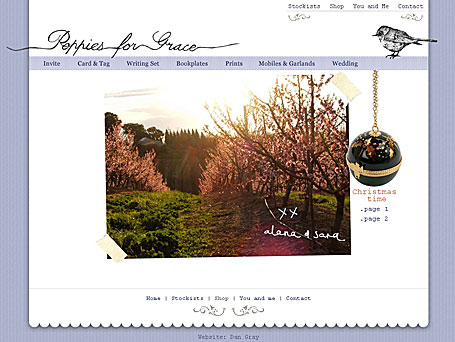 I Hi there girls! The new web site looks fantastic – what sort of response have you received to the new design?
PFG The site is doing really well, we're getting a great amount of internet orders without specifically setting up online purchasing. By the end of the year we'd like to have something more official set up. Our web designers skill to capture our style and put it onto a manageable, user-friendly site has delighted us. Finally we have a site to be proud of!

I You have such a large selection in the new Poppies collection – did these come together all at once or have you been gradually building up the new range over many months?
PFG The new poppies collection happened rather quickly. Its always an effort to get the image in my mind onto paper..however this time round it happened in a matter of weeks.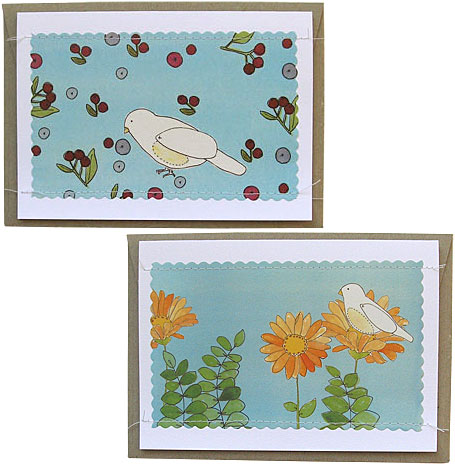 I Do you have any particular favorites – either favorite cards styles or design characters e.g.. the birdie Alfred?
PFG Sara's favorite is our Alfred berry card... it was the middle of summer and we escaped to the cool of my kitchen to work. I drew a little bird, cut him out and put him in my hand... alfi was born. I adore the entire alfred range, the colours came out better than I'd hoped. And who doesn't love a scolloped image!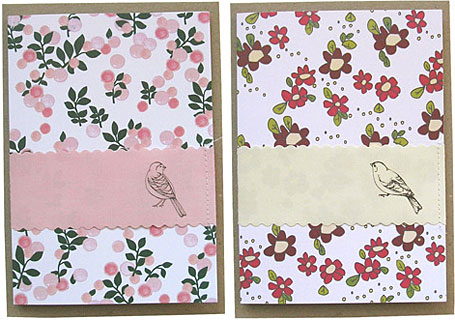 I Quite a few of your products are hand assembled & stitched which must take a lot of work! I imagine that your stockists & customers really appreciate the handmade aspect of these details… Is this something you do yourselves & how do you manage the workload?
PFG Yep, we do all the assembling ourselves. When it's a busy week all I can say is thank goodness for Mothers, our mums are such great workers! We also have another friend we employ two days a week to help us pack orders.
Sara does most of the sewing, and we have a friend who sews for us for a few hours a week. The workload is getting bigger, so we will have to start thinking of employing some more helpful hands.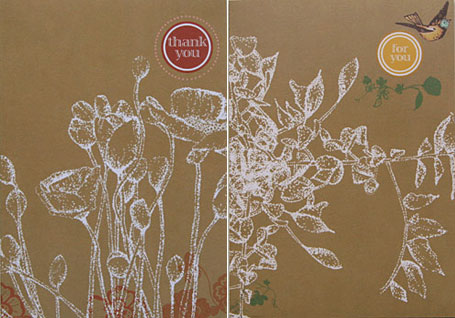 I The subtle textures & colours of paper goods are so lovely – what sort of papers and printing methods to you use to make the most of the medium?
(I love the effect of the white botanical images on the natural coloured background – have these been screen printed to achieve this effect?)
PFG Our printing is all offset and digital. We would love to add things like screen printing and letterpress to our range, however there are other brands like 'me and amber' and 'chapelpress' doing a really great job of these areas already. So we're happy to keep it simple.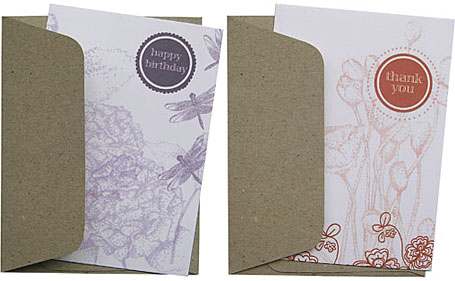 I Not only do you provide us with contrasting textures on individual cards – you have also assembled boxed sets and three exquisite writing sets, Sycamore's Handwriting, Three Little Birds and Lovely Day. Tell us the story behind these offerings!
PFG The imagery for these sets came about really quickly, the rest came a little slower. Sourcing suppliers is a tricky business, and being young women, who look 16, its hard to be taken seriously. We got there in the end though, and we are really happy with the finished product. Adding writing sets and boxed cards to our collection meant that poppies became a stationery brand, enabling us to target the gift market more successfully.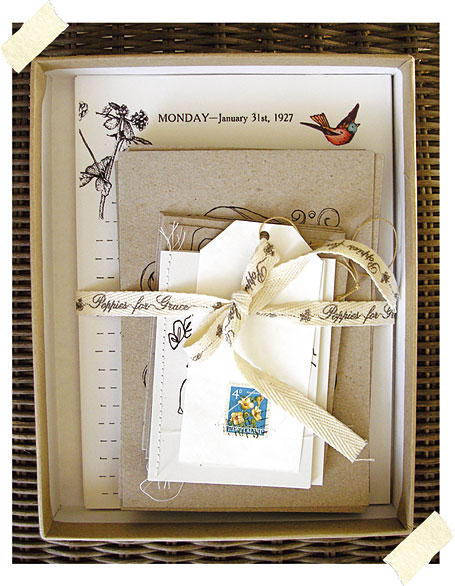 I Where do you find your inspiration? From your own garden perhaps?
PFG My garden is a jumbly mess of wonderful things like lilac, roses and wisteria, and just outside its gate is 50 acres of orchard. Living and working in this environment is definitely my inspiration.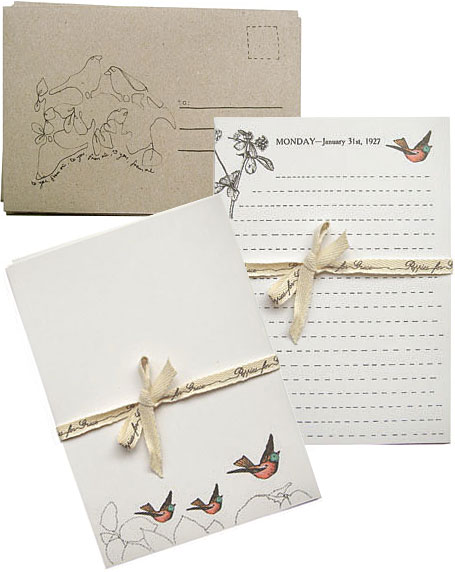 I How do you find working together? Do you each take on separate roles, e.g.. drawing, assembling, marketing etc, or do you both take part in every step? Have you been able to make the business a full-time pursuit, and if so, do you have to be super-organised to keep it all under control?
PFG Organisation is not my strong point, but I'm learning. As poppies is full time now for Sara and I we split up roles. This way more gets done. Sara is the business brain (thank goodness) and I am the illustrator, anything outside these areas we share. Working together is easy, we've been friends for 13 years, so we know each-other idiosyncrasies fairly well!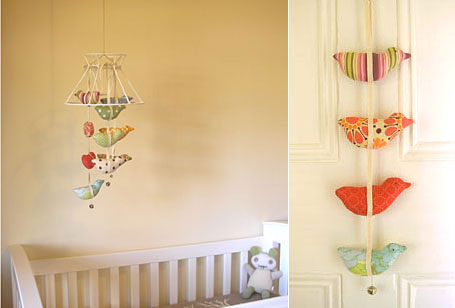 I The mobiles & garlands are a beautiful three-dimensional addition to the Poppies For Grace avian lineup. Do you see these as an extension of your paper goods range, or are you planning to grow this section of the business into a large part of what you do?
PFG The mobiles and garlands began as gifts for friends, Abigail (one of our favorite little girls) has kissed every bird we've made, which has meant these birdies have become rather precious. We're going to continue selling the birdies online, but to keep them as personal as possible we won't be offering these to stores.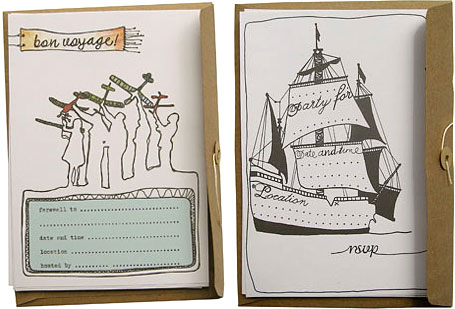 I On the new Poppies web site there are 'coming soon' pages for both prints and wedding products. I'm sure many Poppies fans are looking forward to seeing what goes up! Can you tell us about these awaited additions or is it all under wraps until launch?
PFG We're keeping it a secret. Just for fun!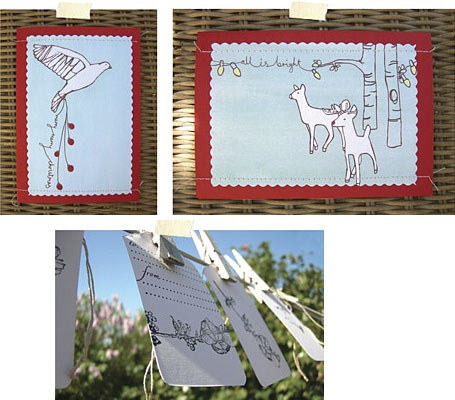 I How would you like to see Poppies For Grace develop in the future?
PFG We've enjoyed watching poppies develop naturally, we're just trying to keep up with it now. We are so happy to be in so many wonderful stores, and it's fantastic receiving emails and letters from people who are loving our things. What more could we ask for really. We are doing what we love.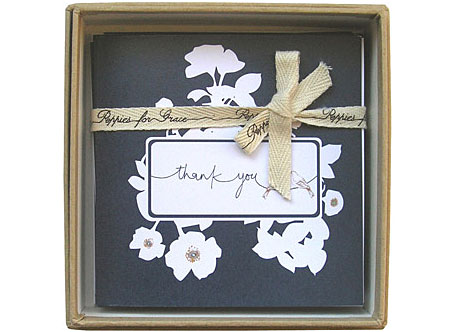 I Thank you so much Alana & Sara! I'm sure all of our Indies will love reading about your gorgeous paper goods.
Monday, October 29, 2007.