indie art & design blog
postcard from hope street
Sunday, October 14, 2007 | by Carolyn Price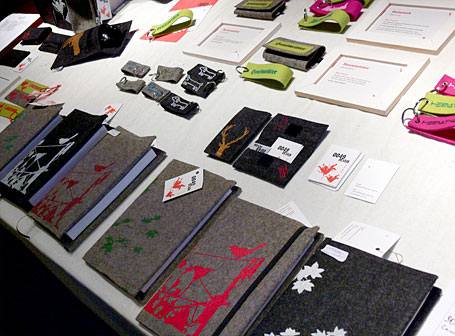 Hope Street Markets was certainly a popular desination on Saturday 6th!
I braved the hayfeverish winds sweeping Sydney that afternoon, and made my way to 182 Campbell St - a frosty white building which was positively glowing on the inside with a dizzying mix of colours, stalls & design enthusiasts.
A wonderful mix of indie products were on offer. Downstairs were labels such as People Like Us (who gave me a plastic wind-up walking owl), Kara Smith with her delicious handmade handbags, Made by White with their chirpy perspex jewellery friends, Ellenade with her assortment of handmade hats, 0049 Design, Dark Cloud Silver and many others...
0049 Design (whose stall is pictured above) uses 100% wool-felt to produce
a multitude of "living accessories" featuring screen printed graphics and/or German typography. The crisp designs look really striking against the soft textured felt. The diary & book covers were perhaps my favourites - all designed to be reusable, so when you fill your latest sketchbook with doodles & ramblings you can transfer the cover straight onto a new one. Among their other products are bookmarks, sunglass cases, felt storage boxes and keyrings - one of which features the outline of a very cute sausage dog! These gorgeous felt goodies would make lovely original gifts.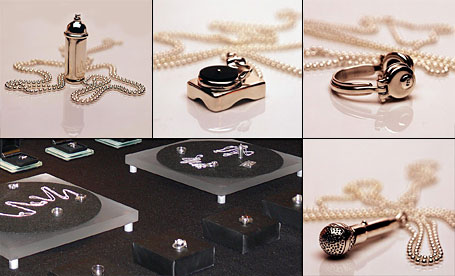 The Dark Cloud Silver stall looked very luxurious with their shiny silver pendants & rings displayed against a slinky black background. The microphone, headphones, spraycan & turntable designs pictured are beautifully crafted and offer something completely different from the usual fare. They've combined the "urban" with the "precious" to create an intriguing range of jewellery pieces which are truly unique.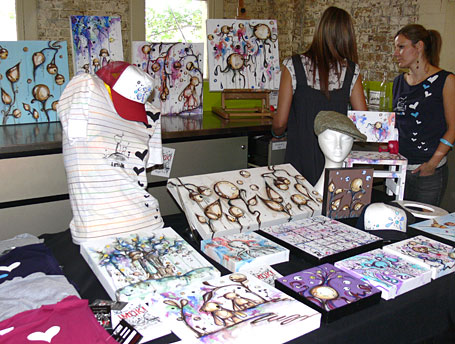 Here is the Imok artwork I wrote about in last week's post! The Imok girls had an upstairs stall where their characters came to life under the natural afternoon sunlight. The stall was busy with colour, and the canvasses were surrounded by t-shirts, hats & accessories - all sharing the Imok philosophy "I'm ok…if you are?".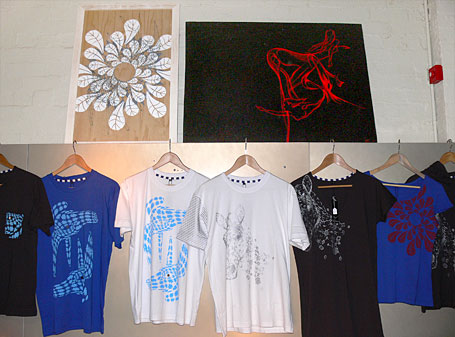 The indie flavours continued upstairs with labels such as Fine Cloth, Little Angry Fang and Meet Tyrone (whose stall is pictured above). Designer Bill Chen has recently released his Spring Summer 07|08 collection titled "Animals in 3D". Featuring four different prints, 'Diamond Horse', 'Anubis', 'Reindeer' and 'Swallows 'n' Feathers' - each design is an experiment with popular geometric art, lines, shapes and patterns.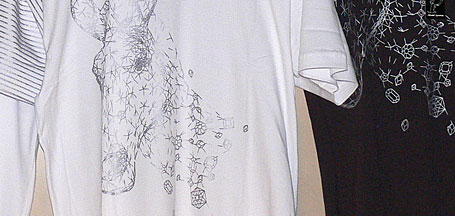 The Diamond Horse design from Meet Tyrone was my favourite, and is pictured in detail above (printed in silver on a white tee). Bill also creates some amazing artworks - just look at the surface texture pattern on the piece below! He's having an exhibition starting later this week - so stay tuned for my next post for details...