indie art & design blog
mother's day gift guide 2008
Wednesday, May 07, 2008 | by Carolyn Price

I know time is tight, but if you're looking for some last minute gift ideas for Mother's Day (Sunday 11th May), here are some beauties!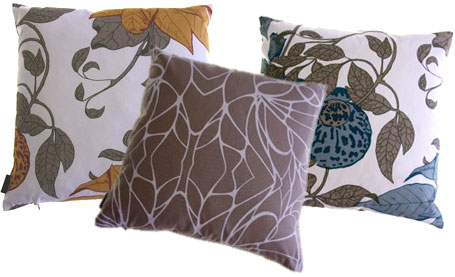 cushions by publisher textiles
Aren't these prints fabulous?! I found it hard to choose which fabrics to feature... The six pictured here are, at top (L to R): Botanica ochre, Bugsey white & sand, Botanica duckegg, and below (L to R): Snow Pea latte & pigeon, Botanica red, Apollo mist.
These cushions are from the Publisher Textiles homewares range. Each cushion measures 50cm x 50cm and features a quality foam feather insert. Made with natural fabrics including cottons & linens with a contrasting backing fabric, these guys are made to be used, not just looked at! They are machine washable (gentle wash, cold water) and with so many fabric print options, there's sure to be a few that would look fantastic at your Mum's place! Cushions range from AUD $48 - $160 (most are around $88).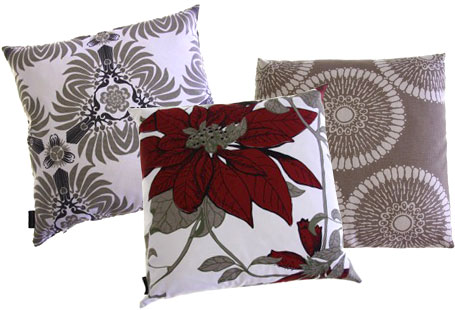 Publisher Textiles was established in 2002 by Mark & Rhynie Cawood. & they moved into their studio & showroom in Leichhardt, Sydney. With Mark's background in screen printing & Rhynie's in textile & fashion design, they make the perfect team for producing handmade fabrics & wallpapers. The Publisher Textiles Studio is open to the public on Saturdays from 10am - 3pm or by appointment during the week. Their homewares can also be found at the following stockists:
NSW: Made590 (Newtown), Honeybee (Newcastle)
SA: Monsoon Homewares (Glenelg), Terrace Floors & Furnishings (Eastwood)
TAS: Inside Home & Gifts (Hobart)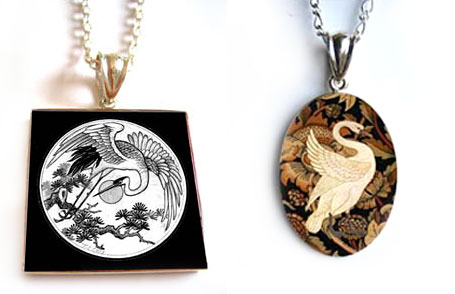 pendants by Girls Made This
I spotted these gorgeous pendants in the Glamourpuss email newsletter last week & was really taken by the beautiful bird designs. "Crane Pendant" on the left is AUD $110 and "Swan Pendant" on the right is AUD $95. They are by oneofone, the first label developed by Girls Made This, which is a design cooperative striving to nurture, develop and promote creative endeavours by women in Australia. The collective is headed up by Jane Peacock, who is also the talented designer for the oneofone collection. For the new range, Jane found inspiration in the vintage imagery and objects of desire that were hidden away from reach at her nannas house - pretty ornaments, old buttons, jewels, kitsch paintings etc. Oneofone pendants are available from boutiques around Australia & New Zealand including:
QLD Artisan (Fortitude Valley), MOB Store (Brisbane City), Bessie Head (Brisbane City), Adrenalin (Southport)
NSW: Glamourpuss (Erskineville), Bracewell (Paddington), Tuchuzy (Bondi Beach), Mon Petit Chou (Potts Point), MCA Store (The Rocks), Orson & Blake (Woolahra), Mushu (Surry Hills)
VIC:Husk (Melbourne), Elizabeths (Melbourne), Latrobe Regional Gallery, Melody Nelson (Brunswick), To the Max, Phillips, Belki (Carlton North)
ACT: Cowboys & Angels (Canberra), National Gallery of Australia (Canberra)
SA: Naked
WA: FORM (Perth), Finity, Billy + Rose (Mt Lawley), Harry + Gretal (Leederville), Sana, Eldorado (Perth)
TAS: Inside Home & Gifts (Hobart)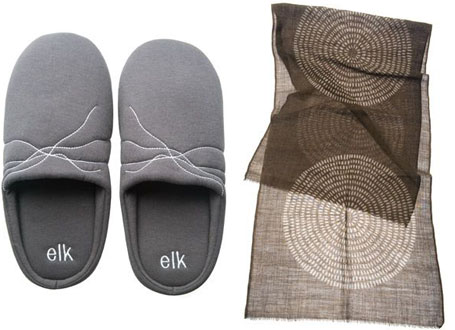 padded scuffs & printed scarf by elk
Ooooh, your mum will love you for these! Keep her toes toasty with these soft padded cotton scuffs by Elk Accessories, available in black or grey for AUD $35. Or perhaps she'd prefer the printed scarf on the right (AUD $85)? Made from 15% cashmere and 85% pure wool, this light winter layer scarf comes in either dark brown or dark ash grey. Elk Accessories is based in Melbourne and designed by partners Adam and Marnie. Their bi annual ranges include so many beautiful things - knits, leather & felt bags, accessories & jewellery, and always in gorgeous, calm hues (with a few dashes of brighter colour featured in necklaces & bracelets etc!).
Elk Accessories ranges are sold through independent retailers across Australia and New Zealand in city and regional areas. Contact them via www.elkaccessories.com.au to find your nearest stockist...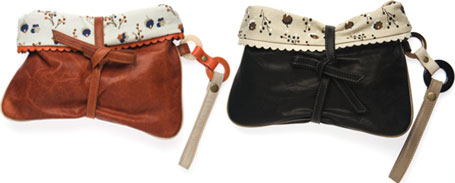 tie clutch by nancybird
Nancybird makes the most delightful decorative leather bags, and these tie clutches are no exception! This soft, slouchy clutch is a versatile little beast, which can be folded down to reveal fabric, tied in a bow at the back or tied around the body as shown. The wrist strap is removable too. It measures 26cm x 16cm adn is available in desert orange (left), black (right) and fudge for AUD $128.
Nancybird bags are stocked in many boutiques all around Australia & New Zealand. Since there are too many to list here, you'll have to visit www.nancybird.com/forms/stockistlist.html to track down a stockist near you!

mothers day sponsor: