indie art & design blog
christmas gift guide 2007
Monday, November 19, 2007 | by Carolyn Price

The festive season is upon us and with the "big day" just around the corner, we'd like to help out with some gorgeous gift ideas! We've selected a wide range of different goodies to suit Christmas stockings of all shapes & sizes.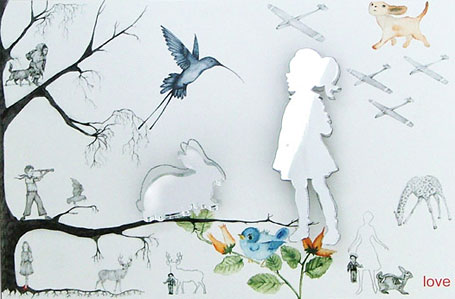 love jewellery by geneine honey
love is a Melbourne based fashion label begun by Geneine Honey in 2002. Geneine uses her whimsical and intricate drawings as a source of inspiration for her designs, which include jewellery pieces and accessories in shapes that hark back to the innocence and romance of childhood's imaginary worlds. Pictured above is the "Girl and Bunny Brooch Set", a gorgeous duo available in a mirror finish or black acrylic. (AUD $45).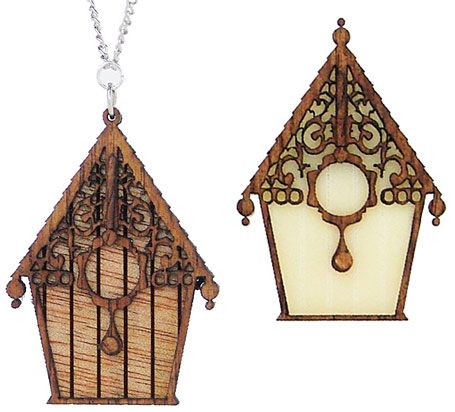 I fell in love with these wooden birdhouses when I first saw them at Made590. One lucky friend may just receive the wooden finish Birdhouse Necklace (above left) for Christmas. That's if I don't give into temptation & keep it for myself! The Birdhouse Brooch on the right has an ivory acrylic bottom layer. The contrast between the cream-coloured background and the darker delicate wooden pattern is very pretty. Both are available as necklaces or brooches for AUD $35 each.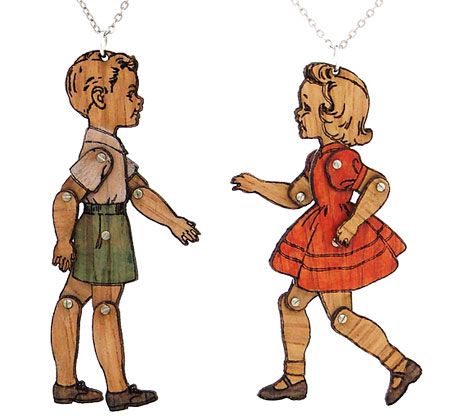 Aren't these clever? They have hinged joints just like a real wooden doll! Titled "I wish I was a real boy/girl", they are just adorable and you can choose between a wooden (below) or handpainted finish (above). Once again, they are available as necklaces or brooches, for AUD $55 each.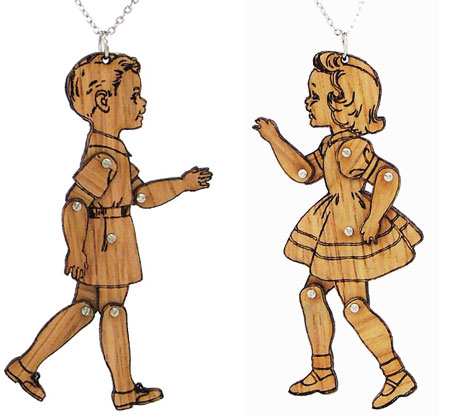 Can we tempt you with a shiny red apple or a forest mushroom? I have no doubt that these red mushrooms (toadstools!) are laced with trickery, but I reckon those apples look trustworthy! You can try these fruits of the forest as necklaces or brooches, all are AUD $35 each. (They are available in a number of different finishes.)
Pictured below is the "Printed Tote Bag" featuring the beautiful illustration upon which the "Girl and Bunny Brooch Set" is based. The silhouettes of the Girl & Bunny are surrounded by their forest friends, drawn with such delicacy! The tote bag is fully lined with pocket and magnetic clasp. It has been digitally printed and is machine washable. For more love & hate, you can view their comprehensive catalogue at www.lovehate.com.au, or visit one of their retail stockists:
NSW: Bulb (Double Bay), Bang Art and Gift Shop (Potts Point), Made590 (Newtown)
VIC: Little Salon (Fitzroy & Melbourne City)
WA: Remedy (Fremantle), More (Subiaco, T. 08 9381 8085)
QLD: Queensland Art Gallery (Brisbane), Maiocchi (Fortitude Valley)
SA: Flourish (Hyde Park), Storison (Hahndorf, T. 08 8388 7331)
TAS: Cocoon (Launceston), Small Rhino (Hobart)
ACT: The Hive (Braddon)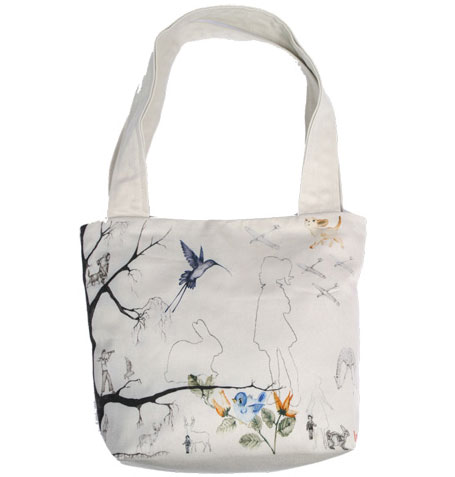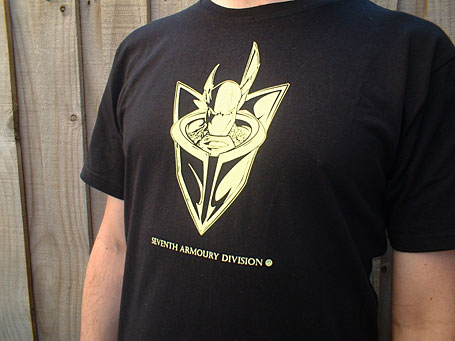 mens tees by pocket
Pocket Designs is one of my favourite new discoveries. Based in Perth, this graphic designer has created a number of t-shirt ranges which make perfect gifts for our better halves! In fact, the above picture features my partner showing off his brand new birthday present... He's wearing the "Seventh Armoury" design in black with a yellow print - a special glow-in-the-dark edition! The t-shirts fit well & are a lovely quality. Also in his personal wardrobe are the "Tokyo Puppeteers" and "Soldiers V2" designs pictured below. The prints are inspired by Japanese anime and come in a variety of colour options. I particularly like "Soldiers V2" printed in aqua on a navy tee. The styling of the designs themselves is great - sleek & cool. The expression on the puppet's face in "Tokyo Puppeteers" is so twisted!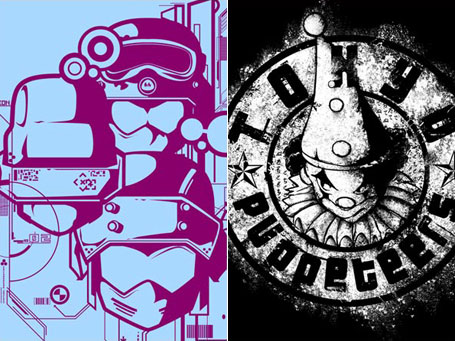 Pictured below are details of the "Metalight" and "Wasp" designs. The "Wasp" print comes in yellow on a coal coloured tee which I just love. The larger part of the design (featuring the wasp) is printed on the back with a selection of honeycomb shapes & vector lines on the front. Fantastic! The Pocket tees range from AUD $60-$70. Visit www.pocketdesigns.com.au to see more of the range, or stop by one of their retail stockists:
ONLINE: Teknoscape
NSW: Crazy Horse (Newtown, T. 02 9519 2199, Darlinghurst, T. 02 9326 0800), Haku (Potts Point, T. 02 9380 8768), Oxi Clothing (Newtown)
VIC: Kids in Berlin (North Melbourne), Tomorrow Never Knows (Fitzroy, T. 03 9495 6645), Robio (Fitzroy), Moji (South Yarra, T. 03 9824 1104), Villain Store (Brunswick)
WA: The Pulse (Perth, T. 08 9322 7210), Atlas Divine (Leederville, T. 08 9444 4663), Ginza (Subiaco, T. 08 9381 6067), Lucky Stripe (Fremantle, T. 08 9336 6299), Locale Clothing (Floreat), Method Clothing (Mt Lawley), Tade' (Applecross, T. 08 9364 7891)
QLD: Ginza Swim (Paddington, T. 07 3369 1131)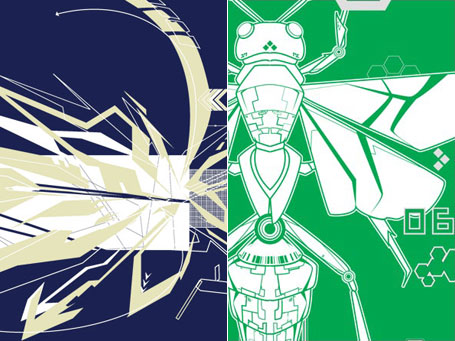 christmas sponsor: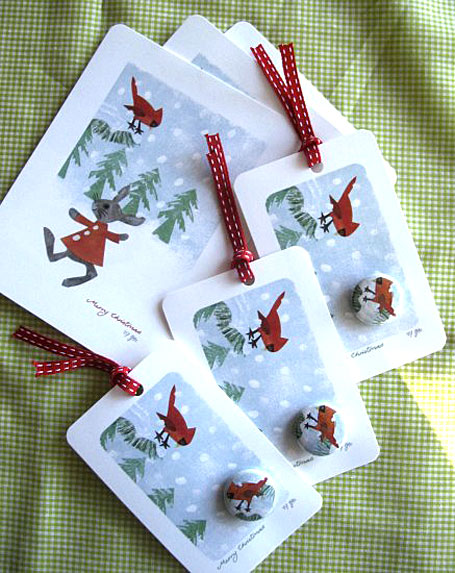 christmas cards by dudley redhead
Hunting for unique Christmas cards & gift tags? These adorable designs are made by Dudley Redhead, otherwise known as Sydney-based designer Tara Axford.
Each Note & Tag set (pictured above, AUD $15.00) includes:
3 x Christmas Bunny & Wren Postcards measuring 110mm x 135mm. They have been professionally printed on 215gsm gloss card, have rounded corners and are blank on the reverse. Post to a friend or attach to a gift!
3 x Christmas Wren Button Badge Gift Tags measuring 70mm x 110mm. The button badges have a pin back & are a lovely little bonus to your gift!
The Christmas Wren Gift Tags are also available individually for AUD $3.00 each.
May all your parcels be prettied by Dudley Redhead's illustrations! Christmas Cards & Tags are available from Georgie Love's treasure of hand made pleasures at www.georgielove.com, and you can find the Dudley Redhead blog at https://accounts.google.com/ServiceLogin?continue=https://www.blogger.com/blogin.g?blogspotURL%3Dhttp://dudleyredhead.blogspot.com/%26bpli%3D1&followup=https://www.blogger.com/blogin.g?blogspotURL%3Dhttp://dudleyredhead.blogspot.com/%26bpli%3D1&passive=true&go=true.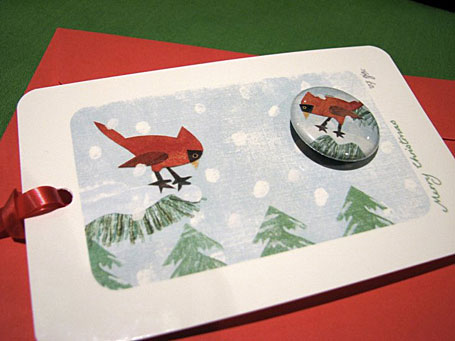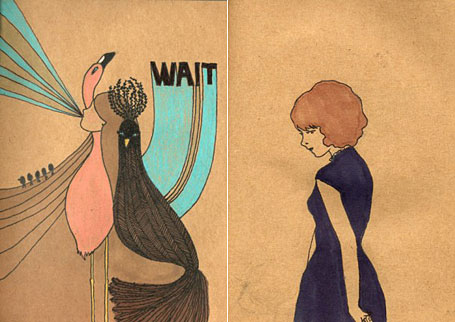 prints by eveline tarunadjaja
Eveline Tarunadjaja is an exciting young artist who was born and raised in Indonesia. At age 15, she moved to Melbourne where she has lived for almost 10 years. Her work has been exhibited over the last couple of weeks as part of the "Cups and Cuddles" group show at Per Square Metre Gallery in Collingwood, along with fellow artists Andrea Innocent, Catherine Campbell, Crystal Hartley, Lilly Piri, maricormaricar & Nobuko Washiyama.
Many of her artworks are available as stunning & very reasonably priced prints through her web site at www.lovexevol.com. Pictured above are the prints "Wait" (AUD $40, 15 x 20cm, pen, coloured pencils & markers) and "The Blue Dress" (AUD $40, 15 x 20cm, pen & markers). I love the effect of limited areas of bright colour, especially where the background colour of the paper is peeking through. Both are simple, graphic works where the detail lies within the careful linework. "The Blue Dress" was actually featured as the free poster in Frankie Magazine issue #15. Both of these works were created in a little drawing journal Eveline filled with imagined characters and words that got stuck in her head.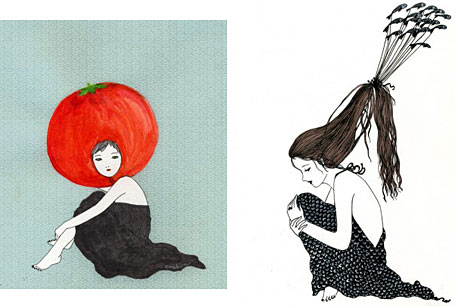 Eveline finds inspiration in the feelings evoked by little random experiences... doings, sayings, conversations, people, stories, artist, movies, films & music. The next four images are good examples of the artistic results! I love the colour & humour embraced by "Tomato Head" (above left, AUD $45, 18 x 26cm, pen, acrylic & digital artwork). Eveline says she often produces "something that's really dumb" - "Tomato Head" was drawn when she was thinking just too much & her head started to feel like a big heavy vegetable!
In contrast, "Airfish" (above right, AUD $40, 18 x 26cm, pens & markers) is something really personal. It is about a dreamer... "unreal thoughts float like fishes fly..." The original artwork is also available framed for AUD $250.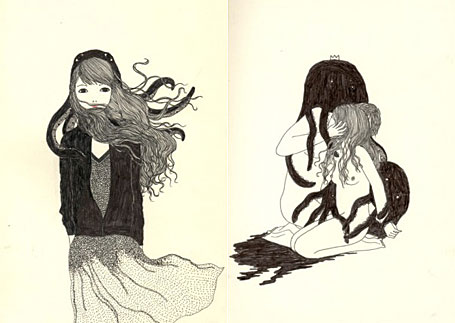 In prints such as "Animal Hoodie (Octopus)" (above left, AUD $40, 16 x 26cm, pen, markers & coloured pencil), Eveline has depicted imaginative items of clothing that whe would love to have or make. She also plays with the idea of "semi-porn, because it's fun and funny!" "Familia Octopie" (above right, AUD $30, 16 x 26cm, pen) is about "a royal family of octopus that capture two humans and force them to have sex with each other". Enough said! The prints are printed on to 240gsm fine art paper, and are unframed. To view these works, and many more, visit http://www.lovexevol.com. You can order online through the site, making them ideal Christmas presents.
The two works pictured below were exhibited in "Cups and Cuddles" and the originals will be availble for purchase very soon. They are so beautifully drawn & the fine lines curl & twist in rhythm with the natural grain of the wood.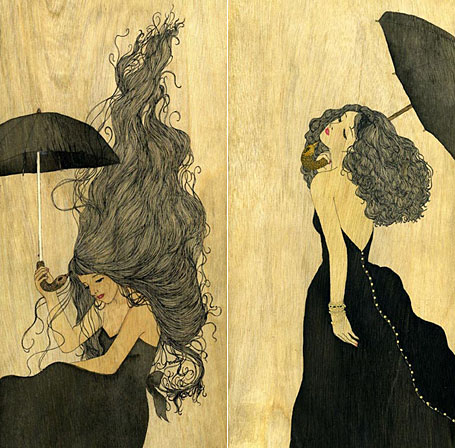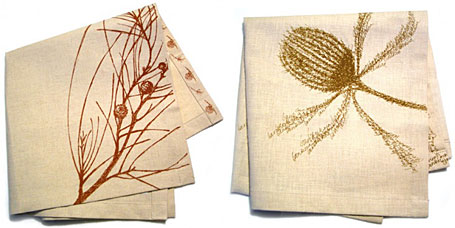 linen by out to lunch
Out To Lunch's Lucy Bromell has created an elegant range of hand-printed and uniquely Australian tableware. The collection is inspired by native flora, and features four different designs - Banksia, Stem, Casuarina and Eucalypt, each of which come in a range of natural colours all organically printed on linen, cotton and silk. Pictured above are the "Casuarina" and "Banksia" linen napkins. Both are available as a set of four napkins for AUD $64.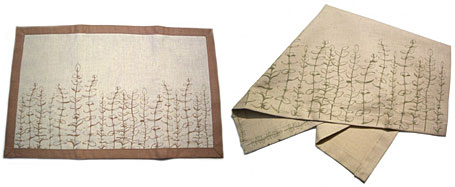 Two of the "Stem" designs are pictured above. The table mats have a matching coloured trim which frames the delicate print beautifully. They retail for AUD $88 for a set of four. Once again, the set of four napkins is AUD $64. The earthy colours of the prints & natural texture of the fabric would surely look gorgeous atop a wooden dining table!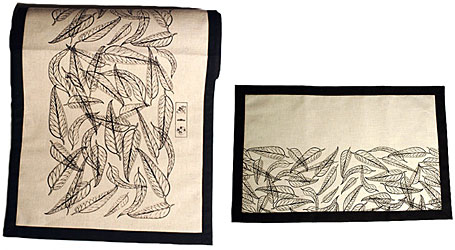 The contrast is striking in these black on natural linen "Eucalypt" designs. The table runner is AUD $70, and the matching table mats are AUD $64 for a set of four. Depending on who is cooking on Christmas Day, the full size cotton aprons below (AUD $55 each) could also make lovely gifts. (Perhaps not the best idea though for someone who has been slaving over a baking turkey with all the trimmings!) Either way, there are plenty of gorgeous Out To Lunch products to choose from & you'll find them online at Moose: Art for Living.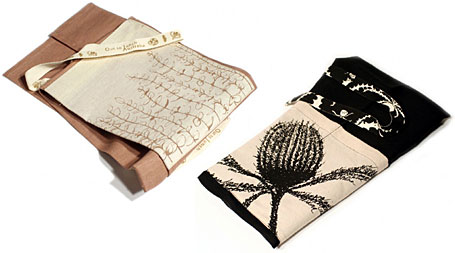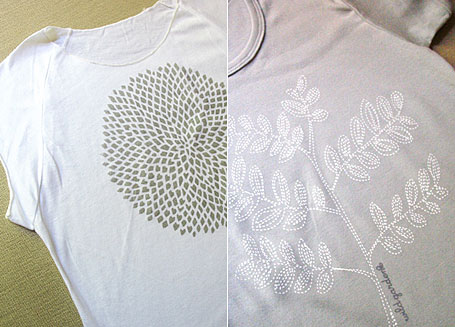 t-shirts for all by wildgarden
Wildgarden is a gorgeous Australian label born out of a desire to create products featuring simple, yet sophisticated designs produced by hand. The talented designers are Sydney-based sisters Nancy & Jessica Lim. They are inspired by the environment which surrounds them - both natural and urban. You may also know of these two from the Modamuse online store & blog - another wonderful site featuring the work of independent designers from Australian & New Zealand.
Wildgarden is currently offering 25% off everything in the lead up to Christmas! They have a colourful range of screen printed t-shirts for all of the family. Here we've included our favourite summer styles for women & a few for the little ones too! Pictured above are "Radiate" which features a striking metallic silver print (above left, AUD $34.50) and "Floss" with a white branch motif across the front (above right, AUD $33).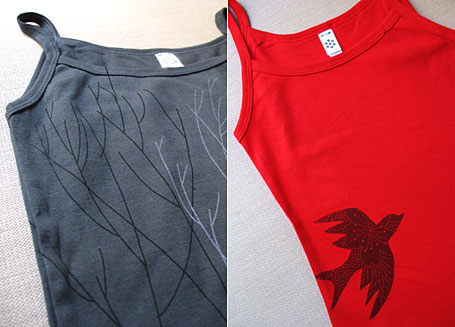 These singlet designs show off Wildgarden's love of colour & form. The graphic layering of black & grey in "Twiggy" (above left, AUD $31.50) look fantastic & I also really like the placement of the stylised, floral-patterned bird in "Fly Away" (above right, AUD $31.50)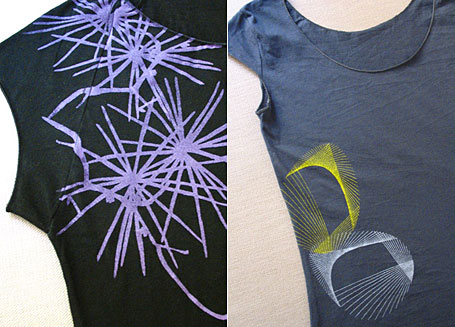 The "Winter Blossom" tee (above left, AUD $34.50) would be really versatile. With an assymetrical lavender blossom branch motif placed high on the shoulder front and back, it would look equally striking worn casually with jeans, or dressed up with a pretty skirt for day or night. The fitted styles of these tees lend themselves to such situations! The Spiro print (right, AUD $34.50) looks great in yellow & white on an ashphalt-coloured tee. This retro design is also available in pale blue & green on olive.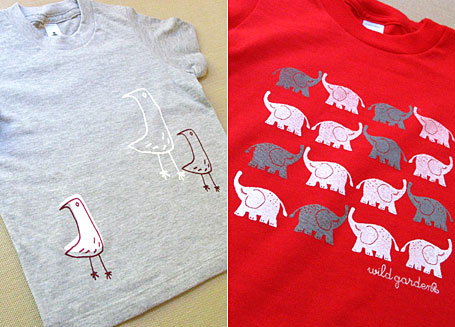 Aren't these children's designs gorgeous? Pictured above are "Birdy Jazz Trio" (left) and "Elephant Walk" (right), while "Ducky" appears below right. All are AUD $25.50 each. I think I'd quite like "Birdy Jazz Trio" in a grown-up version! We couldn't resist including the "Bossanova Shopper" black cotton tote - at AUD $9.75, it's a steal! To see more Wildgarden designs & place your order online, visit www.wildgardendesign.com.

christmas sponsor: