indie art & design blog
non-fiction summer!
Tuesday, July 29, 2008 | by Carolyn Price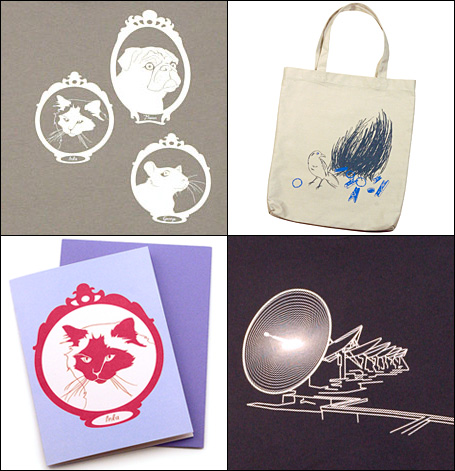 Guess what? We're currently visiting Melbourne with new season samples for our own label, Non-Fiction! In addition to printed womens tees & greeting cards, we've released our first range of mens tees, totes & archival prints. I love travelling around to so many of my favourite boutiques - especially since I don't get to see the Melbourne ones all that often, but it's definitely torture resisting temptation at each stop!
We're so excited about the new prints - we'd love to hear what you think & photos should appear on our web site (www.non-fiction.com.au) within a couple of weeks... Pictured above, clockwise from top left are: "Family Portrait II" womens t-shirt, "Bowerbird" tote, "Satellite" mens t-shirt & "Inka" greeting card (from the Family Portrait series). Hope you like them!
P.S. If there are retailers who stock Australian designers reading, we'd love to hear from you, wherever you are!