indie art & design blog
down the garden path
Friday, February 15, 2008 | by Carolyn Price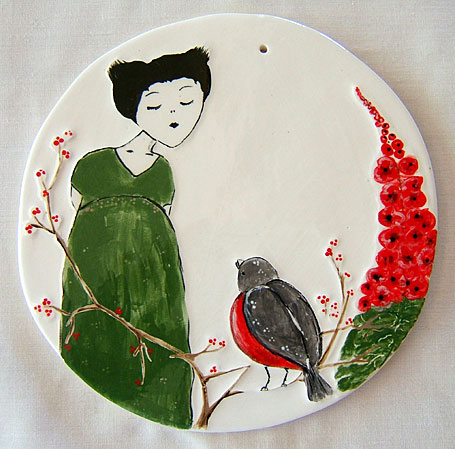 These ceramic pieces by Linogirl are just so lovely! I'm really taken by the ceramic disk pictured above, titled "Bird Song", even though I know that it has just been purchased by another lucky Linogirl admirer... "Down the Garden Path" is an exhibition currently showing at Mad Gallery featuring the work of Kerry Scheen. On display are Kerry's small (8cm) and large (14.5 cm) hand painted ceramic disks which are designed to hang and are double sided. She describes them as "what one might find in a true garden one that hasn't been affected by toxic herbasides and pesticides".
"Down the Garden Path" is showing until February 24th, and the gallery is located in Lancefield - part of the Macedon Ranges shire and 1 hour from Melbourne heading towards Bendigo. Kerry is lucky enough to work from her home studio in the Macedon Ranges. I have no doubt that her own garden provides plenty of inspiration for her whimsical, cheerful imagery.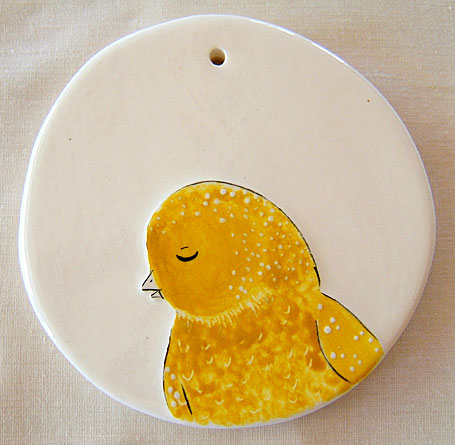 The ceramic disks on display are an extension of Linogirl's range of wearable ceramic objects. The disks, pendants, brooches & rings are all handmade and one-off pieces, each with it's own character and beauty. I'm sure some of you have visited Kerry at the Linogirl stall at the Rose Street Artists Market in Fitzroy, or perhaps spied her pieces in Brunswick Bound (Brunswick, VIC), Louey & Lane Gallery (Glenhuntly, VIC) or Two Birds in the Bush (Woodend, VIC).
A selection of Kerry's ceramic jewellery is also available to purchase through her web site at www.linogirl.com.au. A Linogirl ceramic object would certainly make a special, unique gift (or gift to self)!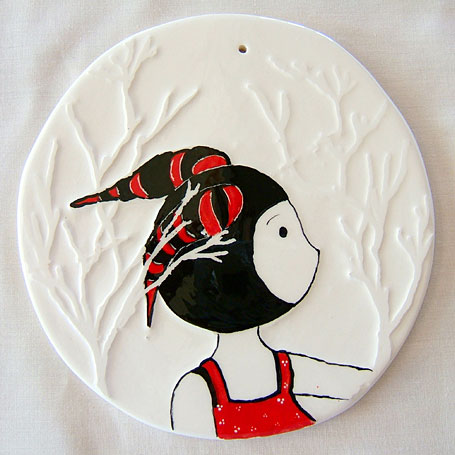 I really love the dual textures of the hand shaped ceramic and the hand painted images used throughout the Linogirl collection. The contrast between the two is shown beautifully in the ceramic disk above, titled "Search". I love the colours too... and the gorgeous surprised expression on the girl's face.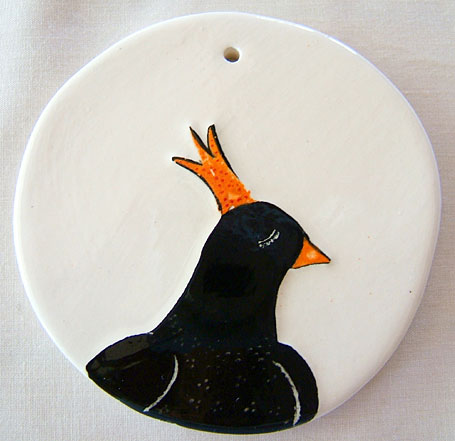 If you live near Melbourne, make sure to visit "Down the Garden Path" sometime in the coming week! Mad Gallery is located at 19 High St, Lancefield, VIC. (Ph. 03 5429 1432) Apparently, they serve fantastic coffee, so all the better!