indie art & design blog
a dash of lime
Saturday, March 07, 2009 | by Carolyn Price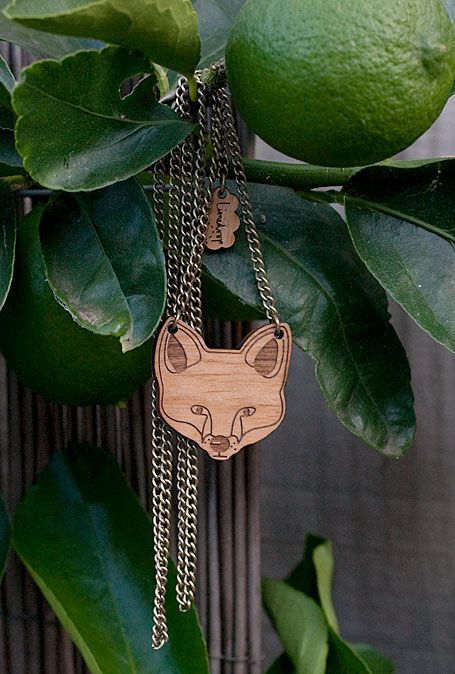 Since I first spied the Feline Fox printed tee in Kids in Berlin a few seasons back, I've been in awe of the talent behind Melbourne label limedrop. I'm very happy to report that I now have my own Feline Fox in the form of the sweet cherrywood pendant draped over my neighbour's lime tree pictured above.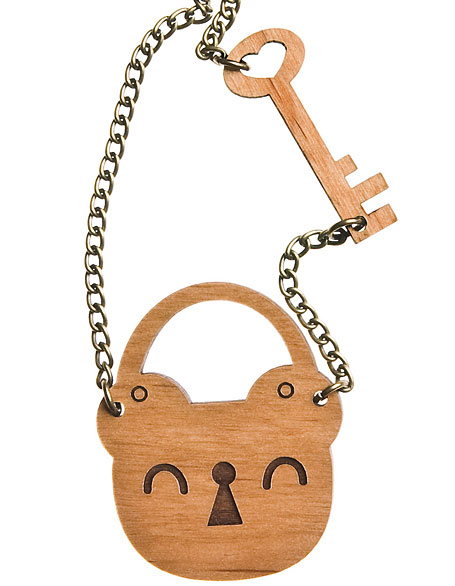 Platform (at LIFE inSTYLE) lured limedrop to Sydney to show off their unique line of cherrywood accessories. The stand was a beacon for those on the prowl for something edgy & cool! The intricate designs have been laser cut & engraved into cherrywood, which is also availble with a black, white, silver or gold veneer finish.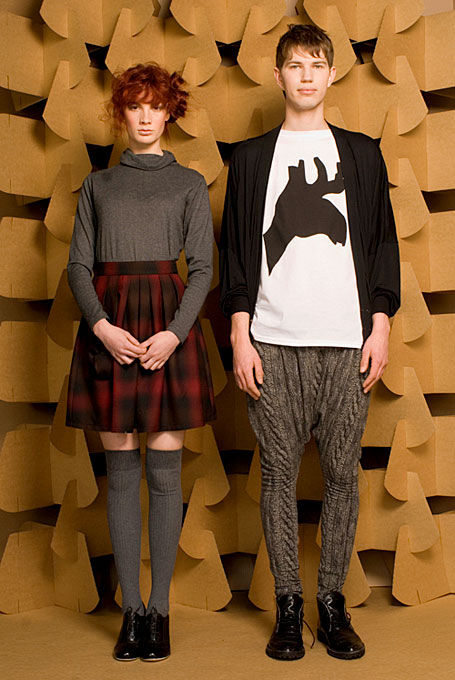 limedrop's wooden accessories began with a set of hanging mobiles designed for an exhibition at Melbourne's Milly Sleeping (as part of the L'Oréal Melbourne Fashion Festival in 2007). A number of extra hanging pendants were made into necklaces & quickly snapped up by customers!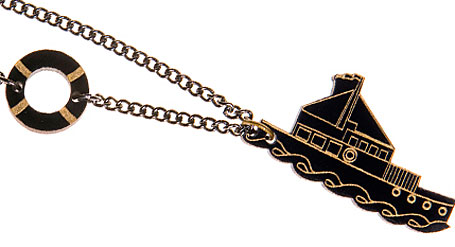 I love limedrop's fresh & tangy marriage of illustration and jewellery design. The collection has a spirit of fun & adventure, storytelling & romance... just like the tale of the intrepid twosome who brought the label to life. limedrop began as a love story between designers Clea Garrick and Nathan Price. After falling for each other in their hometown in the tropical far reaches of the Northern Territory, they travelled hand in hand to Brisbane, Sydney, and finally to Melbourne, where they launched the label in 2005.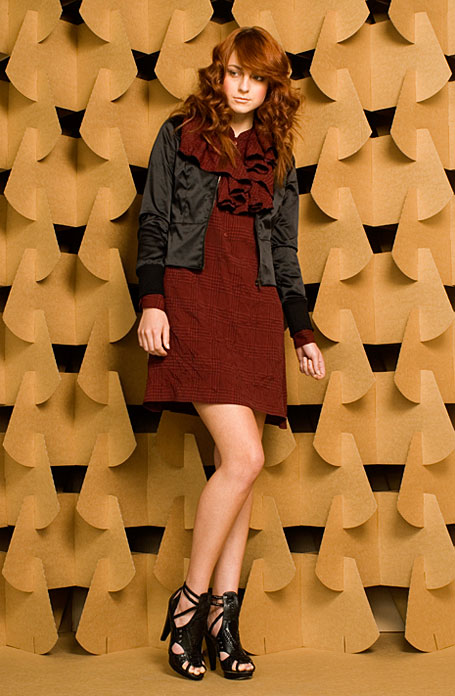 limedrop's sixth fashion collection entitled "The Huntsman" has arrived for Autumn | Winter 2009. limedrop are known for their use of clear lines, bold colours, structured pieces and curious proportions. I just love the colour & textures of the Floaty Fluted Collar Dress pictured above. Doesn't it make you long for chilly winter evenings?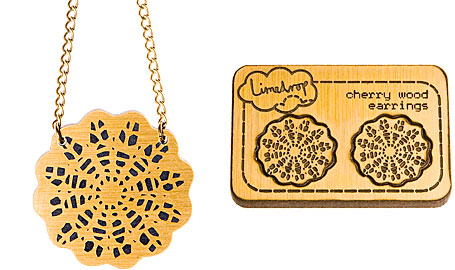 The limedrop fashion range is both contemporary and wearable - and you know I adore the cherrywood accessories! There is so much energy in this label. Clea & Nathan are a clever pair and I can't wait to see where the fashion world takes them!
The limedrop tree branches out to the following locations:
NSW: Our MishMash (Bondi), Via Alley (reopening in Surry Hills, March 2009), Pigeon Ground Records & Clothing (Camperdown)
VIC: Milly Sleeping (Carlton, Melbourne), Kids in Berlin (North Melbourne), In the Woods (Northcote, Melbourne), Lady Boutique (Melbourne City), Pussycat Black (Brunswick, Melbourne),
WA: Atlas Devine (Perth), Ruck Rover (Perth)
QLD: Outpost (Brisbane)
ACT: itrip iskip (Canberra)
ONLINE: Pitbull Mansion
INTERNATIONAL: Slick Willys (Dunedin, New Zealand), Iko Iko (Wellington & Auckland, New Zealand), Epitome (Singapore), Actually (Singapore), Tomodachi (Indonesia)
...and of course, they can be found online at www.limedrop.com.au!