indie art & design blog
design discovery
Saturday, September 06, 2008 | by Carolyn Price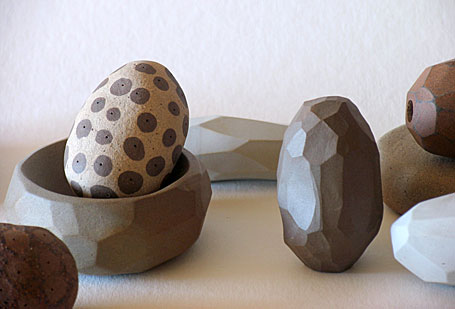 The Bombay Sapphire Design Discovery Award Exhibition 2008 showcases some of Australia's most exciting, outward-looking and globally focussed
design. Recognised as the most prestigious award in Australian design, the show opens tomorrow at Object Gallery in Surry Hills (Sydney) and continues until 2.11.2008. There are 10 finalists, and we're giving you a sneak peak of just four of the works here - I don't want to spoil the surprise for those of you who can make it in person! (Each designer is represented by their Award entry as well as other designs from their broader body of work.)
Pictured above is "Nutcrackers" by Bridget Bodenham. These forms are directly influenced by the movement of grinding, cracking and crushing. They refer to the prehistoric or early food gathering cultures where food preparation was a physical act deeply connected to the environment and fundamental to the wellbeing of society. Bridget developed the forms through an intuitive play approach to weight, shape & surface texture. I particularly love the warm, muted earth colours and surface design!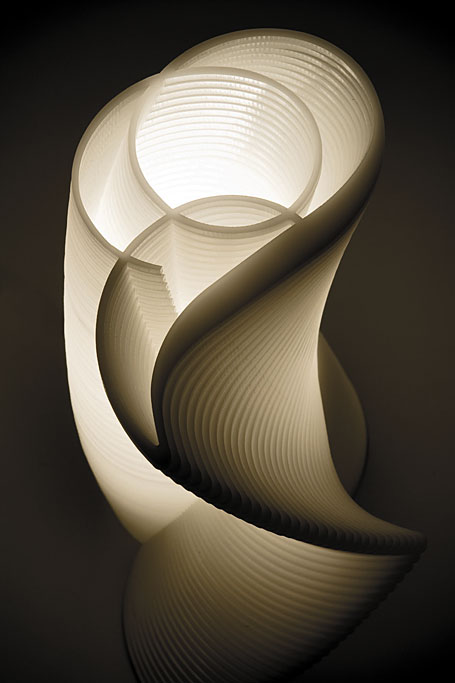 John Hoogendoorn's "Aurora Lamp" (pictured above) explores ideas in strengthening the emotional bond between objects and the user. It is made from acrylic layers representing the letter 'J'. Each part is twisted in relation to its neighbour to allow a complex 3D form to materialize from simple two dimensional components.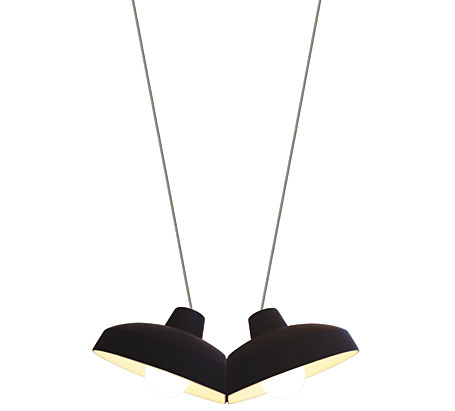 The design of Trent Jansen's "Kissing Pendants" (above) is so simple - and brilliant! I would love to have these guys illuminating my personal space. The Kissing Pendants were designed as a sustainable piece of lighting, aiming to be involved in a lasting personal relationship with their owner, fostered by the human characteristics that this piece possesses. The pendants are an expression of the intimacy that exists between two people when they kiss. When the lights are off, the two shades hand separately, side by side, but when pushed together are held by a magnetic attraction. A magnetic reed switch then turns the lights on simultaneously.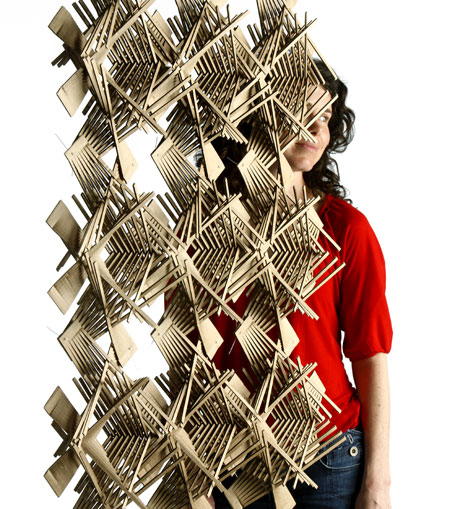 "Plexa#1" (above) is Christina Waterson's series of interlocking modules that allow the individual to experiment, reinvent and personalise their surroundings. As modules are interlocked, the natural geometries that stem from material properties create elusive forms and surfaces. Plexa#1 is designed to use the otherwise useless strips leftover from industrial sheet processes and cutting.
If you live in Sydney, do get along - admission & inspiration are free! The Bombay Sapphire Design Discovery Award Exhibition 2008 is on at Object Gallery from 6.9.2008 to 2.11.2008. (St Margarets 417 Bourke Street, Surry Hills NSW 2010. T. 02 9361 4511)