indie art & design blog
hatching talent
Saturday, April 05, 2008 | by Carolyn Price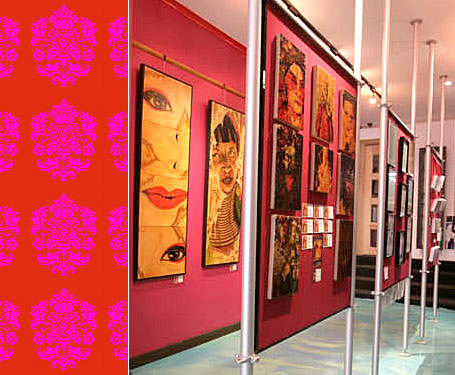 in.cube8r gallery opened its doors on Smith St, Fitzroy (Melbourne) last year and has gained quite a following - (in fact, I've read snippets & seen references in blogs all over). They've helped many emerging artists & designers introduce their products to the retail marketplace, and provided a great environment for more established labels to expand their product range, exposure & of course, their customer base.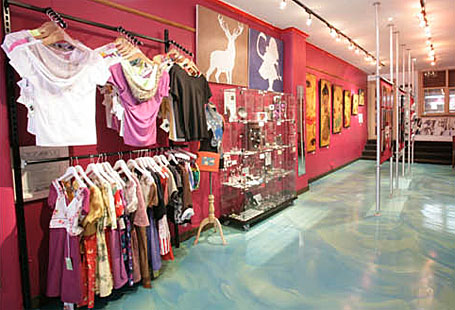 All the products on display at in.cube8r gallery have been made by hand. Over 80 Melbourne artists & crafters are represented, which means there is a vast range of original clothing, accessories, jewellery, artworks & gifts. The gallery is based on the concept of a market or bazaar, but without the need to get up at 5am & wrestle with your trestle table. in.cube8r spaces (including glass cubes) are available from $20 per week and, best of all, there is no commission on sales.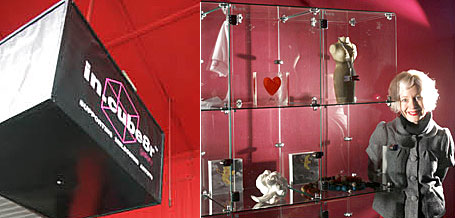 Founder of this unique retail space is Isy Galey, who nurtured the dream to open a top-notch but friendly & approachable handmade gallery for over a decade. In July 2007, her dream was realised when the spaces between the fuchsia walls became filled with all sorts of handmade delights & the doors were opened to the public. Within 7 weeks of opening, in.cube8r spaces were booked out & there was already a waiting list!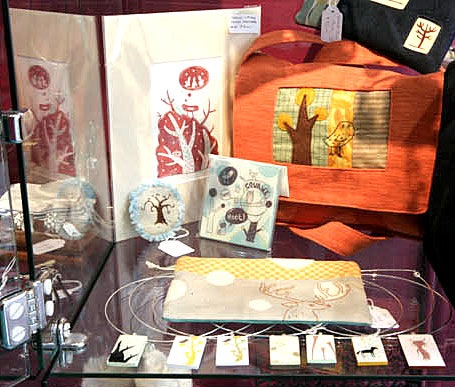 I recognise the contents of this cube! This is the work of artist / illustrator Julie Knoblock who lives in West Gippsland, Victoria. Through her label, Tummyache, she produces bags, toys, necklaces, brooches, artworks & limited edition prints. I love the vibrant orange satchel at the back of this display & her illustrations look so sweet when turned into pendants.
There are too many people whose work is on display to list in this post, but the in.cube8r gallery web site features designer profiles so that you can learn a little about person who made your special find.
Visit www.incube8r.com/designerscube.html to see a sampling of the many & varied products available & the people who make them, and if you live in Melbourne (or are just visiting), make sure you drop by in.cube8r gallery at 321 Smith St, Fitzroy (t. 03 8415 0321).