indie art & design blog
more from ladies first!
"Ladies First" opens at 6pm this Friday night, 21st May 2010! The girls will come out to play, and show off an amazing collection of original artworks.
Curated by Melbourne's Tessa Yee, the show will be a unique and light-hearted exploration of the ways in which female artists represent their ideas of femininity - both the dark and the light, the naughty as well as the nice.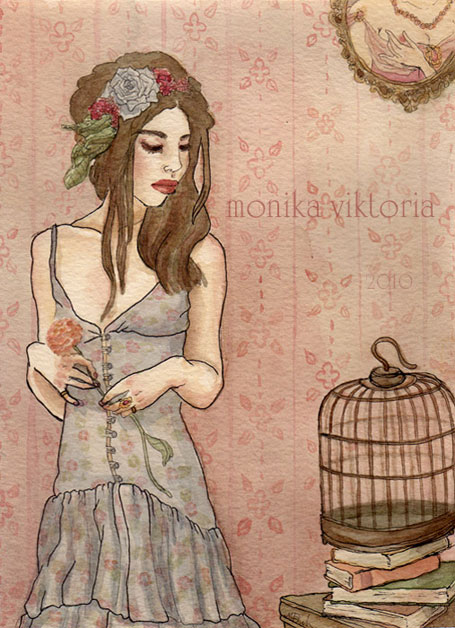 MONIKA VIKTORIA "My current body of work 'of lace and moss' is a series of delicate portraits depicting transient moments in time.
The girls in my portraits are captured glimpses: a parting glance before a departure, a blink, a sigh, a hesitant decision. They are caught in the brief moment between a breath, a second of silent contemplation before a transformation.
When I think of lace and moss I imagine silent places deep within the woods, and forgotten attics guarding the remnants of a decadent bygone time. In my drawings I try to depict the ephemeral waifs who might equally inhabit both places.
Layers of delicate watercolour washes create a softly glowing space; an achingly fragile world filled with longing and intermingled memories.
For 'Ladies First' I will be exhibiting a selection of the latest portraits in the series."
You can see more of Monika Viktoria's work on her blog www.thelonglostwoods.blogspot.com or browse her Etsy store at www.monikaviktoria.etsy.com.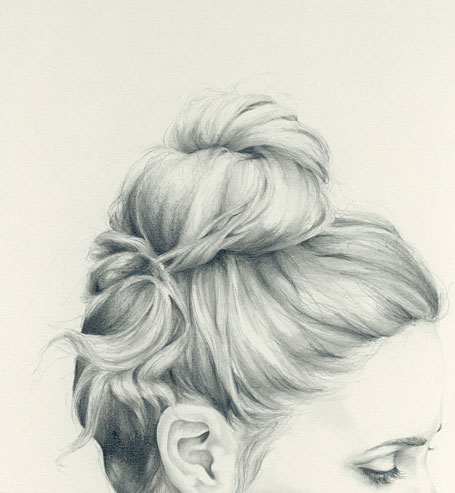 EMMA LEONARD If I had to use a word or phrase to describe my work it would have to be wabi sabi, the Japanese worldview of transience, incompletion and imperfection. More often than not my female figures are in a state of melancholy solitude, although they are not necessarily unhappy as such, just thoughtful. I prefer to use transparent mediums such as pencil and watercolour to invoke a sense of fluidity and movement in figures that might otherwise appear still and usually work in the style of realism. My inspiration comes in many shapes and forms, but particularly from Mori girls, Japanese magazines, holga photography, botanical illustrations, and natural history museums.
From a purely aesthetic perspective, many women derive their basic sense of beauty and femininity from their hair. You can cut it and dye it but it is always a part of you. Throughout history long, flowing hair has been a symbol of femininity, whilst cutting it short an attempt to appear more masculine and in this collection I have attempted to explore how women use their hair to convey beauty and softness.
You can see more of Emma's work at www.belafontesbunsa.etsy.com or browse our selection of Emma's prints right here on the indie art & design store!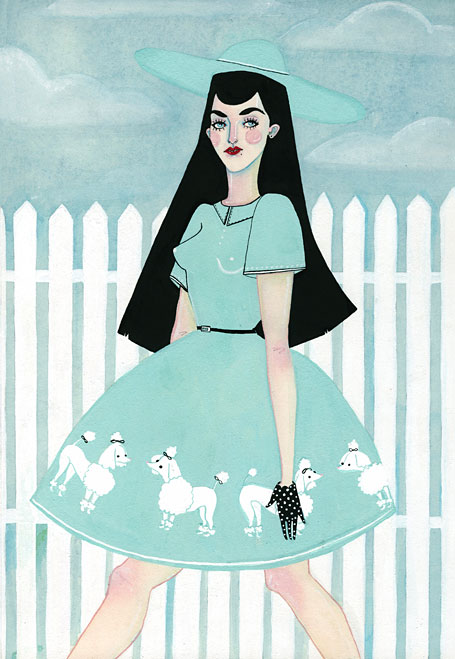 CAITLIN SHEARER is a 20 year old illustrator and fine artist from the nsw central coast. Her work relies on soft watercolours and stark lines to depict people who don't exist in the real world. Escapism, the feminine form, vintage fashion and cinema and the occult inspire Caitlin's work, and her womanly depictions capture girls in the midst of private revelations, reverie and womanhood.
You can see more of Caitlin's work on her blog at www.caitlinquiet.blogspot.com.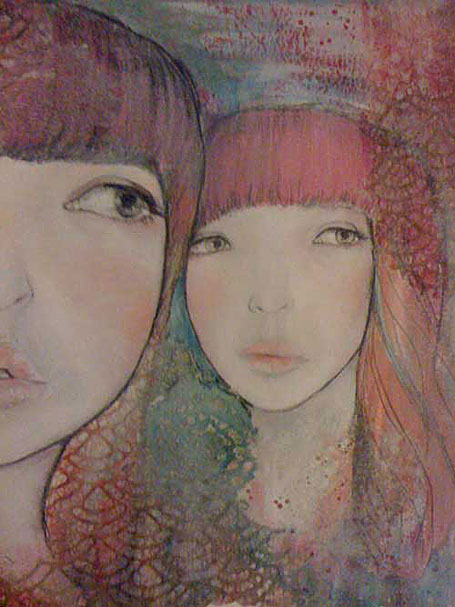 JO DYER is an emerging artist from Newcastle, NSW. She likes to create dreamy-eyed girls in mixed media worlds.
You can see more of Jo's work at www.jodyer.com.au or browse her Etsy store at www.happilyeverafternoon.etsy.com.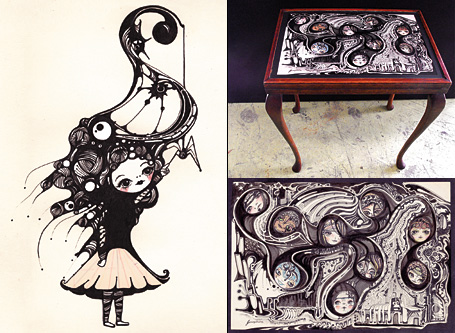 JOSEPHINE BRADLEY SCOTT Australian artist and body image activist Josephine Bradley Scott provokes us to re-visit our ideas of beauty through her inner child illustrations. She has developed artwork for use in infant clothing ranges to Sportsgirl campaigns and maintains an ongoing relationship with respected charity The Butterfly Foundation.
The Melbourne based artist grew up in Whyalla, an industrial city nestled between the outback and the sea. In 2007 she graduated with a degree in Illustration at the University of South Australia and began drawing from her own journey of overcoming an eating disorder to create works of hope.
Borne from pen, ink and contemporary digital illustration techniques Josephine's pensive yet playful characters act as a medium to encourage self acceptance. Though intriguing, they are purposeful and through them flows a sense of contentment, a wide eyed optimism.
"It has become unnecessarily common for us to be cruel to ourselves and others by the default of comparison. I hope to change this by offering an opportunity to reconnect people with what it is that makes them unique, interesting and beautiful."
With access to a weird and magical place somewhere between dreams and reality, Josephine creates customised artworks and runs small workshops aimed at addressing self esteem through art, body painting and self expression.
You can see more of Josephine's work at www.findjosephine.com or browse her online gallery of prints for sale at PanelPop.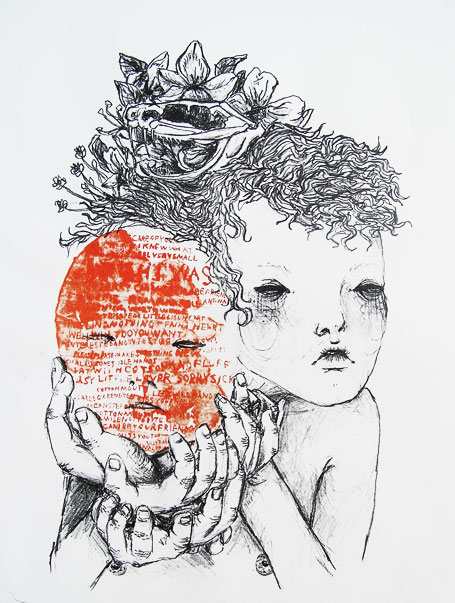 HELANI LAISK "I give my attention to the 'every day': the mundane is transformed into surreal imaginings through a kind of storytelling, focusing on objects or situations considered ordinary or 'unprecious'. Different ideas concerning the body are fundamental themes in my work: the body in parts, the body in transformation, the body as a house, the body transfigured as an animal, the body divided against itself, or engaging with another in some way. The idea of metaphor is central to my work; one thing standing in for another thing, or taken out of context so as to be reconsidered or given different values or meanings. The home as a living space, a symbol of routine and ritual and family, a safe place of rest and shelter invoking a sense of security and comfort - as well as having unconscious connections to the anatomy of the body or mind - is an important symbol of the everyday to me and is a prominent theme in my work."
Helani lives in Canberra and is currently completing her Honours year at ANU School of Art in the Printmedia and Drawing workshop.
You can see more of Helani's work at sleepyfeet.deviantart.com.
MEREDITH EARLS "The collages in this exhibition are collections of treasures and keepsakes from the past. They are small moments and memories that were once part of a bigger narrative. The act of combining them forms a new story, yet like memory this can be nostalgic or seductive and not always completely true.
I also work with found materials in my paintings as they bring their own story to my work. Stains and wear and tear may not be conventionally seen as pretty, but are tiny reminders of the previous lives of the material. This is also the idea behind the females in my pictures - it is their imperfections that bring them character and beauty."
You can see more of Meredith's work at www.meredithearls.com.au and www.green-woodgallery.com.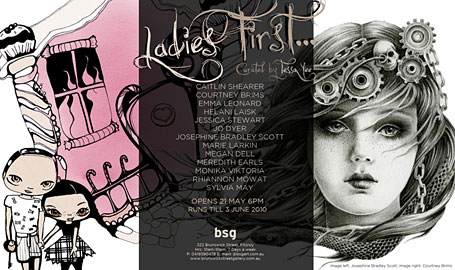 The exhibiting ladies are: Caitlin Shearer, Courtney Brims, Emma Leonard, Helani Laisk, Jessica Stewart, Jo Dyer, Josephine Bradley Scott, Marie Larkin, Megan Dell, Meredith Earls, Monika Viktoria, Rhiannon Mowat, and Sylvia Newton.
For more artist profiles, see our earlier post, "ladies first at bsg"!
The Ladies First exhibition continues until 3rd June 2010 at:
Brunswick Street Gallery
322 Brunswick Street,
Fitzroy, 3065.
The gallery is open 7 days from 10am - 10pm.