indie art & design blog
summer 2008
Friday, February 01, 2008 | by Carolyn Price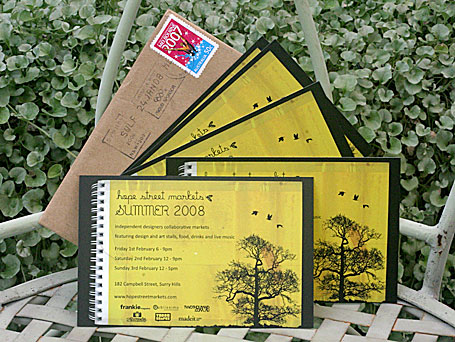 Thank you to Hope Street Markets for the parcel of flyers that arrived in my post office box the other day! Sydneysiders will be happy to know that the Summer 2008 markets are on this weekend. The stalls open and celebrations begin tonight at 6pm, and continue throughout the weekend, with live music both tonight & tomorrow night.
There are lots of fresh faces in the designer lineup - A Bitter Harvest, Oh Fiddlesticks, Sanoii + Six, Fuzz Design, Indecent Exposure, Summerblossom, Shelbyville, Tamptation, Ellenade, Linda Blair, Bronzen Temple, Nanna Dee, Scottato, Mam Mam, Imoko-Tactile Curiosities, Peppermint Jewels and Oneredline will all be offering their unique wares for sale.
Meet them:
Friday 1st Feb, 6pm - 9pm
Saturday 2nd Feb, 12pm - 9pm
Sunday 3rd Feb, 12pm - 5pm
182 Campbell Street, Surry Hills
www.hopestreetmarkets.com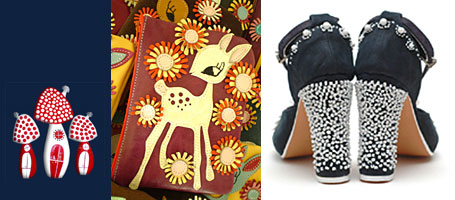 Scotatto brings to life an array of handmade treasures, from beautiful vintage fabric heels, charming leather character purses and patterned cushions, to bold retro-inspired bags. Vintage treasures found from scouring markets and op shops inspire and feature in Scotatto's designs which are unique, one of a kind creations, handmade with love.

I love the Peppermint Jewels range... I have a pair of Peppermint Jewels earrings that I received as a Christmas gift a couple of years ago & just adore! Designer Marina Civiero creates nostalgic, quirky neckpieces, earrings and brooches for contemporary girls using strong images and colours in simple, sometimes minimalist combinations that at once showcases elegant fun.

Shelbyville offers an intriguing range of books, badges, stickers, zines and other paper-based things. With a background in graphic design, creator Michelle Vandermeer uses illustration and typography, mixing the old and the new, the digital and handcrafted. The Shelbyville philosophy is one of reappropriating old things and redesigning them into contemporary items – 1960s Scrabble tiles recycled into jewellery; handbound leather notebooks with covers made from old sofas; handmade badges + stickers + bookplates + postcards made from remixing imagery from vintage storybooks and old atlases. Shelbyville is really just a love affair with paper and old things, combined with a relentless desire to make stuff!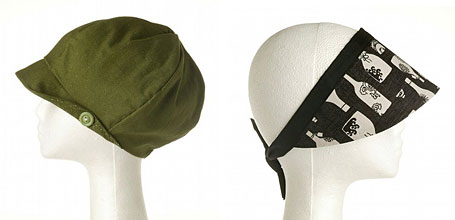 Sydney-based label Ellenade creates all wonders of hats & headwear to frame our faces & shade us from the sunlight. Each hat is uniquely made from beautiful cotton fabrics sourced from around the world. Designer Ellen Adele has recently returned from a fabric sourcing trip to Japan, so there are plenty of beautiful and unique fabrics to choose from!