indie art & design blog
christmas wishlist : oye modern
Friday, December 17, 2010 | by Carolyn Price
Our Christmas Wishlist series of guest blog posts now takes us into an online world of gorgeous jewellery. Oye Modern stocks everything your bejewelled heart could desire, from clever, contemporary designs to fun & playful pieces, as well as the classic and elegant... Jeni shares with us her top 3!
1  Red crochet granny necklace by Vic Mason
why?  This necklace is a result of the collaboration of two talented ladies, jewellery designer Vic Mason and her crafty friend Kirsty. This gorgeous little silver version of the traditional crocheted granny square is so much fun but evocative, too—reminding me of my own grandmother's knitting.
"We just celebrated Oye Modern's third
birthday and I cannot wait for the next three years! I carefully choose all the jewellery we stock and I get a real buzz from finding new designers with amazing products. When Oye Modern started, we stocked jewellery mostly by local designers, but now our jewellery comes from designers all over the world and is sold internationally.
Here are a few of our local favourites that'll make a perfect gift this Christmas.
2  Creel earrings by in-sync design
why?  The free-form, hand-drawn appearance of the Creel earrings, by in-sync design, is really appealing. They're made from stainless steel so they're light and really comfortable to wear.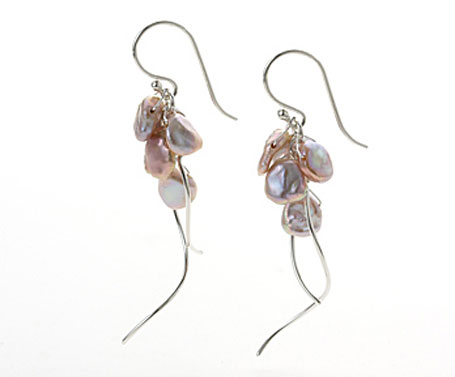 3  Pink pearl jellyfish earrings by Nicola Bannerman
why?  These pink pearl jellyfish earrings are a stunning design. The small misshapen pearls dazzle with their high lustre and shifting colours. Together with long silvery tentacles, they are just dreamy.