indie art & design blog
the weekend artist
Thursday, July 10, 2008 | by Carolyn Price
On tonight is the book launch of The Weekend Artist by local Sydney artist Gerard Smith, better known as "the guy in the art store". If you're in Sydney, why not join the celebrations at:
Oxford Art Supplies
221 – 225 Oxford St,
Darlinghurst, 2010.
Thursday 10th July, 6–8pm
The Weekend Artist is full of projects designed to release your inner artist. It gives you just enough technical information to create contemporary, achieveable works that would be a bold addition to any home. Gerard has kindly answered a few of our questions to give us some insight into the process of getting published!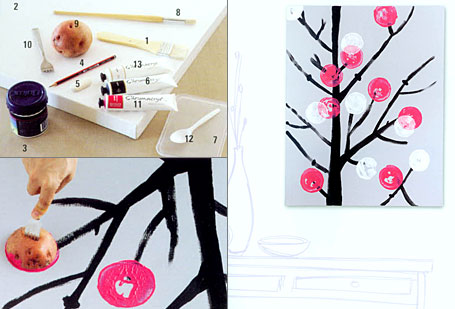 I 1. How did the book come about?
GS When I decided to study graphic design, I scored a part-time job at Oxford Art Supplies in Darlinghurst. After a while I began to notice that there was a demand from customers for simple projects that they could do in a weekend and no be embarrassed to hang on their wall. I started to draw up some basic projects and it sort of went from there.
I 2. So how did you get the deal?
GS I literally rang Murdoch books out of the blue and asked them the process involved in getting a book published. They in turn sent me a list of requirements which was quite in-depth. I gave myself two months to put together a proposal, which involved developing more projects, writing sample text and designing the format. I really want to stress that I didn't get this deal through any connections - I come form the least artistic family in the world. If you have the desire to do something you can always make or find your own breaks.
I 3.What was the process like?
GS It was fun, but exhausting. Each project has step-by-step photographs, so I had to make up about 3-4 prototypes for each project because the photographer obviously can't wait for paint to dry. I really enjoyed writing even if some of my more slightly risque puns were cut out by the editor. I did manage to get the word 'piss' (as in piss off) in there which I was quite proud of. I had this silly thing in my head where I wanted to be the first 'how-to' book with a swear word in it!
I 4. What's it like to see your book on the shelf?
GS The first time I went to find the book I went into Borders and asked the assistant did they 'have a book called The Weekend Artist, by some guy called Smith, I think' - I was too embarrassed to tell her it was my book. She said they had one in stock and we went to the shelves to find it. It wasn't there, so she did some more research and told me that it had been stolen! I took that as enormous compliment. I figure if it's good enough to steal, then it's good enough to buy!
I Thanks so much Gerard & all the best for the book launch tonight! Fingers crossed for The Weekend Artist going platinum... can books do that? You'll find copies of Gerard's shiny new book (AUD $34.95) on the shelves of quite a few Australian bookstores, including Oxford Art Supplies (Chatswood & Darlinghurst, Sydney & ONLINE).