indie art & design blog
wheely bugs!
Thursday, April 14, 2011 | by Carolyn Price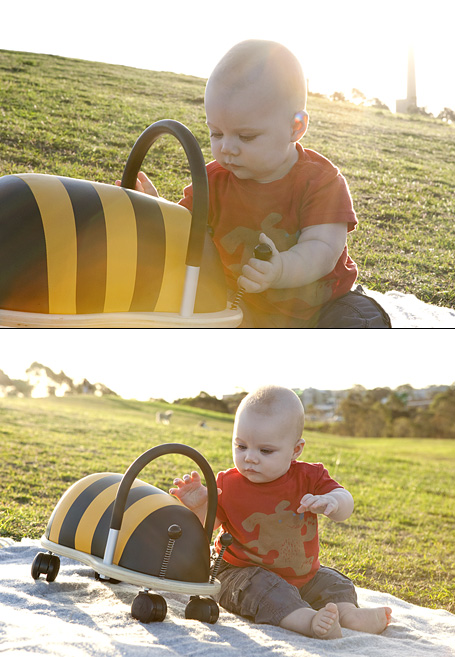 My little one can't wait to grow big enough to ride his Bumblebee Wheely Bug™! When his great aunt wanted to buy us a gift after Liam was born, the Bumblebee was the perfect choice. (I'd seen it at infancy in Newtown a couple of months before and it was instantly at the top of our list of must-haves...) Though he won't be riding it for a little while yet, as soon as he can walk (and his feet touch the ground) he'll be buzzing about, no doubt.
I think it's lovely to receive some gifts for your newborn which you can look forward to introducing well after they've outgrown all the sweet 000 and 00 baby clothes. They also make an ideal gift for a first birthday. The Wheely Bugs are available in two sizes - the small size (AUD $99 from infancy) is suitable from about 12-18 months, and the large size (AUD $130 from infancy) is made for 2 years and up.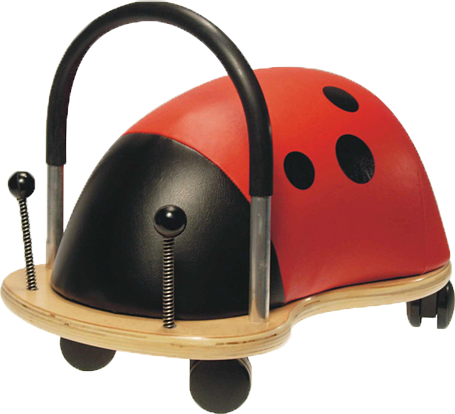 There are a range of designs including a mouse, cow, tiger and pig (check out the Wheely Bug™ site for more pics), but the Bumblebee and Ladybug are stand-outs for me! The Australian design is very safe and with castors for feet, these creatures are so easy for little ones to manoeuvre - moving forwards, backwards, sideways, and round and round... all the time promoting gross motor skills. The bodies are padded and covered with a tough layer of polyurethane leatheroid that can be easily wiped clean and the base is made from plantation grown Poplar plywood and has safe ergonomic rounded contours. The "feelers" which wobble and delight are made with stainless steel spring and have an internal limiter cord to prevent pull out. No wonder the Wheely Bug™ is a multi award winning design.
Which design would you choose for your precious little person?