indie art & design blog
feature interview: handmade, larkmade
Saturday, August 23, 2008 | by Carolyn Price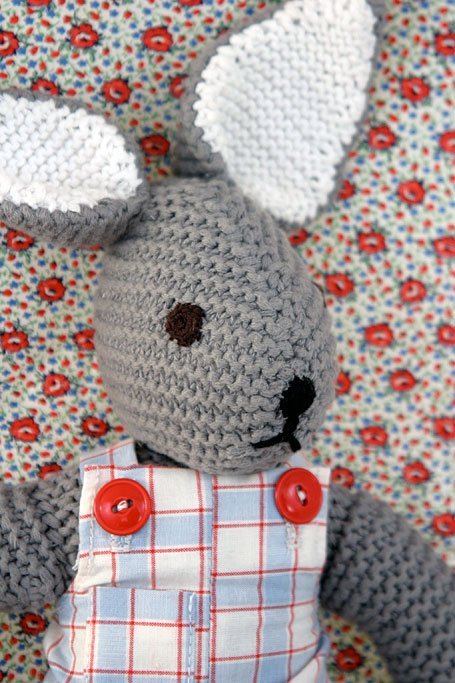 Lark is well known for handmade childrens toys, clothes and gifts, & certainly well-loved by many! Combining sweet vintage graphics with the cutest of handmade products, and with an ethical approach to every part of production, Lark is a label to be admired.
We're so excited to be posting this interview with Allison Jones to coincide with the launch of the first issue of Peppermint Magazine. You'll find our little piece published on those fresh-scented* recycled pages too! (*Pages not actually peppermint-scented.)
We have another treat for you - our little indie store is stocked full of gorgeous Lark handmade goodies, from guilt-free cupcakes & doughnuts, to vintage storybook mirrors & magnets guaranteed to bring back happy memories. Strike while the iron is hot & before our cupboard is bare! indie store products are ordered especially to accompany a selection of our feature interviews. We have just a handful of handmade Lark goodness, so don't be slow! (Don't forget to take a look at the Anna Laura badges & Meringue wristlets while you're there...)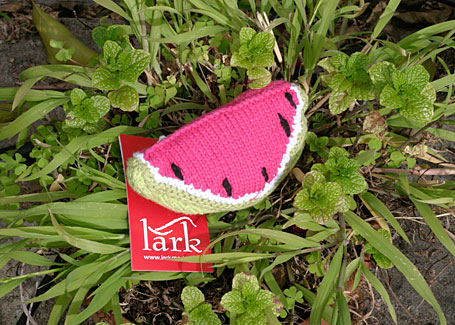 I 1. How did Lark get started?
LARK I rented a room above my son's crèche, in a big old Victorian house, filled it with all the things that inspire me, and spent every spare moment in there for six months thinking about how I could turn my obsession with vintage design and craft into a business.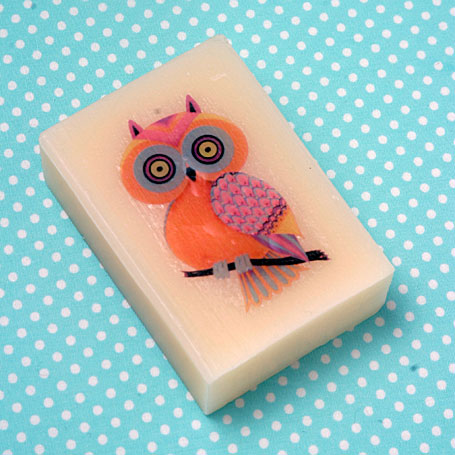 I 2. With stockists thoughout the UK & Australia, is it a big challenge to manage it all from Daylesford (Victoria)?
LARK No, actually Daylesford is the perfect place to run a small business from – all the facilities I need (school, post office, shops, coffee) are within 5 minutes walk! And we are part of a really small, close community, so whenever we need to travel for business meetings or trade fairs, there are friends on hand to help with childcare and look after our home and pets.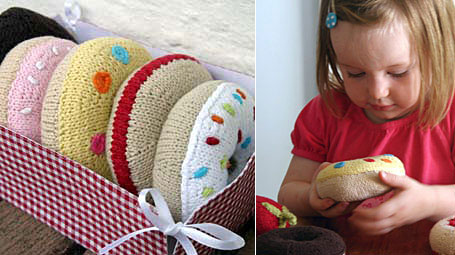 I 3. What inspires you & influences your designs? (Your own little ones?)
LARK I'm a collector – since my teenage years I've hunted down vintage textiles, fabrics, old children's books, vintage signs and packaging. This is where my visual inspiration comes from – my ideas for new products come from my memories of my own childhood, as I was lucky enough to be given mainly home-made clothes and toys, and I still think they are better than mass-produced products.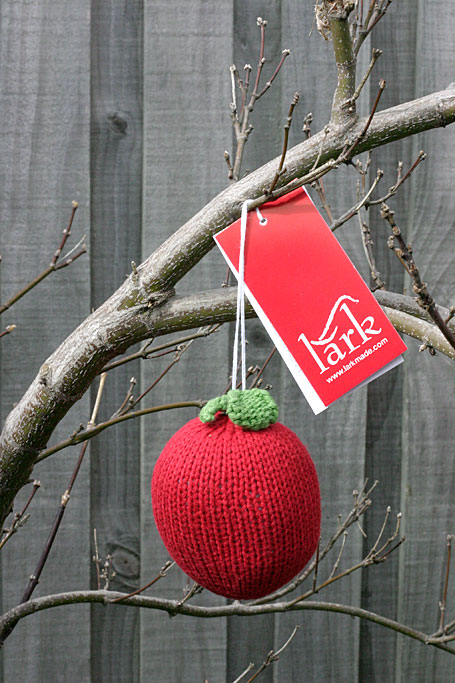 I 4. Social & environmental issues are obviously close to your heart. How has this influenced Lark's manufacturing & materials?
LARK Ethical production is an essential part of Lark - whenever I come up with a new product idea, it wont go into production until I can find materials and suppliers that I feel comfortable working with. We have recently started to work with Windarring, an organization for adults with disabilities near my home, which means that for the first time in 4 years I can finally hand over the production of some of our badges and mirrors!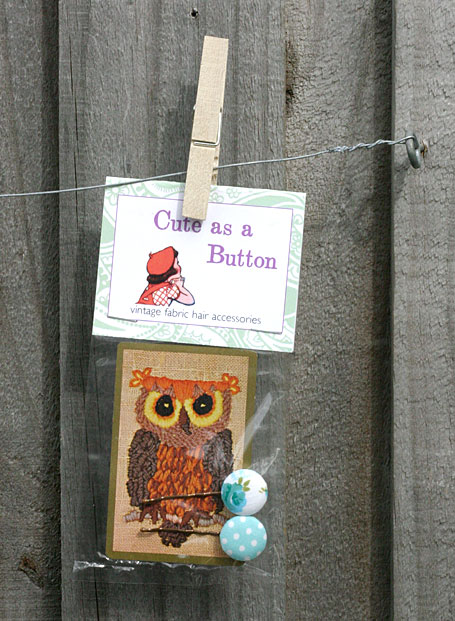 I 5. The Knitted Toys are perhaps the most recognisable of the Lark lineup – tell us about working with the women who do the knitting!
LARK It's been a long, complicated, often frustrating journey, but ultimately very rewarding. I would recommend fair trade manufacture to anyone with a craft business. The women in Bangladesh who knit my products have incredible skills and they benefit directly from our association – as well as fair pay for their labour, they have the opportunity to work with their children nearby and they receive training and career opportunities. Any profits that are made are used to fund much-needed facilities like schools and midwifery centres.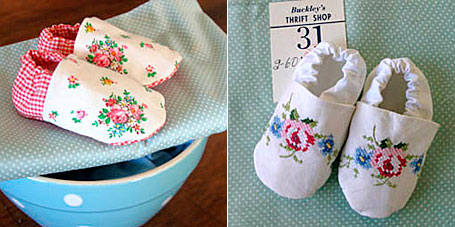 I 6. Which products are your personal favourites?
LARK The pocket mirrors made with vintage storybook pages were one of the first products I designed back in the 'room above the creche' days and I still love them – every piece is a mini and unique artwork that you can carry about in your handbag!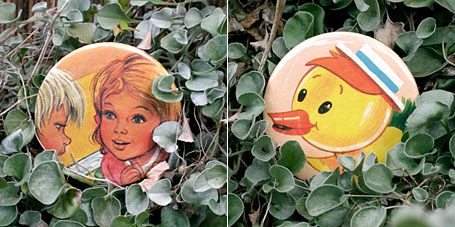 I 7. Do you see the market expanding for handmade & vintage products?
LARK Absolutely – it's become clear that mass-production, whether it be food, clothing or children's toys, is neither desirable nor sustainable, so I think that people will increasingly value products that are hand-made, fair trade, recycled or pre-loved.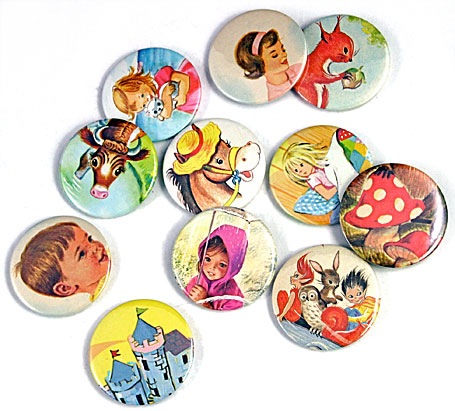 I 8. The "gifts to make" are a fun way to introduce kids to craft, and Miss Buttons is adorable! (Miss Buttons is the creation of Melbourne designer Angela White.) Have you heard many entertaining tales of Miss Buttons making process? Does the Lark online store stock many labels other than Lark itself?
LARK My partner and I have recently launched 'Lark and Friends', a small collective of indie designers from the UK and Australia with a similar ethos to Lark. We sell on behalf of the collective to retailers and via our larkmade.com.au web shop. Angela was the first person to join us - I adore Miss Buttons and she has a huge fan club. There is a customer gallery on the Sew Your Own website and it's fantastic to see the photos and notice how children have customised their kits to make every doll unique to them.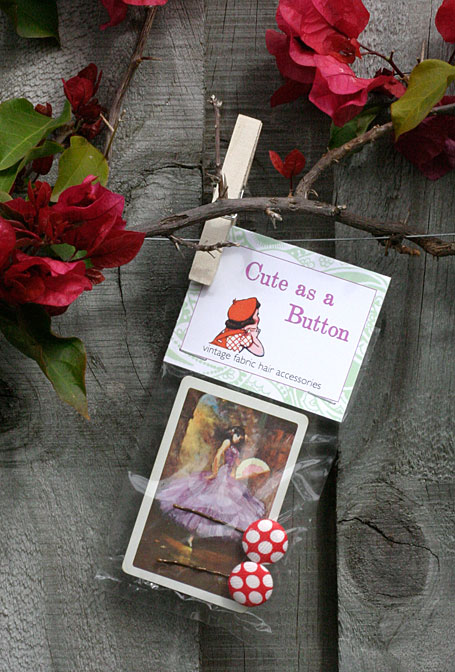 I 9. The Lark online store is full of handmade treasures. Is the online store a popular way of ordering products, or do you think most people seek out a local stockist?
LARK I think that most buyers who appreciate hand-made goods would prefer to browse in real shops (like me), but an online store is really handy when you need to buy a last-minute gift or if you are really busy with your work and/or kids!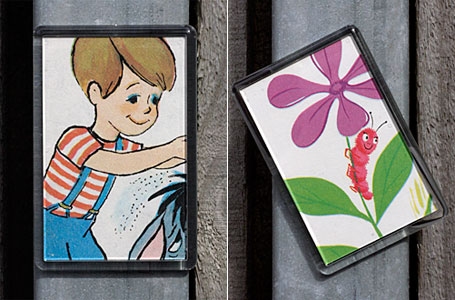 I 10. There's a thriving online community of crafty people – both hobbyists & those with their own handmade labels. How is Lark involved?
LARK I have my own blog (http://www.the-lark.blogspot.com/) and am in touch regularly with other crafters every day, which is essential for support and inspiration – especially living in a rural area. It's also a great way for Lark to get involved in community projects – for instance the Softies for Mirabel campaign (http://flickr.com/groups/softiesformirabel/) which is raising funds for children of families affected by substance abuse in Melbourne, through craft.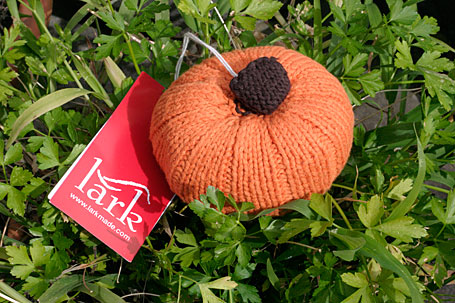 I 11. You, Pip from Meet Me At Mikes blog & Angela from Sew Your Own exhibited together recently at the Life inStyle trade fair (July/August 2008, Melbourne). What new products can you tell us about?
LARK Yes! The new Meet Me At Mikes blog label includes the cutest pendants made with vintage swap cards, and a whole lot of other hand-made goodies. As for Lark, I was launching a new range of knitted soft toys based on vintage patterns, and many new children's accessories. Sew Your Own's Miss Buttons was joined by a gentleman friend (of the superhero variety) as well as a brand new babushka-style doll, Miss Allsorts. We received a tremendous response from retailers and are now busy packing up boxes of goodness to send all over Australia!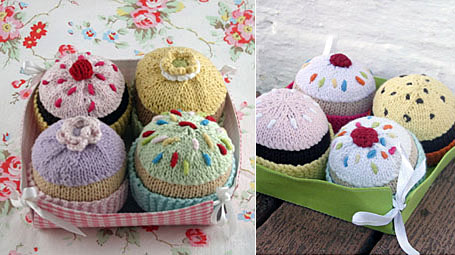 I 12. Where is Lark headed in the future?
LARK Wherever there are opportunities to work with awesome people to make and sell things that children (and their parents) will love and be inspired by!
Thank you so much Allison for this wonderful insight into the life of Lark! I think it's really something to turn such a passion for vintage-inspired products and responsibility for ethical & environmentally-friendly production into a thriving business. Keep up-to-date with Lark happenings through The Lark blog at www.the-lark.blogspot.com.