indie art & design blog
katoomba's sherman + betty
Thursday, July 14, 2011 | by Carolyn Price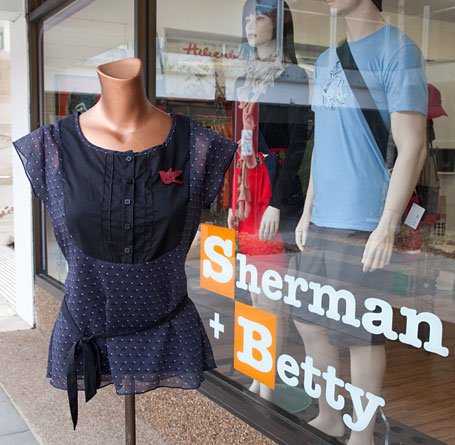 As you wander down the main street of Katoomba, you pass through a myriad of architectural styles and boutique curiosities. The brisk mountain air ensures coffee houses aplenty; the more rugged seated at small round tables on the sidewalk, attired in scarves and beanies, their hands wrapped around steaming beverages.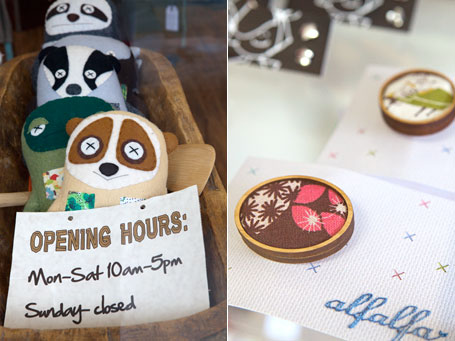 About halfway down the retail stretch of Katoomba Street, you will find a newly-renovated arcade, and in there you will find a new gem in this old town - a little boutique called Sherman + Betty. Their range of clothing and accessories has been carefully selected from a host of Australian labels, and each and every product has been made with love in Australia.
One label which caught my eye was Otto and Spike - such gorgeous colours and delicious fibres which look so pretty all lined up together. Otto and Spike have, in fact, been knitting winter woolies on an amazing collection of knitting machinery (each with its own special role) for more than forty years! Pictured above is the Tube scarf (in a variety of colours) - designed by Melbourne-based RMIT design graduate Rachael Kroussoratis. Composed of rings of knitted tubes, this scarf is actually knitted in one single piece but designed to be worn in multiples.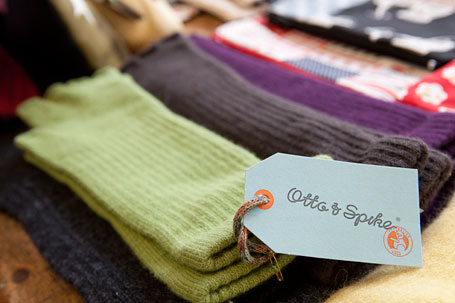 There were many Otto and Spike designs to be admired at Sherman + Betty... Other favourites of mine were the glovelettes pictured above and the scarves pictured in detail below.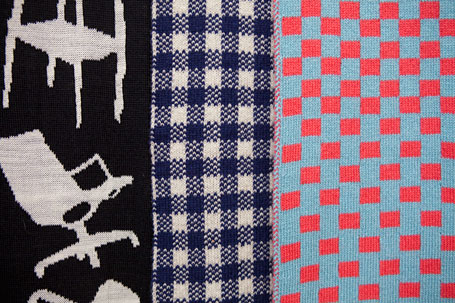 If you're gift-hunting, you will be delighted at Sherman + Betty's range of accessories and jewellery from many local labels including those I photographed: The Rabbit and The Duck, Cloth and alfalfa. Of course, there were also some friendly faces from Herbert and Friends greeting you at the top of this post (taking good care of the opening hours sign in the window)!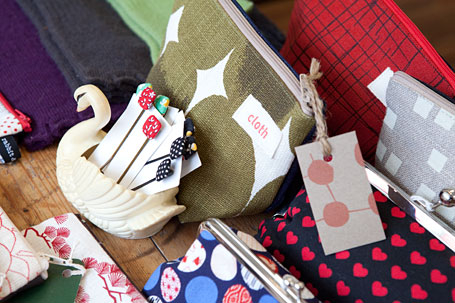 The satchels pictured below are by One Planet - another label I discovered during my visit to Sherman + Betty. The shoulder bags are from a product range which includes sleeping bags, tents and rucksacks, so you can be sure they'll be as durable as they are stylish!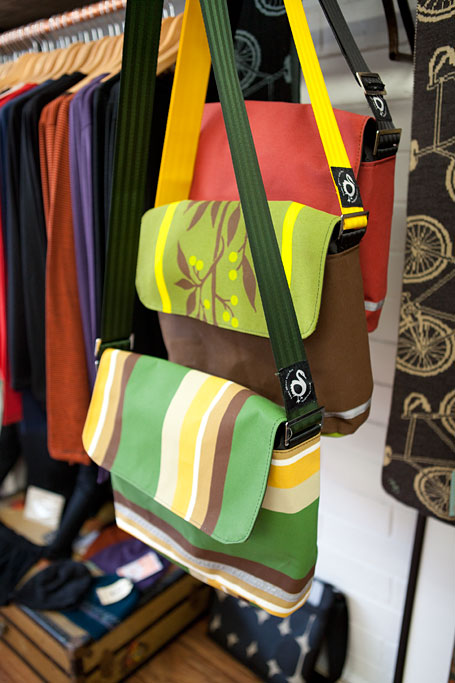 If shopping for yourself, you will find plenty of fashion garments for both girls and guys, including the owners', (the lovely Anton & Juliet), in house label Hikenbiker! They use high quality Australian merino wool to create versatile clothing which is perfect for outdoor sports, travel and everyday wear (especially in the mountains!). Anyone who has worn synthetic thermal wear will really appreciate the warmth and breathability of natural merino wool - vastly superior to synthetics!
Like all Sherman + Betty products, the Hikenbiker range is manufactured here in Australia, and we were rather thrilled to discover a local and affordable alternative to the expensive big brands. I also particularly like the styling of Hikenbiker garments. Offering flattering scoop necks and styles that don't necessarily scream "sports wear", Hikenbiker will have you looking great - whether you're climbing a mountain, or just enjoying a coffee on Katoomba Street!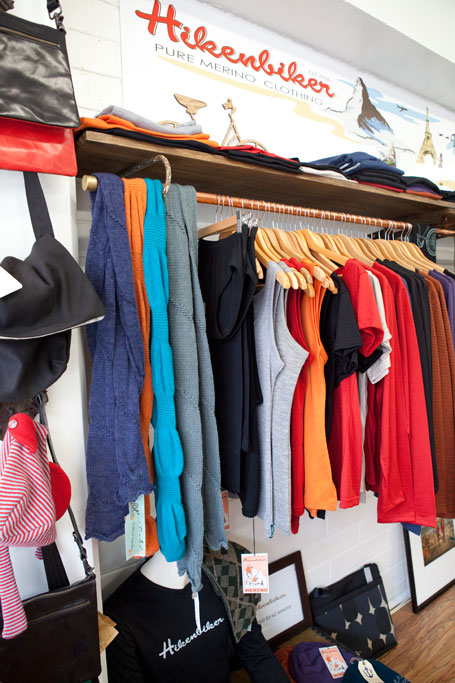 Next time you're in Katoomba, make sure to visit the vibrant little boutique in the Town Centre Arcade, Sherman + Betty, and say "hello" from us too! You can read more at www.shermanandbetty.com.au or visit:
Shop 9, Town Centre Arcade,
81-83 Katoomba Street,
Katoomba, NSW, 2780.
ph. 02 4782 3447
Open Monday - Saturday from 10am to 5pm