indie art & design blog
lino lacework
Monday, October 27, 2008 | by Carolyn Price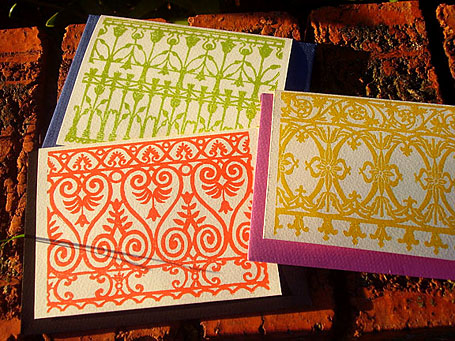 Katie Muth is a Canadian artist, illustrator & printmaker currently living in Sydney. She has a beautiful collection of hand printed linocut designs made into cards, accessories and prints, including a range inspired by the intricate wrought iron lacework on Sydney terraces (like mine!)...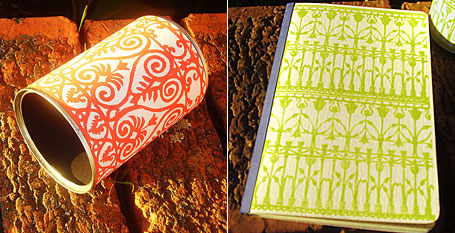 Since graduating from Ontario College of Art and Design in 2002, Katie has used a variety of printmaking techniques such as etching, screen and litho printing to produce work ranging from large hand printed kites to intricate limited edition artist books. However, she always returns to linocut relief printing as she loves the clean, binary nature of the lines (there is no grey - it's either printed or not printed), and the way the hand is slowed by the process of carving, making the images strong and deliberate.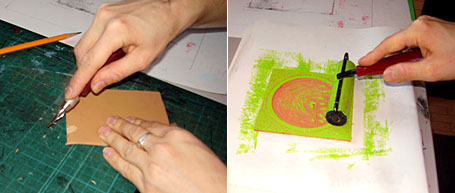 Linocut printing is one of my favourite techniques for creating very person work. I love the process of carving out the design (despite the occasional tears and requirement for a band-aid) and the anticipation you feel as you begin peeling away the finished print. Applying even pressure with a handheld barren can be hard work though! In the images above & below, you can see the process by which Katie creates her designs.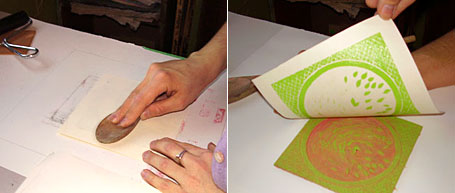 Also on offer are a range of detailed, 2 & 3 colour figurative prints with their own stories to tell - one of which I'm saving up for a feature post in 4 days time... The sweet birthday & thank you card designs (pictured below) would surely bring a smile to the face of any crafty friends & relatives.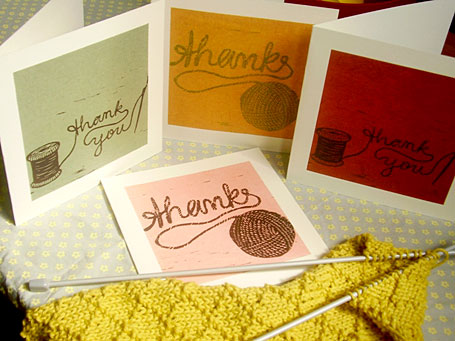 Katie Muth Original Prints are stocked all over Canada & the US, and in Australia at:
NSW: Publisher Textiles (Leichhardt)
WA: William Topp (Perth)
ONLINE: Made It, www.katiemuth.com