indie art & design blog
festive tags + trinkets
Saturday, December 12, 2009 | by Carolyn Price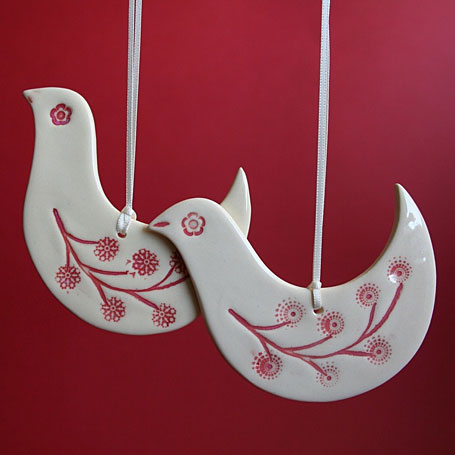 Christmas is almost upon us and as people and places dress up for the occasion, we bring you a selection of handmade pretties to adorn your own living room and the gifts beginning to appear under the tree (or in our case, the resident peace lily)!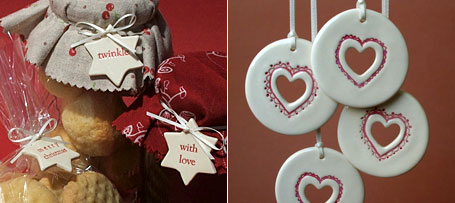 I'm really in love with ceramics at the moment, and these sweet pieces are handmade in Brisbane by Kylie Johnson. Her label, paper boat press, began as a boutique greeting card range featuring Kylie's one or two line poems. paper boat press has now grown to include ceramic ornaments, ceramic jewellery, original illustrations and functional ceramic vessels. Many of Kylie's designs incorporate her poetry. Her poetry collection "count me the stars" was published by Murdoch Books in 2008, and she has a second book, "a once courageous heart" due for release in March, 2010. You can see more at www.paperboatpress.com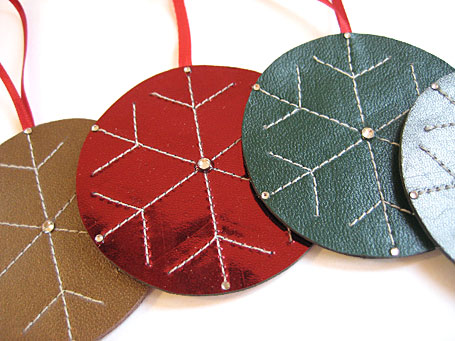 Look at these leather decorations! They have been handmade by Emma Greenwood, who also exhibited her work in the "Shoe Show" at Craft Victoria last month. Each decoration measures approx. 9cm high, and will certainly catch Santa's attention. The kid leather Trees and Baubles have been top stitched and sparkled-up with Swarovski crystals, while the Owl cuties have been overlaid with additional leather pieces and given good sled-spotting night vision with big round eyelets for eyes!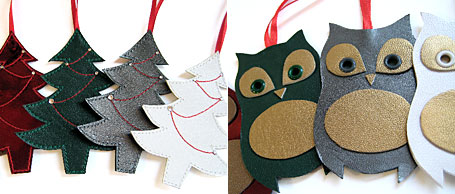 You'll find Emma's creations in her online store, Emerge Shoppe and you can also follow her blog, aprons & hammers, at www.apronsandhammers.blogspot.com. Emma also makes leather accessories which would make great gifts - especially for people who are hard to buy for... like boys! Choose from keyrings, belts, brooches, pins & cuffs...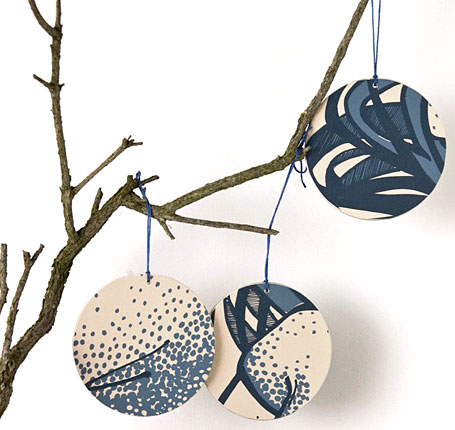 etsa sketch divides her time between art & study, and creates really lovely drawings & prints. The printmaking process can be hazardous and unpredictable at times, and she likes to "take any mistakes, imperfections or bad decisions and repurpose them into something beautiful".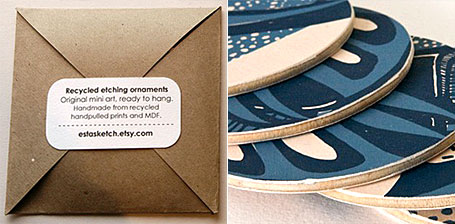 These sweet wooden discs feature small glimpses of hand-pulled silkscreen prints. They are double-sided and would make great ornaments for Christmas or any other time of year! You'll find them in etsa sketch's MadeIt store, and you can follow her blog at estasketch.blogspot.com.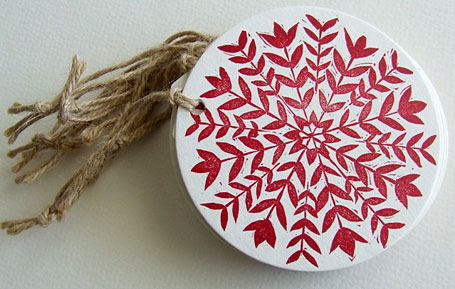 This post has been a real mix-up of materials - ceramics, leather, silkscreen prints and lastly... letterpress! I love these Christmas tags by Tasmanian printmaker & artist RubyVictoria - in fact I just purchased a dozen of the Naughty/Nice Coaster Tags pictured below! 'Nice' tags will be going to grandparents; siblings will definitely receive 'Naughty' tags, (despite all the help I received at Finders Keepers)... I wonder which of our parents & friends will make the 'Nice' cut?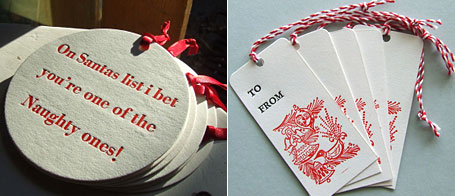 You'll find lots of loveliness in RubyVictoria's MadeIt store and you can follow her blog at www.rubyvictoria.blogspot.com.
If you're looking for even more Christmas decoration inspiration, we recently featured the Polli Decoration Kit of 30 (AUD $19.95) and edward & lilly's gorgeous lavender birdies (AUD $15).
Wishing a Merry Christmas to all our indie readers!
With love from Carolyn & Martin xx