indie art & design blog
three of a kind: iggy & lou lou
Monday, November 16, 2009 | by Carolyn Price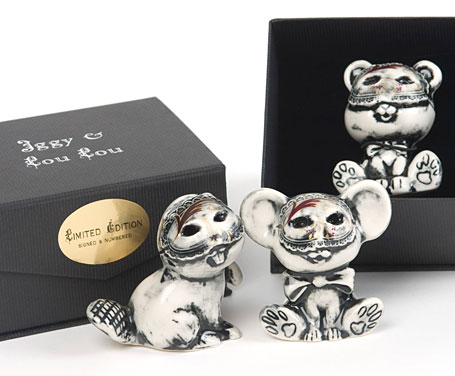 We're excited to bring you the second instalment of our "Three of a Kind" interview series - this time with Irene Grishin-Selzer the artist & designer behind the gorgeous Iggy & Lou Lou jewellery label.
To be honest, I'm a little in awe of Irene and her Iggy & Lou Lou creations. Her style is so unique, and each time I browse through her web site (which is truly an artwork in itself), I find myself adding up what it would cost me to buy... everything! (Well, a good selection anyway!) Her latest collection, "Love Bandits" explores the concept, "Stolen time stands still, and love lasts forever...", with pieces that possess a mysterious quality whilst at the same time connecting with the viewer (or wearer) on a very personal level.
Iggy & Lou Lou was launched in 2003 and since then has released seven successful jewellery & artwork collections. Irene draws on the rich history of porcelain and each piece is lovingly hand crafted and kiln fired up to four times to attain the patina of buried treasure. Collections are rich with historical references, decorative themes and narratives, and influences - from ocean depths to forest folk, sixteenth century Memento Mori and the black and white character of Film Noir - imbue each piece with the presence of a much-loved heirloom.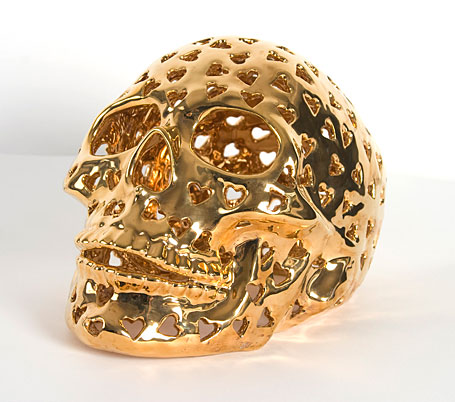 I What makes you 'three of a kind'? The motivations behind your works, your techniques & approach or the themes that run through the artworks, or a little of each?
ILL There is an element of humour, mystery and fun that runs through all of our interests, approaches and themes. I think its evident in all the different mediums we tackle.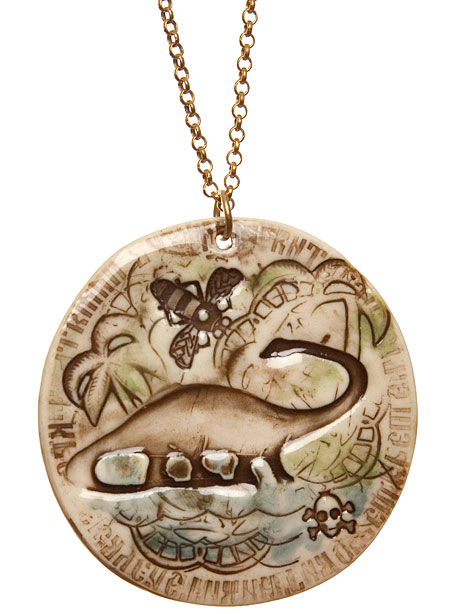 I What led you down this career path?
ILL I always liked making things and selling them from when I was little. I studied up to Masters in ceramics and applied arts (with jewellery as a minor subject) I wanted to find a job that gave me a sense of creative freedom but I couldn't find anything that I liked. A business grew out the demand for the jewellery I was making and with the help of those who work with me, I'm able to devote time to making artworks as well. It doesn't really feel like a 'career' choice as it just grew out of a need to retain my creative freedom.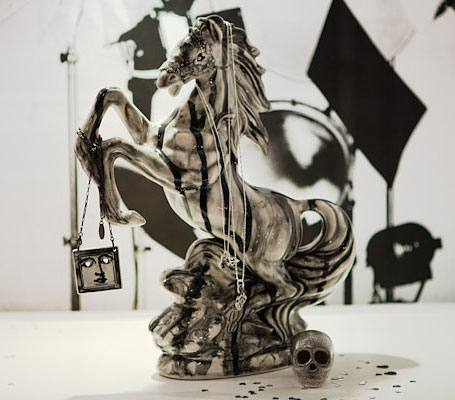 I What do you love most about being an artist/designer?
ILL I love being able to take ideas and feelings and make them into concrete objects... Making things by hand is really rewarding for me. Sometimes it takes longer than expected but there is a real sense of satisfaction from seeing it through from start to finish. I also enjoy the practical aspects of sending things all around the world via the website - its nice to feel a connection with people from far away places. I also love being able to travel overseas and meet and work with other artists who make beautiful things like Madeleine and Beci.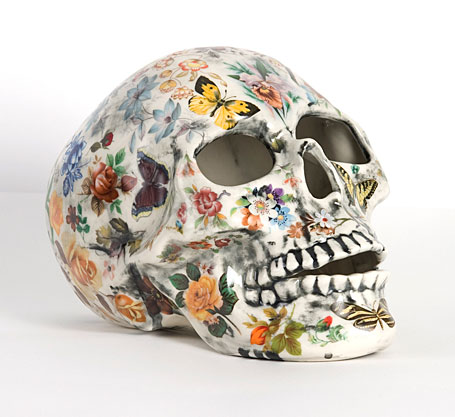 I Does living in Melbourne influence your artwork?
ILL I'm not sure. Maybe it does unconciously... but I don't know in what particular way. I don't live in the city as I love the sea, but I always think I'd make the same kind of work whevever I lived - but who knows?
I What is the focus of your work for the Three Of A Kind exhibition?
ILL I often work in 3D but am showing some limited edition photographs and prints for the first time. I've also made some new wall sculptures which are in between 2-3D. I generally work with themes of love and mystery. I like working with dueling themes that often work out as opposites of the same coin, eg.the dualities of love/beauty vs loss. Dreams and reality often collide and an element of humour or playfulness is always there to keep things in check!
I What do you love most about the work of the other two girls?
ILL I love lots of different things about both Madeleine and Beci's work. Probably mostly the playful but considered dreaminess…that gets me every time!
Thanks so much, Irene for finding time amongst the exhibition preparations to tell us about the journey and inspirations behind Iggy and Lou Lou. Wishing you all the best for the upcoming show! Do make sure to visit www.iggyandloulou.com to see many more beautiful porcelain creations from Iggy & Lou Lou's six collections.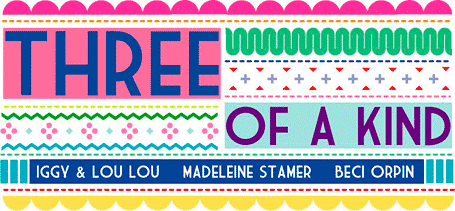 There's not long to go until the doors at Lab X Gallery open to reveal new works by this trio of artists: Iggy & Lou Lou, Madeleine Stamer and Beci Orpin. Opening night is Friday 20th November 2009, from 6-8pm. In the meantime, you can follow the show preparations at http://threeofakind09.blogspot.com.
The exhibition continues until November 29.
Lab X
40 Pakington St, St Kilda, 3182.
ph. 03 9534 8838
Gallery hours are 8.30am to 6pm Monday to Friday.