indie art & design blog
the sea rests
Sunday, March 30, 2008 | by Carolyn Price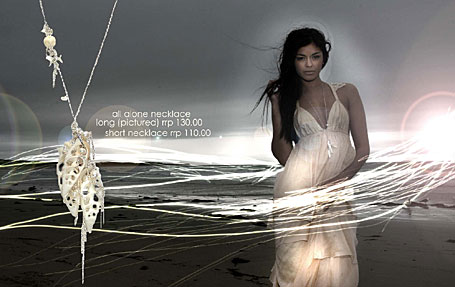 "The Sea Rests, She Waits" is the current collection of swimmingly beautiful necklaces, pendants & earrings by Psychoglam. These jewellery designs are a peaceful reflection on the beauty and unpredictability of the sea. I think my favourite is the "All Alone Necklace" pictured above (Long AUD $130, Short AUD $110). I love the way in which the three skeleton shells hang together, amongst pearls, crystals & bone pieces - as if they've been swept together by the sea itself... perhaps entangled in a chain of silver seaweed.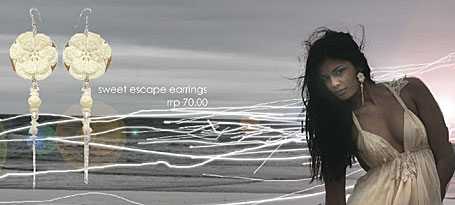 Designer Emma Hyatt describes her inspirations as "a mixture of the lush bushland surrounding her, and the high fashion she adores". The contrast of natural elements and more traditionally glamourous crystals & pearls set the tone for her unique range. For the "Sweet Escape" pieces - Earrings (above, AUD $70) and Pendant (below, AUD $70) - Emma has added delicate cream cotton crocheted flower resting on a metal ring as the focus.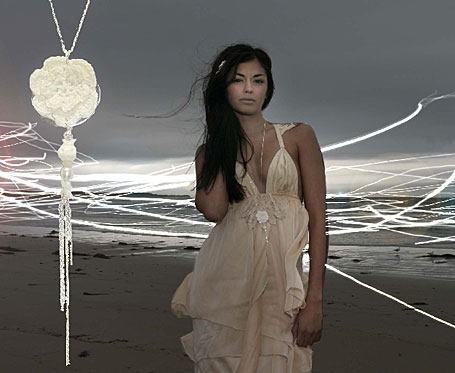 Emma creates each piece by hand in her studio in Invermay (which is just North of Ballarat in Victoria). She creates two collections per year, each with its own distinct theme. The Sea Rests, She Waits is delicate & romantic, with a hint of mystique. In "Hidden Pearl" (below left, AUD $110) the movement of the wearer reveals glimpses of the glowing creamy rough pearls amid the draped curtains of silver chain. "First Kiss Necklace" (below right, AUD $80) brings together many of elements in this collection with long sweeps of chain leading to a beautiful cluster of pearl and bone.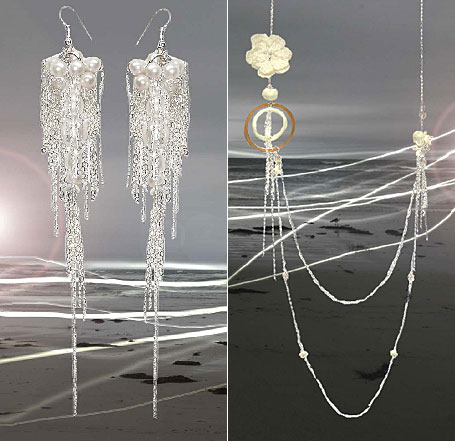 The "High Tide Pearl Earrings" (below, AUD $70) offer something more structured. A single pearl has been placed in the centre of the design, from which small lengths of chain cascade down. The "My Heart is Yours Necklace" (at bottom, AUD $90) is something special - a strictly limited edition piece featuring a vintage glass chandelier heart resting on a skeleton shell surrounded by pearls, swarovski crystals and tiny metal flowers.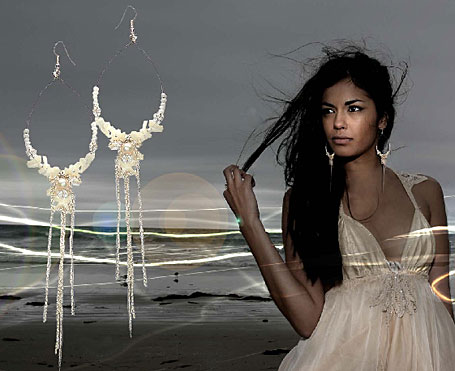 This 2008 collection follows on from Emma's 2007 sell-out "Romance in the Moonlight" range. Her style also lends itself perfectly to bridal applications - if you are planning a wedding, Emma can create custom jewellery for you & your bridesmaids. Psychoglam is stocked in boutiques across Australia and each piece is also available to purchase online at www.psychoglam.com. Stockists include:
Online: www.letsshop.com.au, www.stylehunter.com.au, www.stylefile.com.au, www.ku-ture.com
VIC: Boutique 251 (Ashburton), Boxsta (Geelong), Brown Bag (Elsternwick), Cactus Jam (Port Melbourne), City Limitz (Mildura), Cocopink (Ballarat), Crimson Phoenix (South Melbourne), Lion in Love (Hawthorn), Mikaila (Brunswick), Oscar Calvo (Collingwood), Pen Haligons (Echuca), Qushi (Geelong), Rhubarb (Torquay), Tesori-Bellini (Brunswick), Wen & Where (Ballarat)
NSW: Blaise (Newcastle)
WA: Basement (Perth), Saints (Subiaco), Soul Sisters (Fremantle)
QLD: Boxsta Noosa (Noosa Heads)
NT: Epiphany (Darwin)