indie art & design blog
new from shonah
Tuesday, July 14, 2009 | by Carolyn Price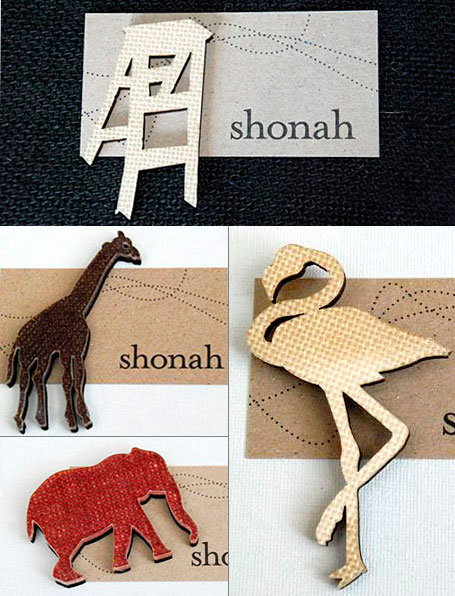 Having just returned from Spain & Italy, I couldn't resist posting these gorgeous new designs from Shonah Jewellery Design... We saw so many hand painted patterned tiles, and mosaics featuring mythical birds & beasts. Of course, in Rome, you barely need a handbook - there is something of historical significance around almost every corner.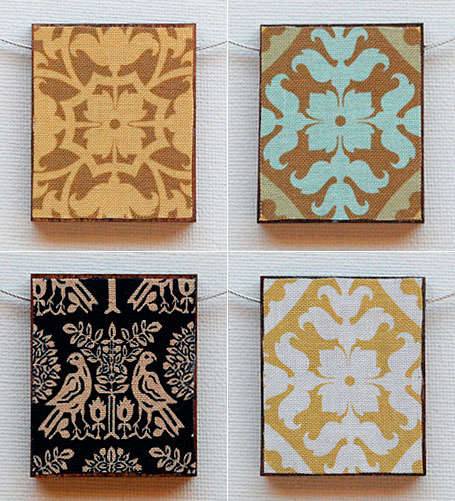 I love the gentle colours in Shonah's Spanish Tiles Pendants - particularly the pale blue & tan combination.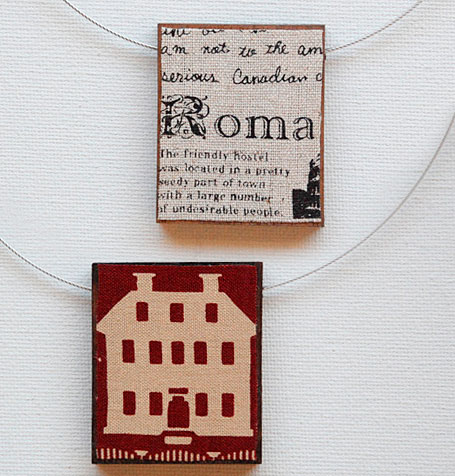 We first featured Shonah Tomkin's jewellery pieces back in May last year. Since then, this Melbourne-based designer has been developing new collections to add to her impressive line-up. As well as pendants and earrings, Shonah now offers brooches. The animal & object shapes really stand out, as do the fabric textures - simply dyed with warm hues of chocolate, cream, red, plum & black. Isn't the step ladder cute?! (Selected styles pictured at top.)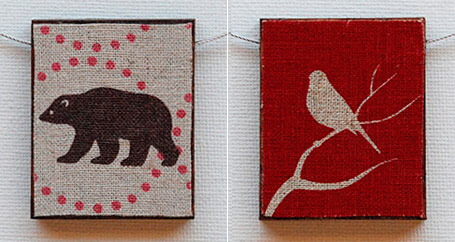 Shonah's jewellery pieces begin life in the hands of her father, who hand crafts pieces of Tasmanian oak in a quaint country town. Shonah then combines them with resin & fabric, and has them laser cut to shape. She uses a blend of her original screen-printed fabrics, patchwork and vintage fabrics, and more recently, has sourced gorgeous fabrics from local designers such as Ink and Spindle and Shannon Lamden. The pendants above and below are from two of her new collections, "In The Woods" and "Eclectic".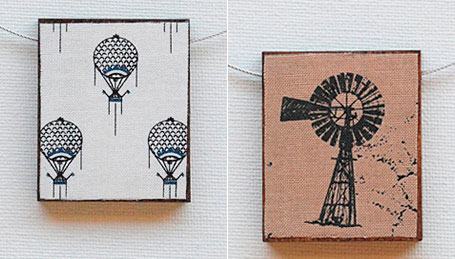 For more info & designs, beautiful photos, or to place an order, visit www.shonah.com, or find Shonah's pendants, brooches & earrings at one of the following stockists:
VIC: Allure of Alexandra (Alexandra), Antipodes Bookshop & Gallery (Sorrento), Arbor Redux (Brunswick), Body (St Kilda East), Five Boroughs (Brunswick East), Honey (Echuca), House of Balaclava (Balaclava), i like you (Fitzroy), Just Planet (Sunbury), Love It (Melbourne City), Queen Clothing (Collingwood & Windsor), Souk Lifestyle (Northcote & Armadale), Sentient Being (Eltham), Spoilt Gift and Homewares (Melbourne), Watermark Clothing & Lifestyle (Point Lonsdale), Wild Jam (Flemington), Wilkins and Kent (Melbourne), Wolf at the Door (Daylesford), Zinc Lifestyle and Gifts (Camberwell)
NSW: Goulburn Regional Art Gallery, Honeybee (Newcastle), Morrison (Sydney), Mushu (Balmain & Surry Hills), Precious Fusion Contemporary Jewellery & Metalwork Gallery (Stanwell Park & Cronulla), Sturt Gallery (Mittagong)
Portrait Gallery Store (Parkes), The Style Emporium (Nicholls)
QLD: D'Pinga (Noosa), Lavish Essentials (Wooloongabba), Sunnibel (Currumbin), The French Door (Paddington)
WA: Eshe (Bunbury), Lotus Accessories, Method Clothing, Morrison (Fremantle & Claremont), Spoilt (Subiaco)
SA: Ikeguchi Creative Life (Adelaide), Red Poles Gallery (McLaren Vale)
TAS: Homebody (Launceston), Luxe
ONLINE: Georgie Love, Miss Koo, Moose: Art for Living