indie art & design blog
feature interview: mainichi
Saturday, November 22, 2008 | by Carolyn Price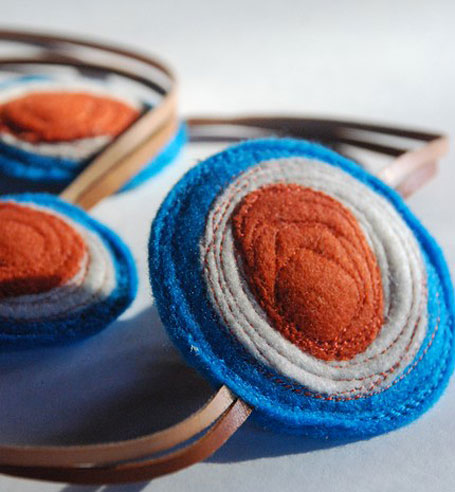 I've admired Dearne Herrenberg's jewellery designs for a long time - she has a real flair for mixing colours & textures to create truly individual pieces. Dearne has recently launched her Etsy store at www.mainichi.etsy.com and I thought it was time to delve a little deeper...
I 1. I know you began your career as an interior designer. What initially drew you to interior design?
M Design was a means to providing me with a much needed creative outlet that would also give me a "qualification" at the end of years of study. It was just a matter of choosing what design path to take that would eventually also allow me to work for myself in a home based business.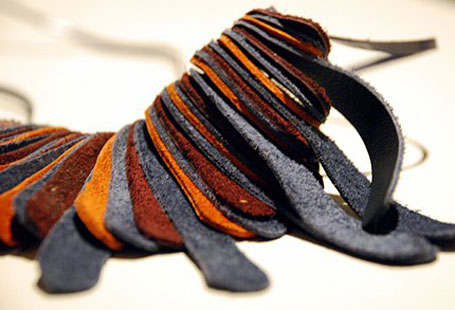 I 2. When did you start creating your jewellery pieces? Was it a hobby for long before you launched Mainichi Design?
M I used to make jewellery as a teenager from all sorts of scraps that my Dad had lying around in his workshop – coloured electrical cable was a favourite, as well as the eighties staples like paperclips and zippers. I also used to make earrings by cutting up the plastic from Coca Cola bottles when they had the black bases! Mainichi was launched in 2004 after I purchased some interesting materials to use in my creative pursuits during a holiday in Japan.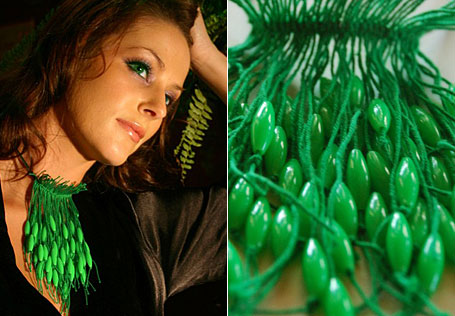 I 3. What elements of your interior design experience to you see coming to the fore in your jewellery designs? One aspect of your work that I personally LOVE is the use of colour – I imagine you've always had a way with colour?...
M The colours used in my jewellery pieces are often inspired by my interiors work and work of other interior designers and architects. I've always been intuitive with colour and loved to play around with it in my creative work.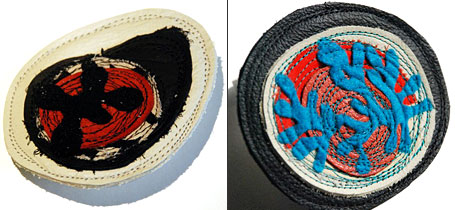 I 4. What are some of your inspirations?
M Architecture, Fashion, Nature, Travel, Pop Culture and life in general.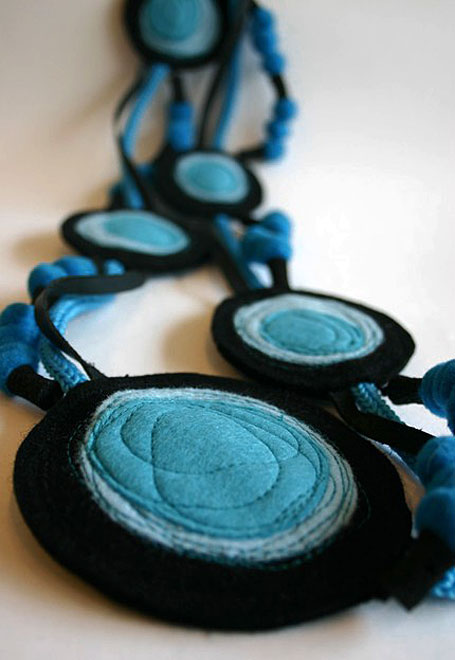 I 5. What motivated you to start transforming everyday materials into wearable art?
MI was interested in exploring the idea of turning something discarded or not considered particularly "precious" into something appealing and special like a piece of jewellery to adorn the body.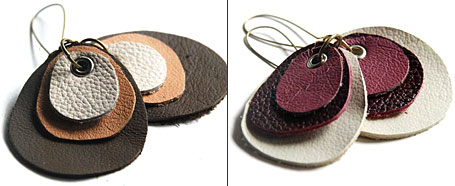 I 6. How do you find & choose your materials?
M I am always on the look out for new and interesting materials. In Brisbane I like to visit Reverse Garbage and fossick around. Op shops and markets are also a good source of materials. Or just art and craft outlets…anything that looks appealing I will grab even though I may not have an immediate use for it. and I am a hoarder.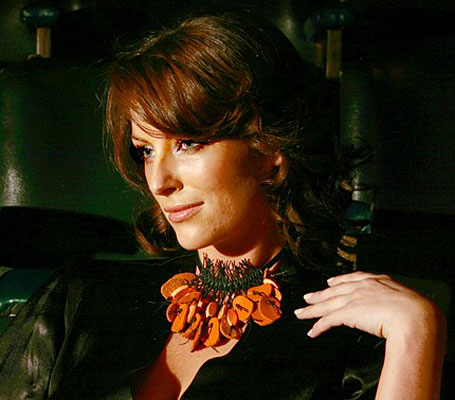 I 7. Your designs have such a tactile quality – how do you go about layering the different textures?
M Like the use of colour for me design is an intuitive thing and the layering is usually an organic process that begins with one idea and develops from there.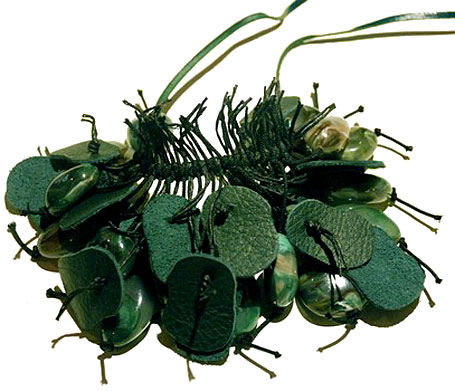 I 8. Who do you imagine you're designing pieces for?
M I don't have an "end user" in mind. I would like to think the kind of people who are attracted to my work are not able to be "labeled" or "categorized" into a particular type.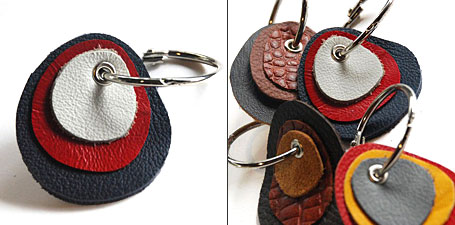 I 9. You also organise what sounds like a wonderful meeting place for like-minded women – The Creative Womens' Circle. How did this come about?
M The Creative Women's Circle has unfortunately just come to a close. It has been 4 years of gathering together like minded women involved in creative industries and small business and I think it has finally run its course. It has been a fun thing to do and it's been great to meet lots of talented and creative women.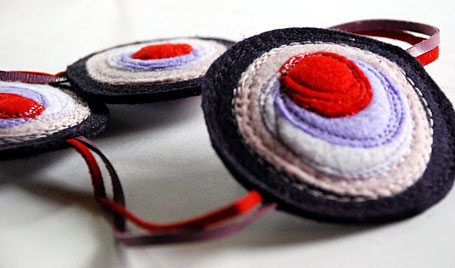 I 10. With a young family in tow, you must be busy. How do you manage your time & what do you have planned for the future?
M I'm not the best at time management and now I have even less of it with a toddler to take care of! I make a lot of lists and try to cross things off them!
In the near future I'm planning to focus more time on my jewellery making and building my Etsy online shop.
Further down the track I would like to spend some time exploring more sculptural pieces of jewellery and work towards an exhibition at some stage, but that will be some time away yet.
I Thanks so much, Dearne, for giving us an insight into your label & process. All the best for your fast growing Etsy store, and I'll be looking forward to seeing some of your future sculptural jewellery! More of Dearne's work can be found on her web site www.mainichidesign.com and her blog www.mainichidesign.blogspot.com.