indie art & design blog
publisher planet pop up
Tuesday, September 22, 2009 | by Carolyn Price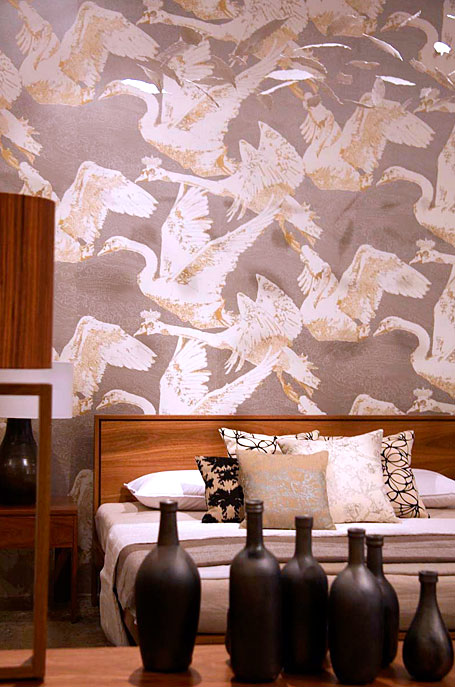 The interior installation above is currently on show at Planet in Surry Hills. Local favourite Publisher Textiles collaborated with ceramic artist Kris Coad, Home Beautiful Magazine and Planet to create this celebration of delicate imagery, forms & textures, which is on display throughout September.
Publisher Textiles specialises in printing bespoke, environmentally friendly textiles and wallpapers, using natural fabric fibres and recycled materials for their non-woven wallpaper base. In their Leichhardt studio, they hand-print products with unique designs & patterns using a custom water based ink that is equally durable and light-fast.
The pop up installation features Publisher Textiles' signature 'Swan Print' wallpaper and a handful of specially selected, exclusive hand-printed feather cushions from the award winning Dusk products range. (Both can be purchased from Planet throughout the month.)
I love the sense of weightlessness created by the themes of floating & flight. The leaf shadows move midair between the swans, and the leaves are so fine & translucent that they could almost be feathers themselves.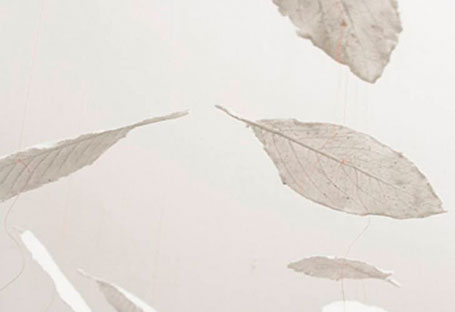 Kris Coad's bone china 'floating leaves' is so beautiful. Since each leaf is suspended at a slightly different angle, the light bounces off in different directions creating a lovely tonal range.
Kris has been a practicing ceramicist for over 20 years, currently works full time in her studio, based at the GASWORKS Arts Park in Melbourne. She describes her work as follows:
"I am interested in the spiritual and daily ritual of different cultures, the way an object, symbol, mark or shadow and its placement can trigger a transformational response. To interpret the anthropological sentiment behind beliefs, I make contemplative pieces that have a stillness and silence in an increasingly complex world."
To view the installation or purchase the homewares on display, visit Planet at 114 Commonwealth Street, Surry Hills, NSW, phone 02 9211 5959.
Showroom hours:
Monday-Friday 10.00am - 5.30pm
Saturday 10.00am - 5.00pm
Sunday 12.00pm - 4.00pm