indie art & design blog
midnight twilight
Tuesday, April 22, 2008 | by Carolyn Price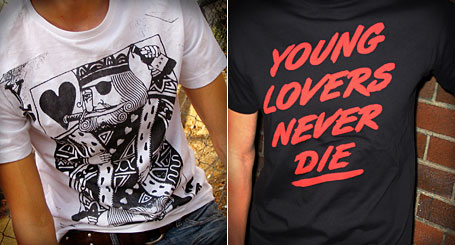 Hip? Young? Feisty? Yes? Then Young Lovers will be the perfect fit. Whether you're hanging out in Newtown or New York, you're sure to stand out from the crowd in one of these spunky screen printed tees. Pictured top left is "Pirate King" (AUD $59) with the "Young Lovers" signature print (AUD $59) right next door.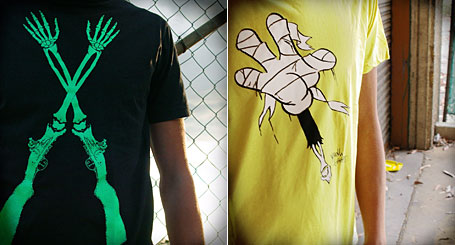 The Sydney label has recently released its highly anticipated third collection, titled "Midnight Twilight". The bold new prints "celebrate the madness of midnight love and all that surrounds it. It is for the sleepless ones who dare to not follow. It is the Young Lovers who will take over the city by night." A few neon colours should help out there - pictured above are "Guns&Arms" (left AUD $59) and "Murdermouse" (right, AUD $59).
I'm wondering which of these two tees is the scariest? The title of the daytime soap "Young & Restless" (left, AUD $59) or the razor sharp teeth of "Vampire Hounds" (right, AUD $59)? (I must admit now to having purchased the Young & Restless cookbook... and I was rather dissappointed to find that it lacked the drama of both the TV show and the t-shirt.)
This design has to be my favourite from the new range - a highly decorative traditional frame borders an image depicting a black cat eating licorice at midnight... (AUD $59) Below are "Lovers" (left, AUD $50) and "Dancing Shoes" (right, AUD $59). You'll be looking sharp in those!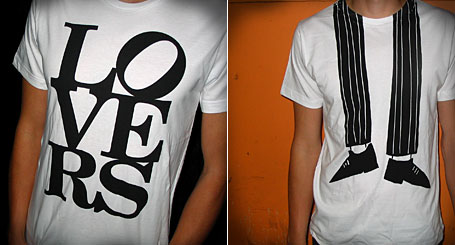 Young Lovers tees are produced in strictly limited editions of 100. They are available in both guys & girls styles but you'd better be getting a move on as a couple of styles (not shown here) have already sold out. You can purchase tees directly from the Young Lovers web site at www.younglovers.com.au, or seek them out at the following stockists:
NSW: Beautiful on the Inside (Surry Hills), Roof on Fire (Paddington), Mint (Manly).
VIC: Kids in Berlin
QLD: Violent Green