indie art & design blog
winter wear: heidi and seek
Tuesday, July 21, 2009 | by Carolyn Price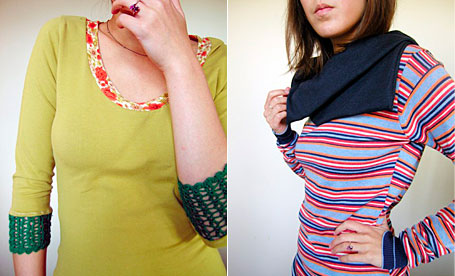 I really love Heidi and Seek's motto, "Saving the world, one cute garment at a time". It speaks volumes about the passion Melbourne maker Hayley Lau stitches into her designs. The Heidi & Seek range is comprised of one-of-a-kind handmade garments which have been upcycled and reconstructed using quality second-hand items. They are wonderful combinations of colours, fabrics, styles and details. Hayley gives each piece a "unique sense of fun and colour".

Heidi & Seek aims to counter the disposable nature of today's fashion industry, which relies on exploited workers to bear the cost of the low prices offered to customers. She strives for fairness and eco-friendliness in every aspect of business. The Ethics page on her web site describes her views, and the problems with common production practices within the fashion industry.
In upcycling pre-loved garments, Hayley really mixes things up - creating combinations that might not have otherwise come about. In that sense, her philosophy also contributes to the design appeal of her garments, which are often surprising, and always super cute. I love the large collars on the tops featured here, and especially the sweet gathered short-sleeve + slender long-sleeve combo. For these pieces, comfy clothes have been dressed up by the detailing!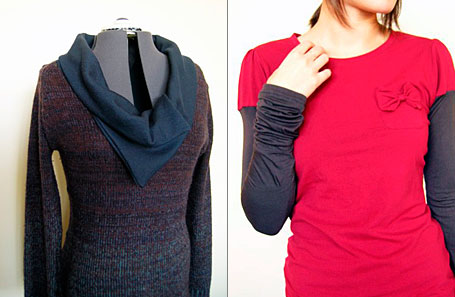 I just had to include pics of her fabric-covered button badges too! How gorgeous are they? Especially the pink "we are not sheep". Love it.
Heidi and Seek can be found at:
the web site - www.heidiandseek.com
the blog - Heidi and Seek and Ethical Fashion
Heidi and Seek's Etsy Store heidiandseek.etsy.com
This lovely label is also stocked at the following retail stores:
VIC: Lulu (Balaclava), Rude Health (St Kilda) and Pink String (Woodend)
ONLINE: Leeloo