indie art & design blog
peppermint magazine
Tuesday, April 21, 2009 | by Carolyn Price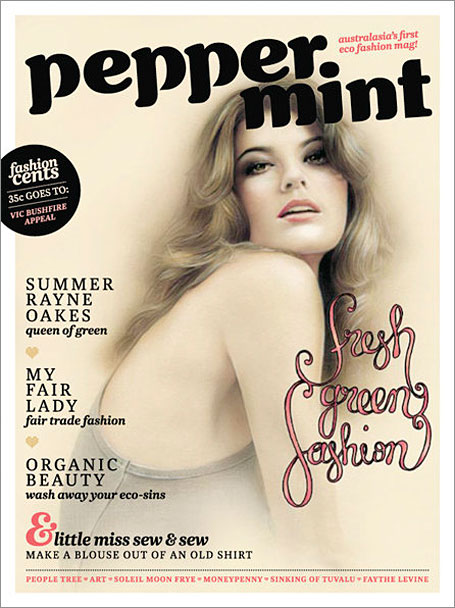 ISSUE TWO of the very lovely Peppermint Magazine is out now... and it has grown! Boasting a larger format and 90 pages (100% post-consumer recycled, naturally!), the mag is bursting with the freshest green fashion on the planet. One look at the dreamy cover & you'll most likely recognise the beautiful girly-girl style of Melbourne graphic designer & illustrator Bec Winnel. (We'll also be posting a follow up artist interview with Bec very soon!)
The day I received Peppermint in the mail, I pored over it for hours on end - my favourite pages being the "Welcome Back" photo editorial. Dizzying late afternoon light, saturated colours, ...and balloons!!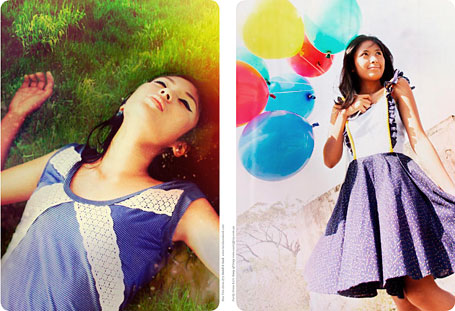 Welcome Back features once-loved fabrics being given a new lease of life. Photographer Christine Day Lorico has captured the free spirit of eco-friendly fashion as Pheobe Rutaquio models unique, often one-of-a-kind garments made from reclaimed, vintage & upcycled fabrics. Pictured above are the Blue Fire Dress by Heidi & Seek (left, US $79), and the Purdy Dress by East of Grey (right, AUD $470).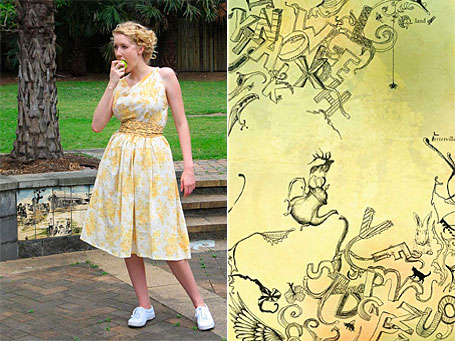 Each issue, Peppermint Magazine runs an Art Eco Competition, and the theme for this issue was "what goes around comes around"... The theme can be interpreted using any creative medium - design, painting, illustration, sculpture etc. and three finalists are selected by guest judges. This issue's winner is Alyson Pearson from Byron Bay (NSW) with her illustration "Land of Letterville" (above right). On the left is a super crafty entry by Bethany Watt from Newmarket (QLD). She used freestyle pattern making (!!), single machine stitch and recycled fabrics to create her summer dress entry. She has even included Lenny Kravitz lyrics (What Goes Around) on the sash.
By the way, the theme for Issue 3 is "Water: every drop counts" so creatives can get thinking now!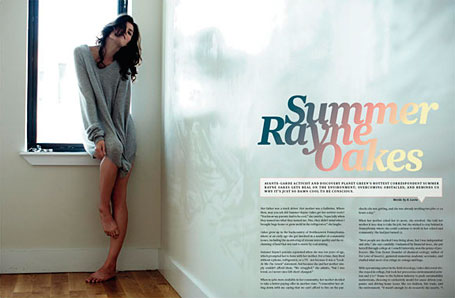 Peppermint Magazine offers feature articles on avante-guarde activist and Discovery Planet Green's model correspondent Summer Rayne Oakes (pictured above), fair trade in the fashion industry, green graphic design (pictured below right), and haunting series of photos and accompanying interview with visual journalist Juriaan Booij about the sinking of Tuvalu. There's also "Breaking the Pattern" - our indie art & design interview with Umbrella Prints! Read the full interview here.

Something the crafters among us are sure to love is new Peppermint Magazine feature "little miss sew & sew". This issue will teach you to make a blouse out of an old shirt - just like the one below!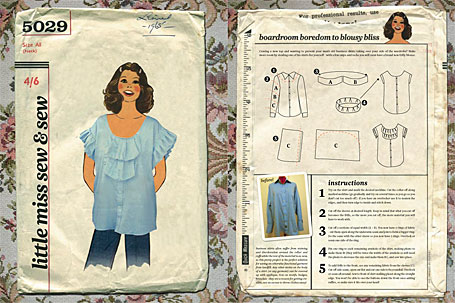 Peppermint Magazine is available for AUD $9.95 from Borders, MagNation, selected newsagents across Australia and online at Leeloo. (I spied copies in the newsagents in Newtown & Erskineville in Sydney!) If you are already a big fan of Peppermint (like me), why not subscribe now, and receive 4 issues (starting from Issue 3) delivered to your door with free postage! Subscriptions are AUD $40 for Australians, $60 for New Zealanders, and $80 for folk from the rest of the world.
We are also excited to have two copies to GIVE AWAY! To win, simply leave a comment on this post and I'll draw two winners at random on 1.5.2009. Good luck!