indie art & design blog
fresh green fashion
Friday, September 12, 2008 | by Carolyn Price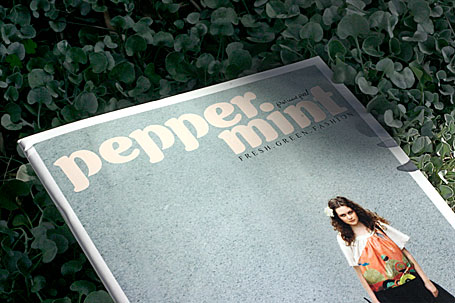 Peppermint Magazine has launched!! The first issue is FREE and is spilling over with absolutely gorgeous images, products & environmentally-conscious labels from Australia, New Zealand and around the world. Collect your copy from one of the following stockists, or if that's a little too far to travel, hop to www.peppermintmag.com and you can order a copy to be posted specially to you for just AUD $3.50 (+$2.45 p&p).
Peppermint Magazine Stockists
BRISBANE: Bliss Ecowear (15 LaTrobe Terrace, Paddington), Retro Metro (297 Given Terrace, Paddington), Blue Lotus Cafe (Shop 16, Kelvin Grove Urban Village), Lyssy May (676 Wynnum Rd, Morningside), Kropp Organic Hair Salon (112 Bennetts Rd, Morningside), Box Vintage (29 Vulture St, West End), The Region (Boundary St, West End), One Colour (West End Flea Markets)
GOLD COAST: Inverse (21C James St, Burleigh Heads)
MELBOURNE: Bird Girl (155 Brunswick St, Fitzroy), Meet Me At Mikes (63 Brunswick St, Fitzroy), Thread Den (Level 1/16 Errol St, North Melbourne), Sankofa (3/245 Adderley St, West Melbourne)
ONLINE: www.ecodepot.com.au, www.ibutrade.com.au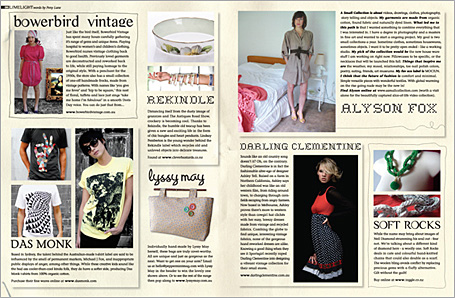 Here's a sneak peek into Issue 1! The Peppermint Magazine Limelight Pages (the first of which are pictured above) display a Show & Tell of eco fashion & accessories. Loads of intriguing & unique labels including Bowerbird Vintage, Lyssy May and Thea & Sami just to name a few...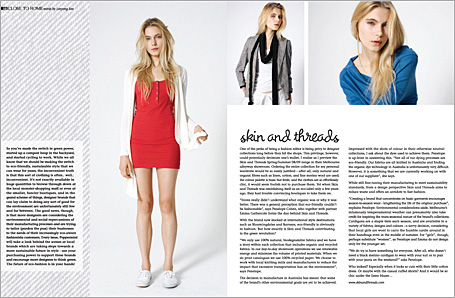 In "Skin and Threads", Peppermint Magazine takes a look behind the scenes at a local label which is taking steps towards a more sustainable future in style. Skin and Threads use only natural & organic fibres in their effortly chic designs, but surprisingly they found an initial resistance among boutiques to take on an eco-label. "There was a general perception that eco-friendly couldn't be fashionable" explains Penelope Cohen), who together with Emma Gathercole forms the duo behind Skin and Threads. How things have changed!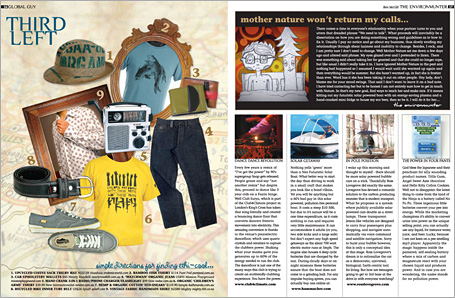 I love the Bamboo Fish t-shirt (AUD $114) featured on the Global Guy page. It is made by Pure Pod, a sustainable fashion label based in Mullumbimby in northern NSW. The Car Upholstery Wallets (AUD $45 each) look pretty cool too - these are from Nearly Roadkill.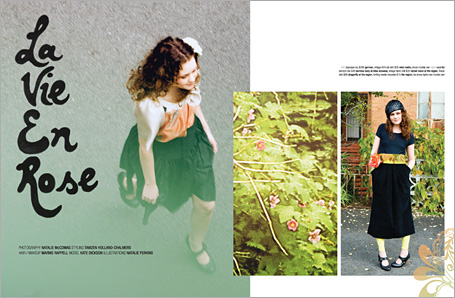 The photography for the La Vie En Rose feature is beautiful! Garden greens with floral highlights & delicate, feminine fashion...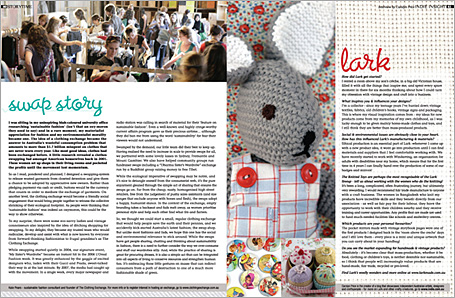 The first half of our recent Lark interview is also in print! (Click here to read the interview in full.) The wonderfully crafty Allison (who brought Lark with her when she moved here from the UK) has given us a wonderful insight to the workings of a successful handmade label. From her inspirations & obsessions, to co-ordinating the making of selected product lines by fair trade workers in India, and adults with disabilities through local organisation Windarring...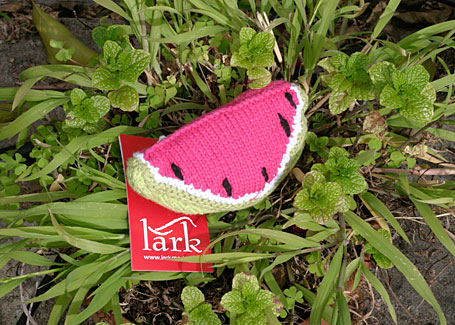 Lark products in store!
We've also stocked the indie store shelves with an array of Lark handmade products - colourful knitted fruit & veggie rattles, knitted doughnuts & sweet treats, and gorgeous vintage storybook mirrors & magnets! The Lark lineup is very reasonably priced & would make such original & personal gifts for a new arrival or new mum, or anyone who has a soft spot for the stories of their childhood! We also have a few copies of Peppermint Magazine to give away, so the first three indies who purchase from our Lark product selection will also receive a copy of Issue 1 of this minty fresh mag!