indie art & design blog
winter wear: gaye abandon
Wednesday, August 19, 2009 | by Carolyn Price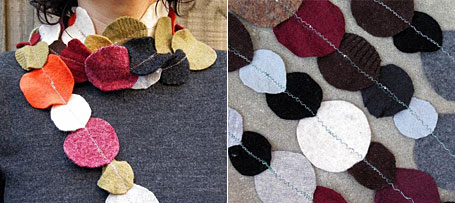 Gaye Abandon makes the cutest & cleverest winter accessories - all from upcycled, felted jumpers. (No wonder they're warm!) We're long-time fans of the Gaye Abandon label - you might remember our "wallets & winteries" post from way back in May 2007... Designer Gaye Naismith is originally from New Zealand, and now calls Melbourne home. She loves thrift shopping and collecting vintage fabrics and patterns, old postcards and jumpers to transform into her handmade creations. The Necklace Scarves pictured above look like a string of woollen autumn leaves & they're available in just as many colours.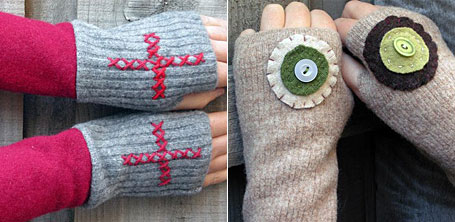 The original Tubeway Armies are a signature style of the Body Parts range. Along with the Scarves and Midriff Warmers, the Body Parts woollen accessories are made in partnership with Gaye's stitching buddy Melanie Hill (of Textile Allsorts). I love the stitching & vintage button details which make each pair unique!
The Midriff Warmers can only be described as brilliant... how did we ever live without them? In Japan, the haramaki (belly warmer) is a common item of clothing. It is traditionally worn next to the skin as an under layer, but the Body Parts pretties are designed to be worn as part of a layered look, peeping out from under your jumper or shirt.
I particularly like the geometric design pictured above. Not only does this four panel design swivel, allowing you to choose which panel faces the front, but the two patterned panels are cut with the finishing edge of the jumper at the top to form a fitted waist.

More brilliance! These "hot under the collar" hottie covers are little jumpers for your hot water bottle. They feature the cuttest button up neck with collar which turns up to cover the rubber neck when the hottie is in use. (Of course, the hottie jumper can be unbuttoned for easy removal and is fully washable.)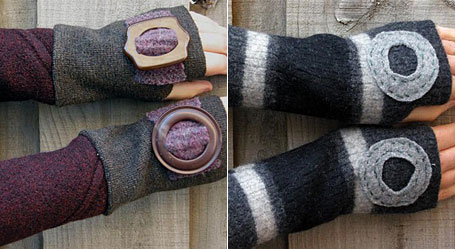 Find out more about Gaye and her clever creations at www.gayeabandon.com, www.madeit.com.au and www.gayeabandon.etsy.com.
Gaye Abandon will be exhibiting as part of Incubator at the Sydney Stitches and Craft Show which opens today (19-23 August 2009). She also has a stall at Rose Street Artists Market in Fitzroy every Saturday, and will be at Maribyrnong Makers Market on Saturday 29th August, 10am-3pm.
The Gaye Abandon & Body Parts ranges are also stocked at many boutiques around Australia:
VIC: The Cats Meow (Melbourne City), Claude the Bird (Armadale), Craft Victoria (Melbourne City), Flying Fishes (Lorne), House of Balaklava (East St Kilda), i dream a highway (Northcote), Petranilla (South Melbourne, Queen (Fitzroy), Sea of Love (Lancefield), Shiva Designs (Canterbury), Threads of Nature (Croydon), Tomorrow Never Knows (Fitzroy), Village Idiom (Yarraville)
ACT: The Hive Gallery (Braddon)
NSW: Cicero Clothing & Accessories (Leura), One Wise Owl (Pyree), Shady Fig (Nowra), woodpapersilk (Petersham)
SA: Storison (Hahndorf)
TAS: Cocoon (Launceston), Love & Clutter (Hobart)
WA: William Topp