indie art & design blog
graphic bags
Tuesday, April 28, 2009 | by Carolyn Price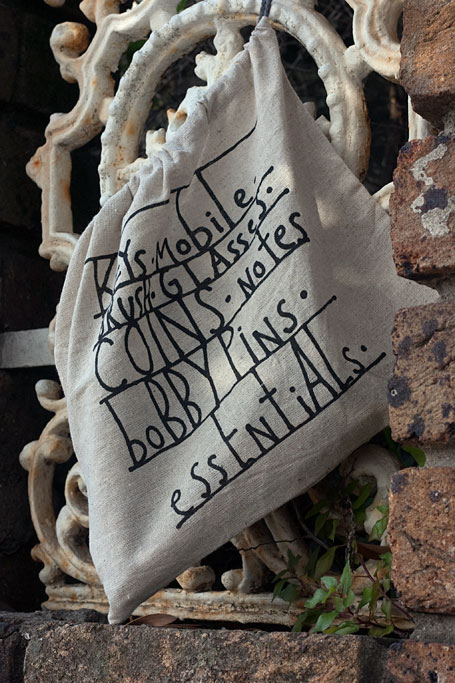 A surprise is in store when you purchase the May/June issue of Inside Out magazine! Talented designer Grace Lee (who is responsible for adding gorgeous handwritten text flourishes throughout the pages of Inside Out) has dreamed up this cute little accessories bag. Inside Out collaborated with Australian label Apple & Bee to produce the hemp bag organisers - one especially for each Inside Out reader! Grace's bag may not take charge of your hectic schedule, but it promises to keep you handbag contents under control.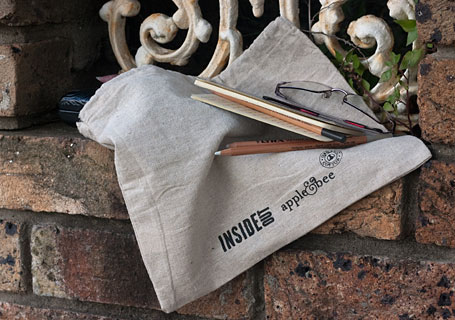 Inside Out has recently launched their own blog to which all the staff contribute. Sally (editorial administration manager) asked Grace to draw a little portrait of her cat, Olive, which you can see on her Saving Grace post, (along with two more of Grace's illustrations).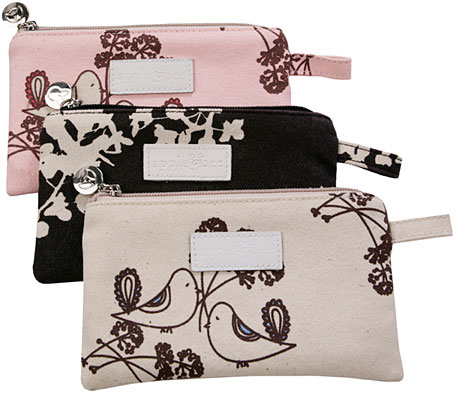 Apple & Bee is an Australian label that designs and makes cosmetic, travel and baby bags. Their impressive debut range sprung up in stores all over the place early last year, and the brand has already gained a loyal following! The bags are finished beautifully, and the fabric prints really set them apart. Pictured above is the Small Make Up bag from the BRAND NEW range which will be availble from next week. Loving the colour palette (as well as the cute birdie print)!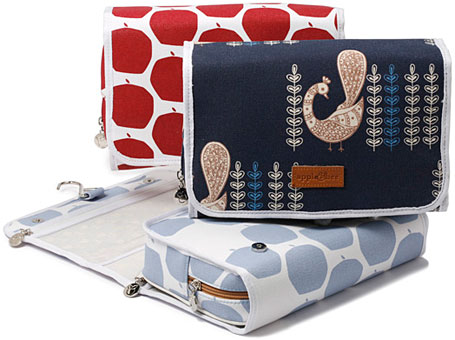 I do love all the fabric designs, but I think the navy peacock print remains my favourite. We've given the travel cosmetic bag pictured above to a couple of lucky mums! (I think I might just purchase one for myself too...)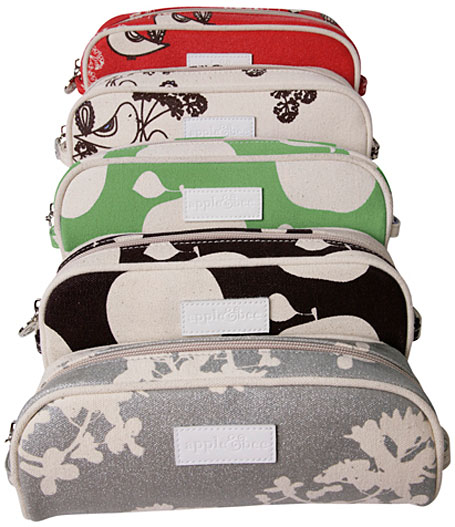 Behind the Apple & Bee label are Brett Pattinson and Claire Morris. Brett is the founder of successful natural skincare company bod and bod for bubs and Claire is the former Art Director of marieclaire. Through Apple & Bee they've combined their experience and design skills with a committment to making the lowest possible impact on the environment. Both share a passion for the best in contemporary design and a belief that it can and should be applied to practical, everyday objects.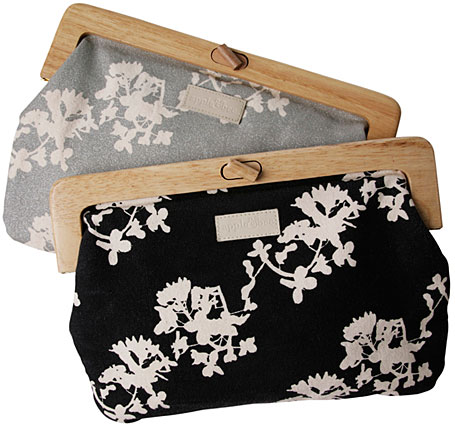 The gorgeous Wooden Handle Clutch pictured above is proving to be really popular, so if you'd like one for yourself, don't be slow! (It will be available to purchase from next week.) It is lined with the finest bamboo silk and is a great accessory for day or night. The entire Apple & Bee lineup comprises eco-friendly material choices - natural fibres such as certified organic cotton, bamboo silk, hemp, burlap/calico and genuine leather. Apple & Bee is a carbon neutral company and applied its philosophy to every level of the business, from design and sourcing to manufacturing, warehousing, packaging and delivery services.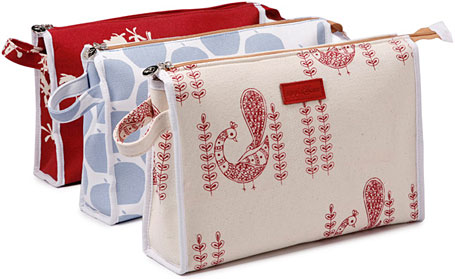 Apple & Bee products are available throughout Australia, as well as in the UK and USA. Visit www.appleandbee.com to locate your nearest stockist or to see more of the range!