indie art & design blog
two new shows
Saturday, November 14, 2009 | by Carolyn Price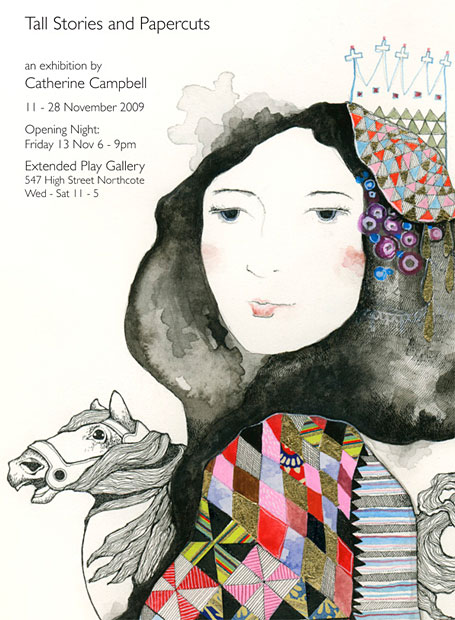 Two exciting new shows have just opened - Catherine Campbell's solo show Tall Stories and Papercuts at Extended Play Gallery in Northcote, Melbourne, and Hip Pop, a group show presented by United Galleries at Saatchi & Saatchi in The Rocks, Sydney... Exhibiting artists at Hip Pop include David Disher, Stephen Dupont, Jane Fontane, Lee Grant, William Hold, Ben Ali Ong, Patricia Mado, Ben Rak and Kareena Zerefos.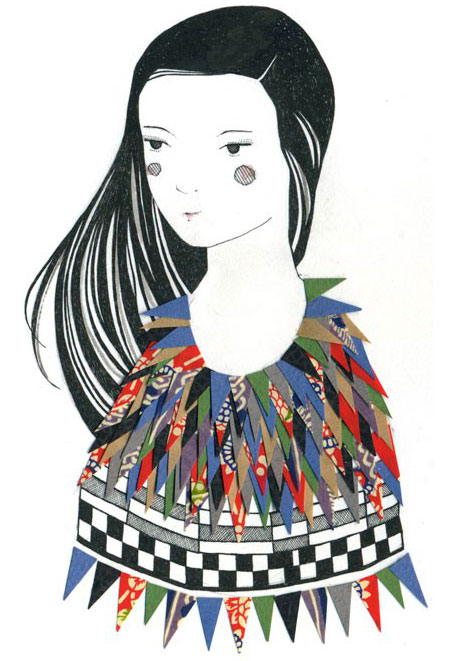 For the Tall Stories and Papercuts exhibition, Catherine (whose studio is known as My Folk Lover) created a series of four long scroll type pieces based on some of her favourite female characters. She was drawn to the 'split nature' of each of these women, and found these intense opposing forces "quite inspiring for the basis of a few drawings"! The exhibition invitation (top) shows a detail of one of these works, and the entire piece is amazing! (You can see it on Catherine's Flickr site.)
These are on display, along with a selection of smaller works, at Extended Play Gallery which opened its doors in Northcote just last month. The gallery is in front of the studio space where Catherine now works alongside fellow artist Andy Lewis. If you're in Melbourne, make sure to get along! I adore Catherine's work - a mixture of delicate illustration, femininity and thoughtful, balanced composition... You can also visit her web site at www.catherinecampbell.net, follow her blog at www.myfolklover.typepad.com or shop for My Folk Lover prints at www.myfolklover.etsy.com.
Tall Stories and Papercuts
11 - 28 November 2009
Extended Play Gallery
547 High Street, Northcote, Melbourne
Gallery open: Wed - Sat, 11am - 5pm.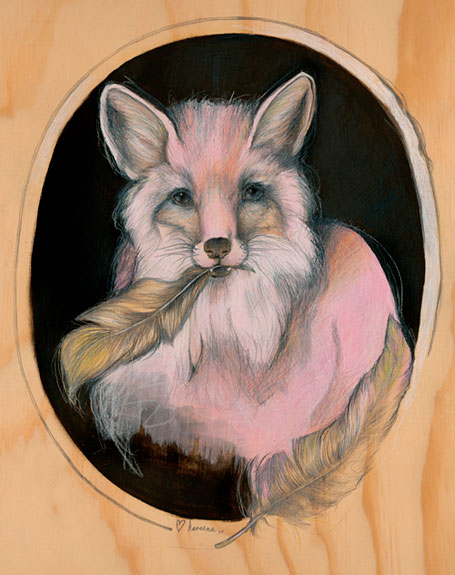 We have featured Kareena Zerefos' work a number of times on indie art & design (May 08, Nov 08, Nov 08 & Feb 08!), and we had to share these new works with you! They were created with pencil & oils on wood, and they're incredible.
Kareena describes this series as "exploring childhood fears of an isolated, dystopian 'Australia'. The imagery is based on my memories growing up in the rural outskirts of sydney, surrounded by bush dwelling animals... foxes that would stare hauntingly through the trees (and would get into our chicken pen), possums sometimes comforting but at other times terrifying and reptiles that creep around like alien creatures of another time."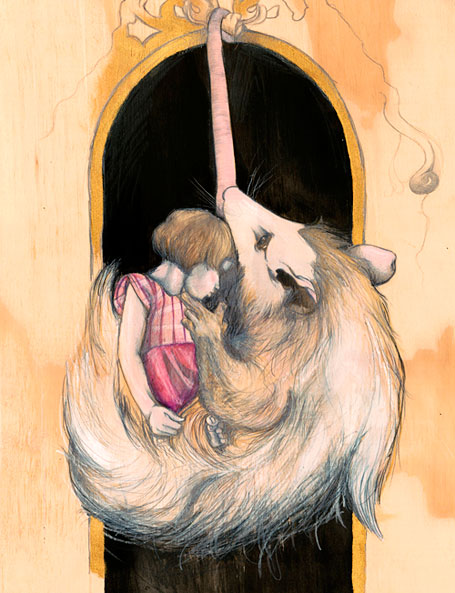 I'm looking forward to seeing these soon... There are a few more images on Kareena's blog at www.kareenazerefos.com. So beautiful!
12 - 27 November 2009
United Galleries presents Hip Pop
at Saatchi & Saatchi
70 George St, The Rocks, Sydney
Gallery open: Mon - Fri, 9am - 6pm.