indie art & design blog
studio visit: jade oakley
Wednesday, June 03, 2009 | by Carolyn Price
Last week, we were invited to the studio space of Sydney artist Jade Oakley. We chatted about her work and took loads of photos as she prepared for her upcoming exhibition "Estuary" which will open on the 18th of June at Australian Galleries Glenmore Road in Paddington (Sydney).
Jade's recent work has been centred around delicately balanced mobiles. For this exhibition, she drew inspiration from estuaries. "An estuary is a special place. It is where the river breathes out into the sea. This is where life begins, muddy and mysterious. It is a place of crabs, mangroves, tides and tannins; where salt and fresh waters meet. I have used colours that speak of the murky depths of water and mud and mangrove. These mobiles have sprung from my thoughts about estuaries, of dark water filled with primeval life." Jade Oakley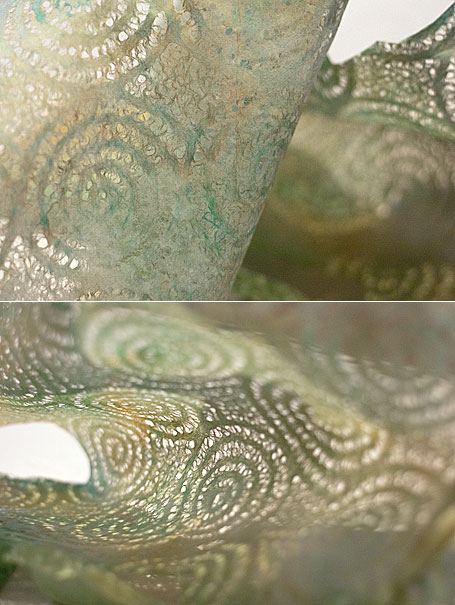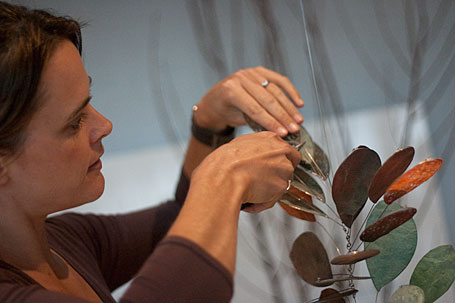 The mobiles are made using materials such as fine wire and translucent papers. Jade applies gouache to the paper, creating subtle graduations of colour & tone. She plans the overall shape and colour shift of the finished mobile, then cuts the shape of each "leaf" before attaching it to a wire "stem". The leaves are gently fixed to the mobile with a (well-practised) turn of the pliers. Jade makes it look so easy! Once completed, the colour effects are stunning - a mobile may appear to have been dipped in ink, or reveal a wash of colour like brackish water over white sands...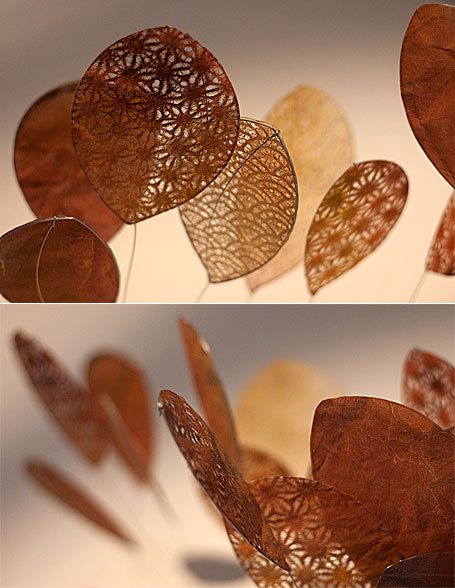 The leaves pictured above were quietly awaiting their assembly into a large mobile Jade was creating the day of our visit. They looked amazing with the light shining through them. One by one, they disappeared from the queue and took their place in the lengthening work. Once part of the mobile, the leaves move so effortlessly - it can be mesmerising! You could never tire of a work like this as it would look different at every glance. I also took some longer exposures to try & capture the movement.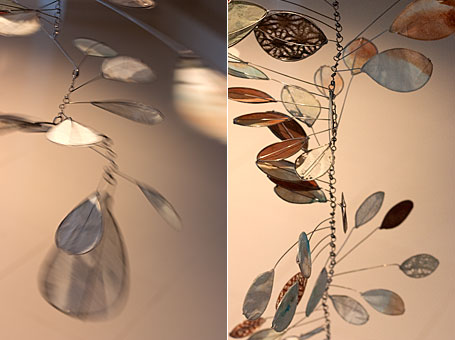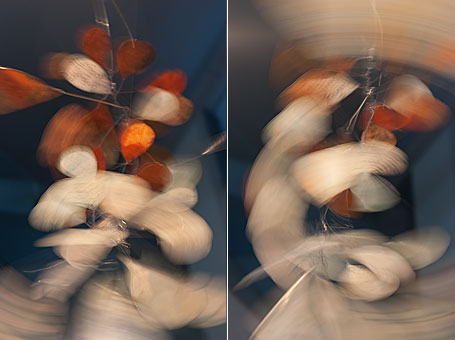 I originally know Jade from high school, and when I headed off to SCA (Sydney College of the Arts), she began her studies in fine arts at COFA (College of Fine Arts). Since graduating with Honours in Sculpture, Jade has exhibited her work both locally and internationally. Recent solo shows (both in 2007) include "Circumnavigation" at Bondi Pavilion, and "Tipping Point" at Mori Gallery (which we posted about in December 2007).
She has also completed some amazing commissioned work, been involved in many community art projects, and been Artist in Residence at Bundanon Artist's Centre, Noosa Regional Gallery, Vermont Studio Centre in Vermont, USA and Bondi Public School.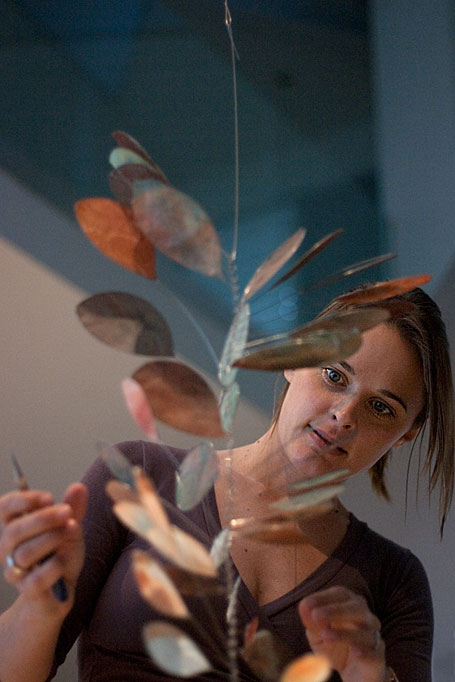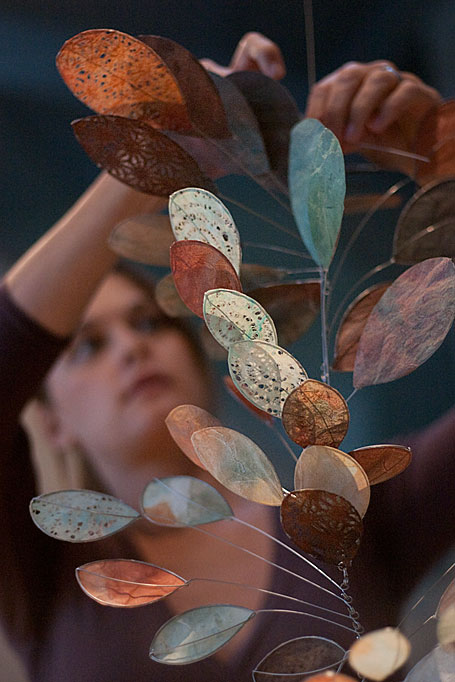 We're really looking forward to seeing more of Jade's new works in Estuary. The exhibition opens on Thursday, 18th June 2009, 6pm-9pm, and continues until Saturday 11th July at:
Australian Galleries
Glenmore Rd
24 Glenmore Rd, Paddington, NSW, 2021.
Opening Hours:
10am - 6pm Monday to Saturday
12pm - 5pm Sunday
Phone: 02 9380 8744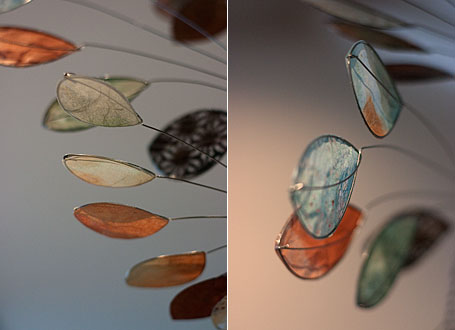 Jade will have many mobiles on display, and if you're in Sydney, make sure you don't miss it! As beautiful as the photos are, you really need to see her works in real life to appreciate the delicate balance & beauty as the leaves turn their circles and the whole mobile shifts shape. You can (very soon) see more of Jade's work at www.jadeoakley.com.au.