indie art & design blog
stories to tell
Sunday, May 24, 2009 | by Carolyn Price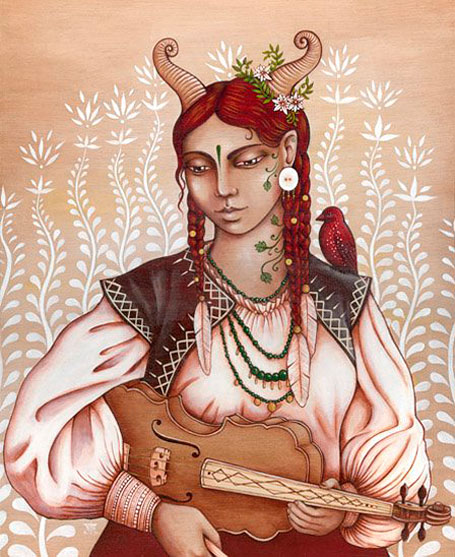 Illustrators are, by their very nature, storytellers, and a trio of Melbourne-based artists (whose paintings I love) currently have their work on show at the GASWORKS Arts Park.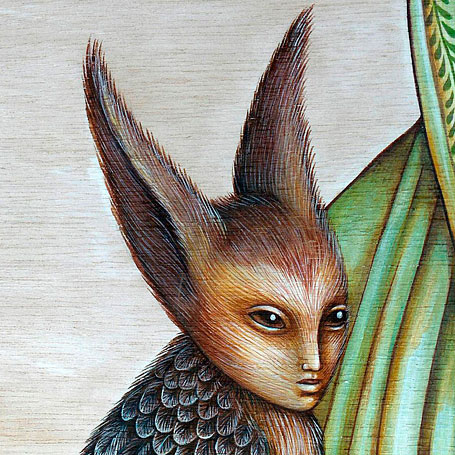 Titled "Stories To Tell", the exhibition showcases the work of Nadia Turner, Rhiannon Mowat and Alisha Ball. Each artist has their own unique painting style, but all of their images offer a window to an imaginary world. The works draw inspiration from many sources: from classic fairytales and folklore; to Shakespeare; to the darker myths and legends that form part of our cultural consciousness.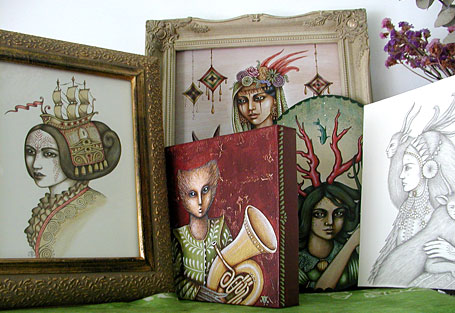 Nadia Turner's work is incredible. Intricate detail, and the very way she paints each stroke contributes to each character possessing a real presence. They step into our space and silently suggest that they were here first.
Combining fine detail with decorative elements, Nadia's paintings evoke a sense of otherworldliness.
Nadia draws inspiration from many sources, including the art of the Surrealists, the Pre-Raphaelites, traditional folk art, various children's books, and music - more specifically the music of the Celtic Harp and all the mythology and folklore associated with it. For "Stories To Tell", you can expect lots of beautiful fairytale and myth inspired work! Nadia says she's discovered "a definite gypsy theme" running throughout her work.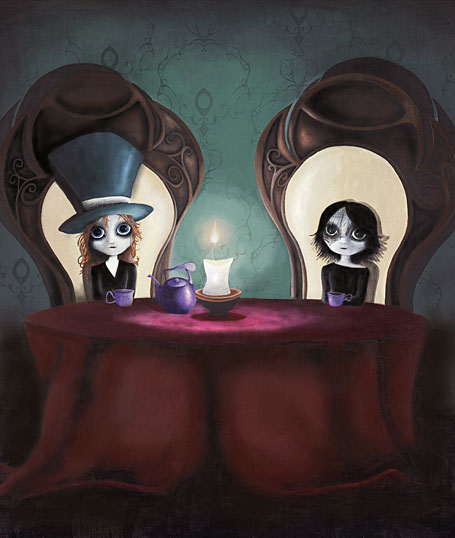 The three artists met when they studied illustration together at Northern Melbourne Institute of TAFE, graduating in 2005. They had a lot of fun and have remained friends since. Rhiannon and Nadia have exhibited together before, but this is the first time all three girls have shown their work together.
The paintings revolve around what they love best, which of course is illustrating. In particular they tend to be drawn towards themes of fairytales or myth and folklore.
For this exhibition, Rhiannon draws her inspiration from the plays of Shakespeare, using his words and themes throughout her work.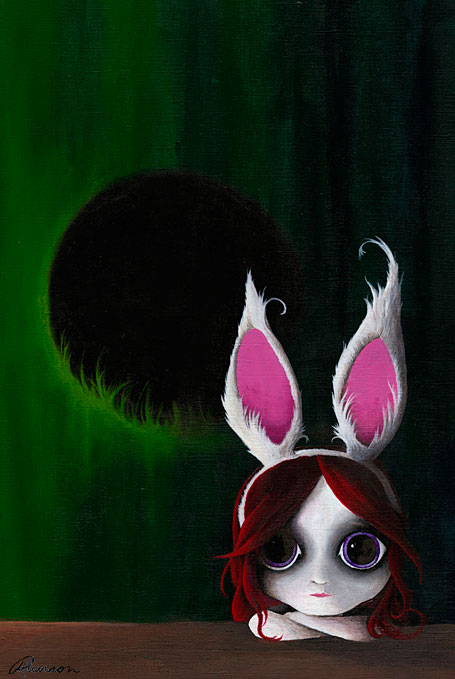 Rhiannon Mowat's paintings are full of drama & whimsy. Her characters are wide-eyed & quirky, drawn from dark worlds and spooky tales.
I especially love Rhiannon's works pictured above, "Tea and Sympathy" and "What White Rabbit?". The clever composition (in the latter) teases us with the mystery of what lies further down the rabbit hole.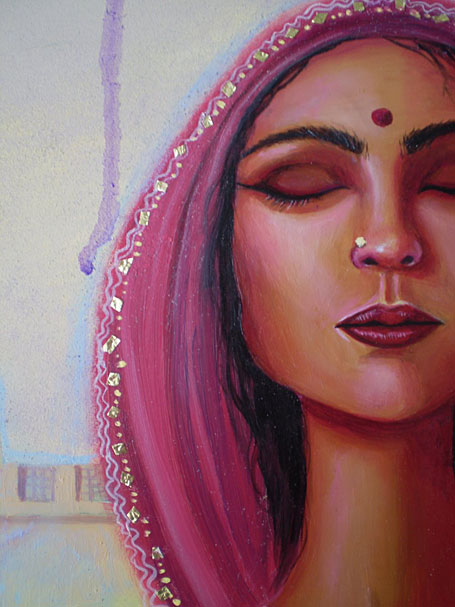 Alisha Ball has been traveling for the past few years and a lot of her work is directly influenced by her travels and the cultures of the countries she passed through.
I love the colours in Alisha's painting (above). The rich, pinks & golds in the woman's scarf and skintones against the cool pastel tones in the background. The palette itself gives this beautiful image a spiritual feel.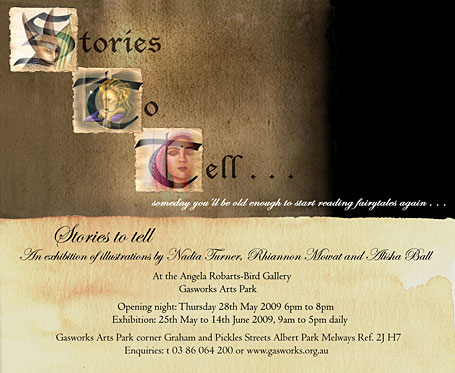 Stories To Tell officially opens this Thursday night at the Angela Robarts-Bird Gallery in the GASWORKS Arts Park, but you can visit the exhibition any time from yesterday! The show continues until 14th June 2009.
Date: 25 May to 14 June 2009
Venue: Angela Robarts-Bird Gallery
Time: Opening Thursday 28 May, 6pm to 8pm
Gallery Opening Hours: 9am to 5pm, daily
Enquiries: 03 8606 4200