indie art & design blog
sculpture by teangi
Friday, November 18, 2011 | by Carolyn Price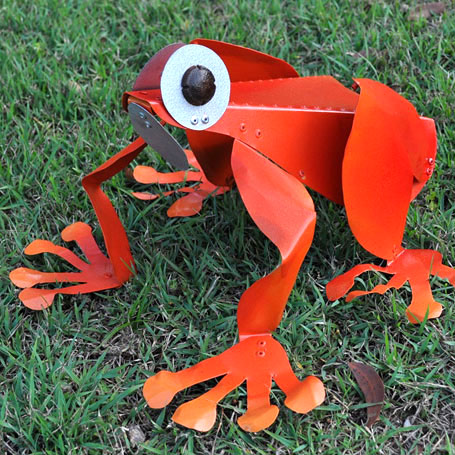 Sculpture by Teangi - Currently on display at Honey Gem Nursery, Macquarie Road, Springwood NSW.
Teangi Chambers has a passion for animals and nature. A passion that has evolved into a thriving business creating gorgeous metal sculptures which provide something a little bit different for any indoor or outdoor area.
From bright and whimsical sculptures, to sculptures with a tortured, rugged, natural surface effect created by the Australian climate, Teangi's sculptures always bring a smile to anyone's face!
Each sculpture is "truely" handmade with the only electrical tool used being a drill. All the bending, folding, cutting and riveting of her work is done by hand as well as each one being individually hand painted.
For this reason Teangi's work takes some time to create with some sculptures taking days to weeks to complete.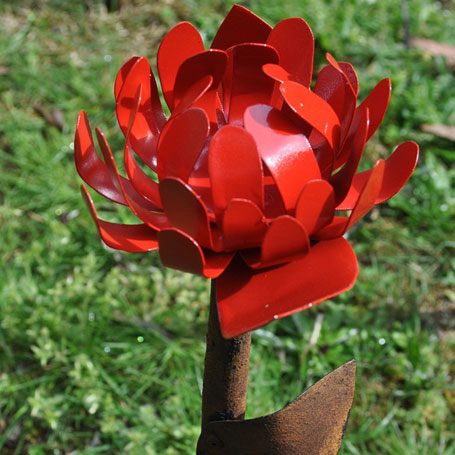 Teangi has also just released a $50 range of flowers (pictured above) – inspired by waratah and roses.
No patterns or templates are used to create these creatures – each made with its own sense of uniqueness, just as Mother Nature intends in the wild.
Sheet steel is Teangi's preferred choice of material – Each one is individually crafted and signed by Teangi.
Teangi has recently em-'barked' on a unique 'Sculpt my Pet'. Dogs, cats, birds, large, small, pretty and unique, some living, some no longer with their owners.... all very loved, all immortalised in metal.
Residing just outside of Sydney, you can find Teangi's work at local nurseries and exhibitions and all sculptures can be shipped nationally with some pieces going internationally.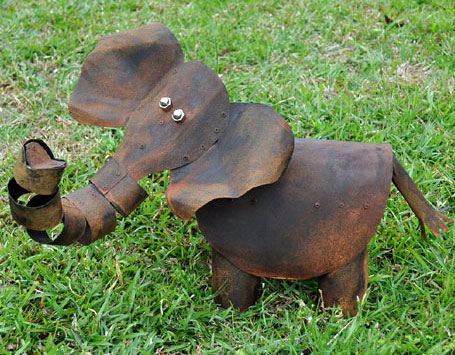 You can view more of Teangi's work and sculptures available for sale at Sculpture by Teangi. This website is also a place to view Teangi's past sold works (which can be ordered) as well as commissions and 'Sculpt My Pet' commissions. Prices on the website are listed ex freight.
Web: www.sculpturebyteangi.com.au
Facebook: Sculpture by Teangi.