indie art & design blog
perpetual kagemi
Thursday, April 03, 2008 | by Carolyn Price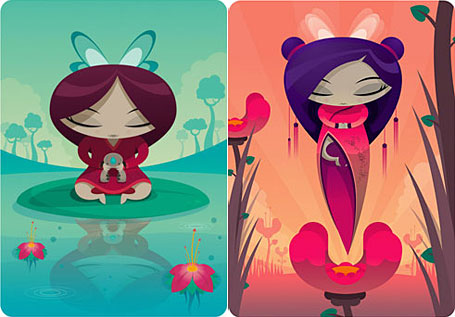 Opening tomorrow night at Paper Shadow Gallery is "Perpetual Kagemi", an exhibition of works by Luke Feldman (aka SKAFFS). Luke has spent the last few years travelling between San Francisco, California & Melbourne and sees this exhibition as a chance to showcase his original works in acrylic & graphite on wood, ink sketches & digital artworks in his home town.
The opening night will be filled with art, live painting, music, drinks & Crumpler giveaways, so if you're in Melbourne, head to Paper Shadow Gallery at 34 Franklin St, Melbourne (within Miss Libertine). The opening begins at 7pm on Friday 4th April, and the exhibition continues on Saturday 5th.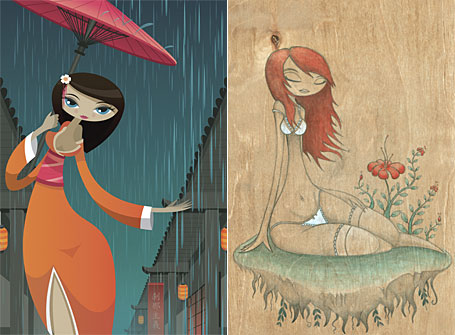 Luke's work is synonymous with stunningly beautiful and whimsical depictions of the female form. His use of vibrant colours, fluid linework & careful composition & design give these works a distinctive style which has caught the eye of many local & international reviewers (as well as some big brand names).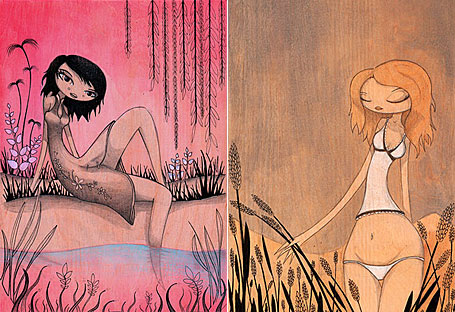 "Perpetual Kagemi" is an exploration of femininity in a traditional and modern context with an Asian twist. The term "Kagemi" means to "look at each other" and it specifically refers to traditional Japanese arranged marriages (Omiai). During the ritual, Kagemi refers to a "hidden look" - a sneak peak at a potential bride. Today Japanese Omiai is becoming replaced by "love match" marriages. In this context, the Kagemi would not be a quick peek but a continuous viewing of women. Perpetual Kagemi explores changing attitudes, old traditions and female beauty.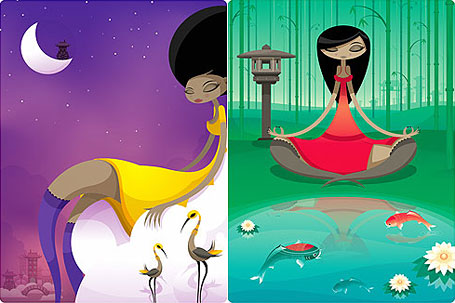 Luke has adapted his style for multiple applications. In addition to original artworks & limited edition prints, you can also purchase "Skaffnets" (magnets), skatedecks and vinyl adhesives through the SKAFFS web site. Vinyl toys are also in production!
His work is also available to purchase through the following Australian stockists:
Villain Store (Brunswick, VIC)
Robio Store (Fitzroy, VIC)
Nice Produce (Online store featuring Melbourne artists)
Lost At E Minor (Online)
(International stockists are listed at www.skaffs.com.)