indie art & design blog
moon-age: other worlds
Monday, May 04, 2009 | by Carolyn Price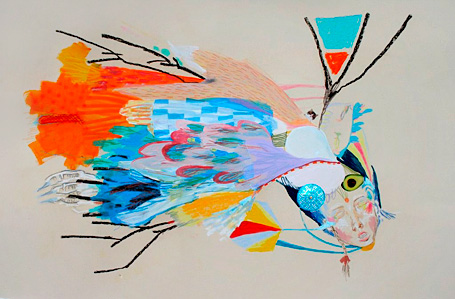 Opening this week at Palmer Projects, Darlinghurst, is Alex Moon-age's first solo exhibition. We are thrilled to be supporting "OTHER WORLDS (they have not told you of)" and hope that many of our Sydney readers will be able to attend the opening night this Thursday or visit the exhibition during the following week. Alex's drawings & collages possess a rawness and energy that bring them to life. With their strong hand-drawn lines, vibrant colours and anamorphic figures, these works inhabit spaces between imagination and reality. Edgy & exciting, emerging artist Moon-age is one to watch!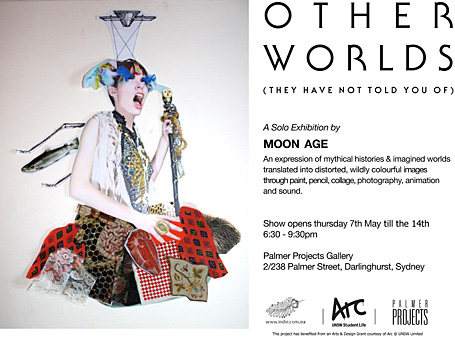 Psychedelic princess Alex Moon-age graduated from COFA (College of Fine Arts) last year. At 21, she is already one of Sydney's most exciting emerging artists. Obsessed by the theatrical, and renowned for her outrageous wardrobe, Moon-age's creative process extends into fashion and music. In addition to drawings, photos, mixed media works & collages, Alex will be exhibiting flamboyant wearable fashion creations as part of a performance art piece. There will also be a short animation projection and sound installation.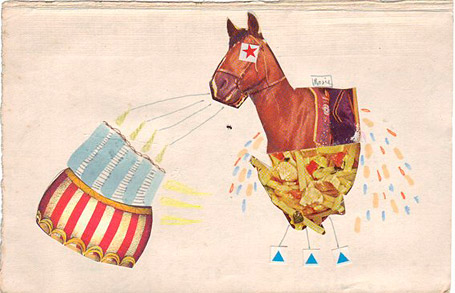 Alex works impulsively, aiming to engage with the subconscious mind. She creates mythical histories for imagined worlds, then translates them into distorted, wildly colourful images. Visual patterns tend to emerge - references to nature, animal-human transfiguration and androgynous, imaginary creatures.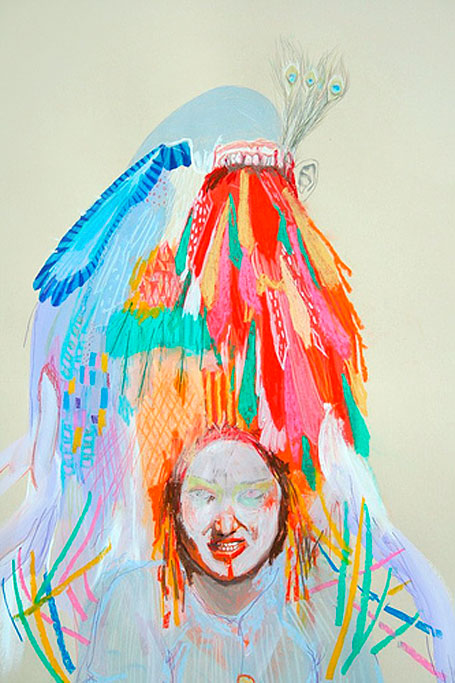 Influenced by the surreal nature of illustration in underground 1960s publications such as 'Oz' magazine, Alex's artworks appear simultaneously nostalgic and contemporary, beautiful and morbid. Her collages hark back to the Dada collages of Raol Hausmann, and contain pages of books, newspapers, sewing patterns and patterned paper which have been reinvigorated and reconstructed within the frame of her work.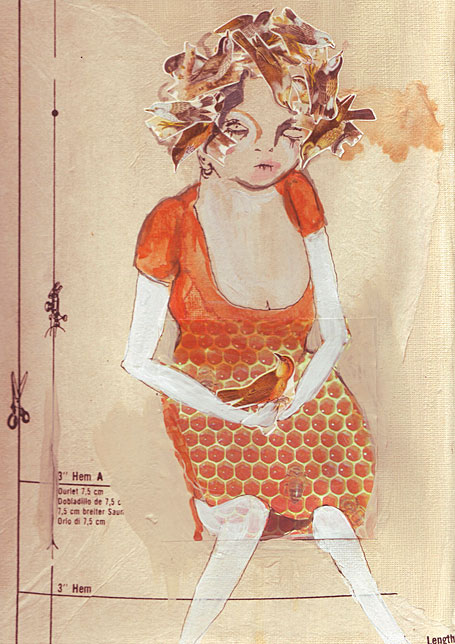 Moon-age embodies a Surrealist sensibility - drawing on the tools of psychoanalysis and meditation. With heightened tension between reality and illusion, her artworks show a deep understanding of the abstract reality of the subconscious.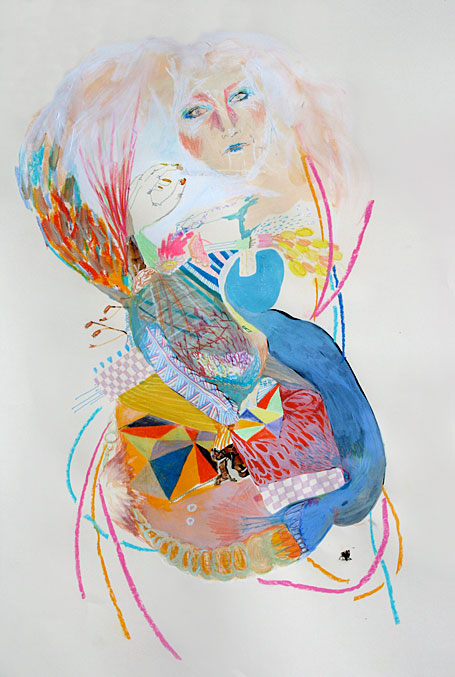 Alex feels inspired & unrestricted when working with mixed media, creating different textures from pen, pencil, paint, pastel & collage. She hopes that each viewer sees something a little different in the subject matter as various creatures and faces make up the larger image. She also loves to lose herself in a piece of music and see where it leads her image making - Frank Zappa is especially great for this!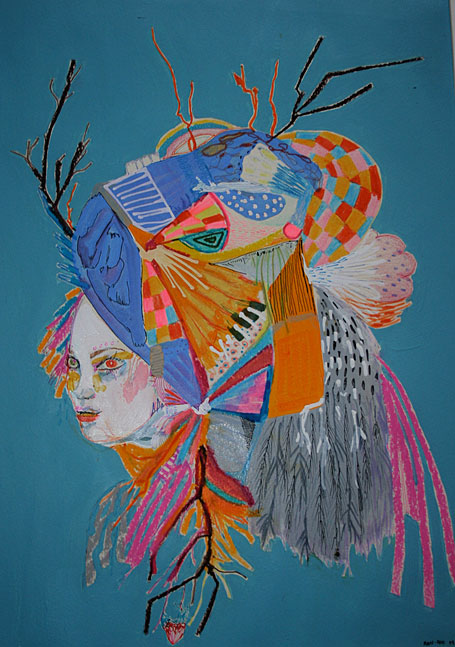 "Rainbow Monster" (above) is one of my favourites from the artworks we've pictured. The areas of intricate detail contrasting with heavier, rough lines... and the colours!! The blue background works so well and there is a sense of constant movement & energy. Love it. We're so excited about Alex's exhibition & can't wait to get along to Palmer Projects. At first sight, her vivid, detailed works grabbed our attention... they really are something!
OTHER WORLDS (they have not told you of) by Moon-age opens at Palmer Projects Gallery Space on Thursday evening, May 7th 2009. If you're in Sydney, come along to the opening from 6.30 - 9.30pm. It continues until 14th May at 2/238 Palmer St, Darlinghurst, 2010. Gallery opening hours are:
Friday 12-5pm
Saturday 12-4pm
Tuesday 12-5pm
Wednesday 12-5pm