indie art & design blog
magic jelly giveaway!
Wednesday, October 10, 2007 | by Carolyn Price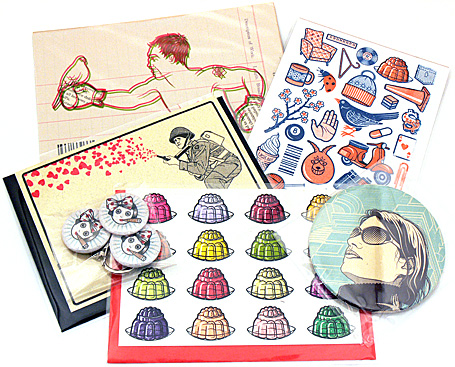 FREEBIES FOR INDIES! On offer this month is a wonderful selection of goodies from Magic Jelly - our first Indie Art & Design Giveaway. Thanks to Karena for donating the products pictured above: "Floyd's Epiphany" Limited Edition Mixed Media Print, "Stuff No. 1" Limited Edition Print, "Magic Jellies" and "Heart Attack" Hand Printed Gift Cards, Coaster featuring "Sunday Morning" and a set of matching Magnet, Badge and Keyring in a brand new design!
To enter the Indie Giveaway, all you need to do is register as an Indie Art & Design user. All registered Indies will automatically be entered into the draw. At the end of October, (on Halloween!) we'll draw one lucky name from a hat - a pointy black one perhaps... We'll then email the winner to ask for a postal address & the Magic Jelly prize pack will be posted off to its new home. (All Australian and overseas Indies are eligible.)
Let your friends know & good luck to you all!