indie art & design blog
ladies first at bsg
Wednesday, May 12, 2010 | by Carolyn Price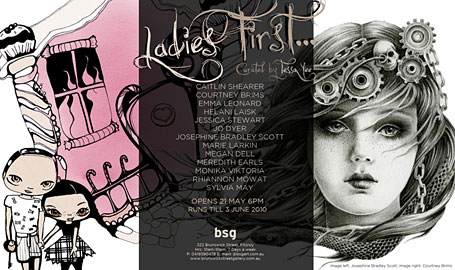 indie art & design is proud to be supporting the upcoming "Ladies First" group exhibition at Brunswick Street Gallery. The show has been curated by Melbourne's Tessa Yee, who has a strong interest in street art and illustration. She wanted to bring together works by female artists who work in illustration, exploring ideas of femininity - through portraits of beautiful women, flirty girls, cute and kooky illustrations. Tessa chose artists who each have a really unique style, and there will be a contrast between extremely feminine, fariytale-like images, and more twisted, mischievous, images of femininity.
To introduce you to the 13 talented ladies whose work will be on display, we've included a selection of artworks from the show below, accompanied by brief artist profiles. Another post will follow later this week, showcasing the work of the seven remaining artists - so stay tuned!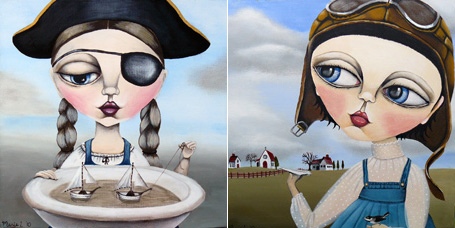 MARIE LARKIN "My art focuses unashamedly on the feminine, and, while I have not deliberately aimed at this, it seems also to revolve around a romantic fantasy world of innocent and beautiful young girls and small animals.
Recently I have been intently focusing on painting endearing whimsical stylised female figures with sad expressive faces. They seem lost in their own little world and are often in possession of a small 'treasure' such as a kitten, rabbit or even toy pirate ships. These 'treasures' are reflected in their personal adornment as well.
I am moving towards a group of works inspired by fairytale and nursery rhyme narratives, tinged with dark humour and revenge twists. These will be very detailed works in acrylic on canvas and at the moment are appearing as graphite pencil drawings as I develop ideas and imagery. Even more recently my strange little figures have begun appearing as sculptures. I am exhibiting quite a number of paintings, drawing and the sculptures at the Ladies First show in Melbourne."
You can see more of Marie's work at www.marielarkin.com.au and www.paperdollandpony.blogspot.com.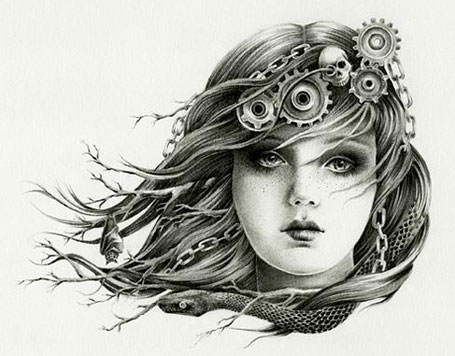 COURTNEY BRIMS is a Brisbane-based artist who graduated with a degree in interior design before turning her attention to illustration in 2008. Her drawings are influenced by Victoriana, ghost stories, old photographs, daydreams and nightmares.
Working with pencils, Courtney creates dreamy worlds of lost girls and bewildering creatures, focusing on the beauty of nature and its dominance over time.
Courtney had her first solo exhibition at Sydney's Monster Children Gallery in 2008 as winner of the Mooks Artspace competition. Since then she has had solo shows at LA's Black Maria Gallery and most recently at Brisbane's Nine Lives Gallery as well as numerous group shows across Australia. Courtney has created illustrations for such companies as Element Clothing, Something Else, Hurley, Pony Rider, 1300Flowers and The Finders Keepers Markets and has had her work featured in Empty magazine, Frankie, Yen and Monster Children Magazine.
"When people view my drawings I like to think I fill them with a sense of curiosity and a feeling of nostalgia. Drawing is my way of storytelling where I can take the viewer off the winding path and into the deep woods reminiscent of a fairytale. I primarily focus on themes of displacement, abandonment and loss of self, telling tales of neglected creatures trying to find their place in the world."
You can see more of Courtney's work at www.courtneybrims.com and http://courtneybrims.blogspot.com.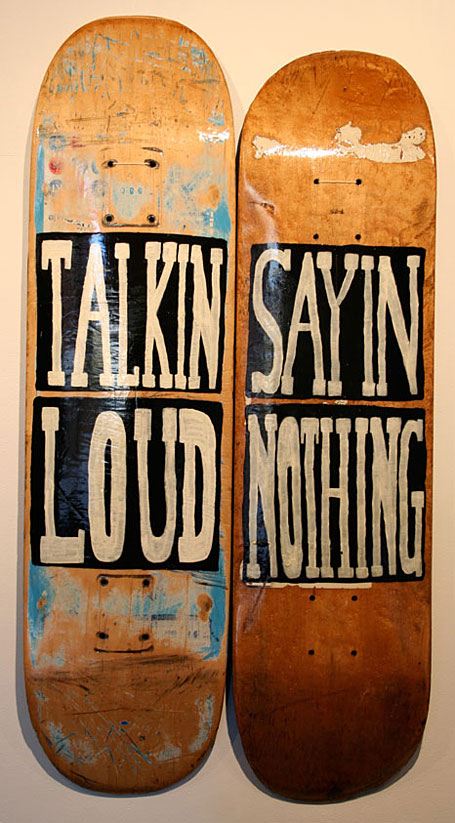 MEGAN DELL "After growing up in country Victoria, I moved to Melbourne at the age of 17 to study Graphic Arts. Inspired by local stencil artists, I became involved in the street art scene. A lot of the time my work incorporates spray paint and markers, with a preference to paint on used skateboards - as they come with their own character and history."
You can see more of Megan's work at www.megandell.com.
JESSICA STEWART Melbourne based artist Jessica Stewart likes to draw portraits of dreamers wishing for another day to arrive. Using pencil, paint and pastel she draws ships, homes and animals to represent a freedom from their current situation. She has also just completed a artist collaboration with surf wear brand Rip Curl, along with running her own small limited edition clothing company Leon Vault.
You can view more of Jessica's work at http://whenyouescape.tumblr.com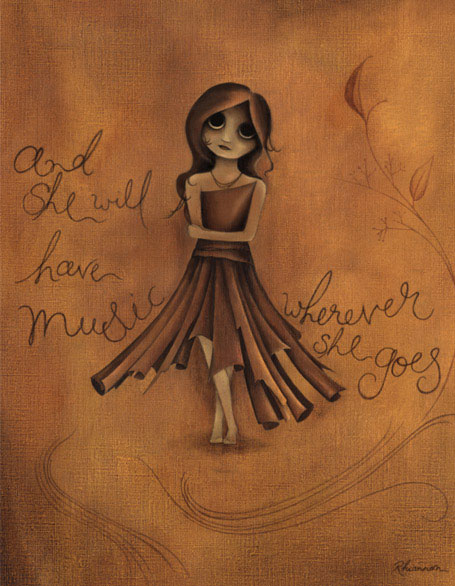 RHIANNON MOWAT "I find a lot of my inspiration in words. Stories and poems, songs and philosophy. A line of text, a thought scribbled down, sometimes a word sitting all on its own. I take them out of context, spin them around then put them down on paper with characters and colours.
It feels like I am always searching for parts of a puzzle that are floating in the ether waiting to be found (and the corner pieces are always the hardest to find).
I really hope that when people find my work they see something that makes them feel a little better than they did before."
You can see more of Rhiannon's work at www.piecesofcolour.com.au.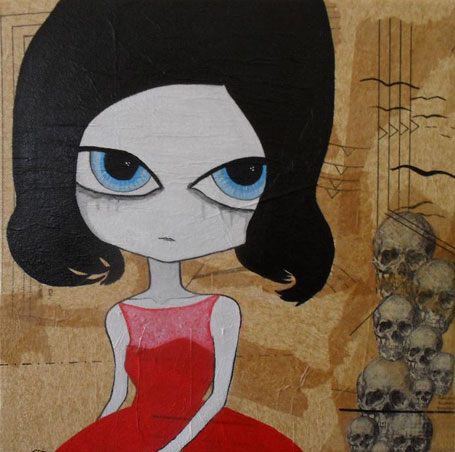 SYLVIA NEWTON "I am a full time mother to 4 children, part time uni student, casual night filler and an artist. My works are hard for me to describe but I see the works as ghostly girls with a lot of hormonal mood swings trying to fit in somewhere, somehow. People comment on them as if are all the pieces I paint are one person. In my head they are not but they are the one person I guess to some extent as they all more than likely have something to do with my subconscious... I paint when I feel moody. I work with acrylic paints. Dressmaker's pattern paper is my favourite background. I have started to work with a bit of various ephemera too. Hopefully I will broaden use of mediums as experiment more."
Sylvia Newton is based in Newcastle, NSW and you can see more of her work at www.sylviamay.blogspot.com and www.sylviamay.etsy.com.