indie art & design blog
jade oakley's up lands
Thursday, December 01, 2011 | by Carolyn Price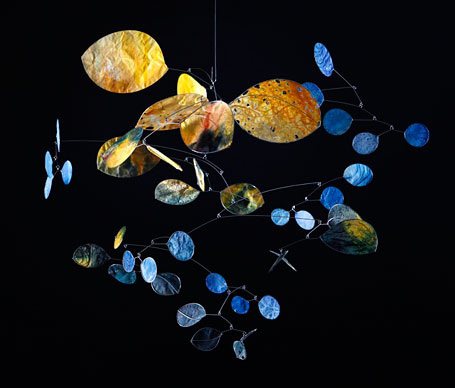 Up Lands is an exhibition of new mobiles by Sydney artist Jade Oakley. Opening tonight at Australian Galleries, Glenmore Road, the exhibition continues until December 18th. It follows on from two previous successful solo shows at the Galleries; Headland (2010, in Melbourne) and Estuary (2009, in Sydney).
Jade's creations are delicate and incredibly beautiful. They are constantly changing and interacting with the space they inhabit - throwing reaching shadows onto the surrounding walls and ceilings. Individual 'leaves' rotate and the whole shape of a mobile can transform into something quite different, perhaps echoing the landscape from a different perspective or viewpoint.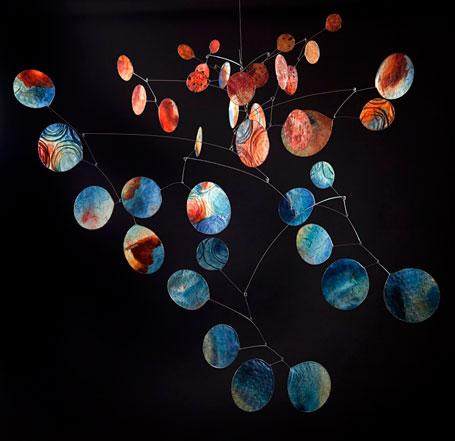 Jade's new works are inspired by paintings in her diaries. "I have taken the colours and textures of these remembered landscapes and re-painted them onto hand made Japanese paper, then cut them up and assembled the paintings into mobiles. It feels like taking an armful of the landscape and tossing it into the air, so I have called the exhibition 'Up Lands'."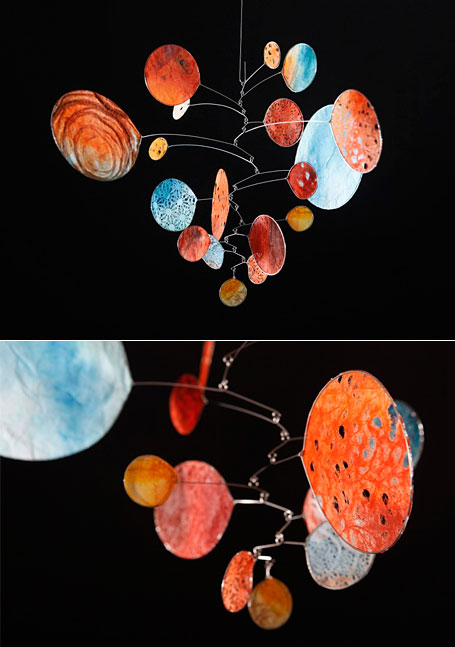 Many of Jade's new mobiles are drawn from her experience of remote coastal locations around Australia. Sparsely populated regions such as the Pilbara - with its blanket of earthy red rocks - and endless stretches of sand dunes can seem quite alien at times. In these quiet, monotonous landscapes, the small details - the elements that make up the land and the sea and the air - come to the fore. The environment can be transformed by the changing light, in turn evoking a changing emotional response.
The Sand Dunes, Cape Leveque II (pictured above) captures beautifully the strangeness of a vast landscape. Your senses seem heightened, at times colours are oversaturated, (whilst at other times they seem almost bleached by the unfiltered light). The scale of such places gives you a sense of calm and awe; time seems to slow, allowing you to imagine you can feel the rotation of the earth.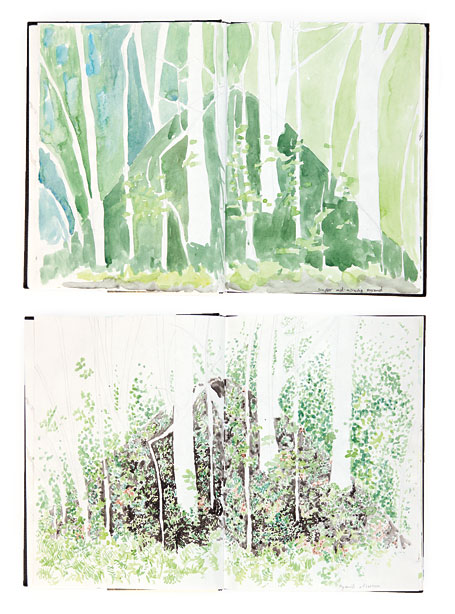 The images above are just two of many watercolour sketches Jade had recorded of the "Pyramid" in the forest in Vermont at different times during the day. In her corresponding series of mobiles, she has interpreted the scene under these different conditions. Three of the resulting mobiles are pictured below: Mid Morning, Almost Late Afternoon, Almost Evening. The colours, shapes, composition and sense of weight are subtly varied in response to the changing light.

To really appreciate Jade's mobiles, you need to see them in person! If you're in Sydney, this is one exhibition not to be missed. Australian Galleries, Glenmore Road will be filled with Jade's magical creations, ranging in size from very small (on their own plinths) to impressive works almost two metres in length suspended from the ceiling (and made up of seemingly hundreds of individual 'leaves'). To see her works installed together in a gallery space is really something. Not only do you walk among beautiful mobiles - you also experience the spectacular interplay of shadows from all the different works.
Up Lands opens tonight, December 1st from 6-8pm at Australian Galleries, Glenmore Rd, Paddington, Sydney, and contines until December 18th. Gallery opening hours are Monday to Saturday 10am - 6pm.
To view more of Jade's work, visit www.jadeoakley.com.au or read our previous indie art & design blog posts:
jade oakley: headland
studio visit: jade oakley
tipping point.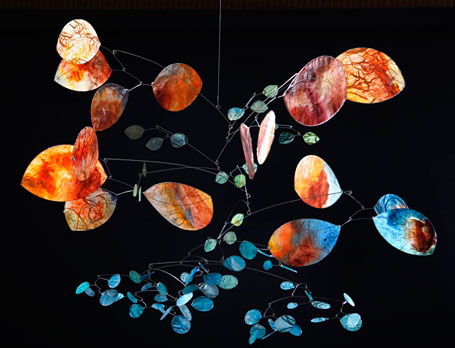 P.S. Jade has also recently completed a major public art commission for the Royal Childrens Hospital, Melbourne - her highest profile project to date - but the making of Sky Garden is a story for another time! Stay tuned...