indie art & design blog
jade oakley: headland
Thursday, May 13, 2010 | by Carolyn Price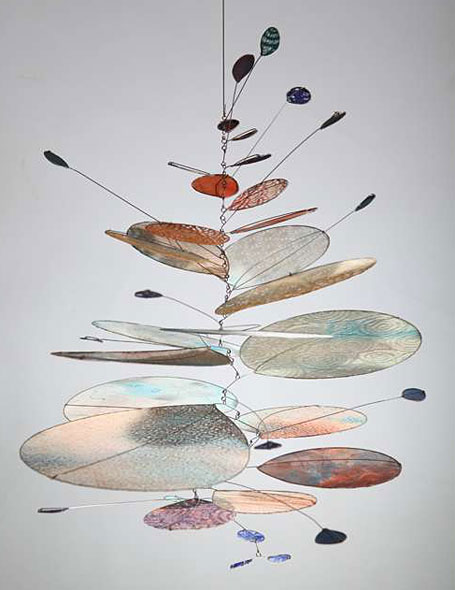 Opening tonight (Thursday 13th May) is Jade Oakley's latest exhibition of mobiles, Headland, at Australian Galleries, Smith Street in Collingwood, Melbourne.
We showcased Jade's work last year when we visited her studio as she worked on mobiles for the Estuary exhibition in June 2009 at Australian Galleries Glenmore Road in Paddington (Sydney).
This time, our Melbourne-based indies will have the opportunity to experience the wonderful play of balance and movement as the individual "leaves" of each mobile rotate effortlessly. The overall effect is an everchanging installation of delicate shapes and shadows.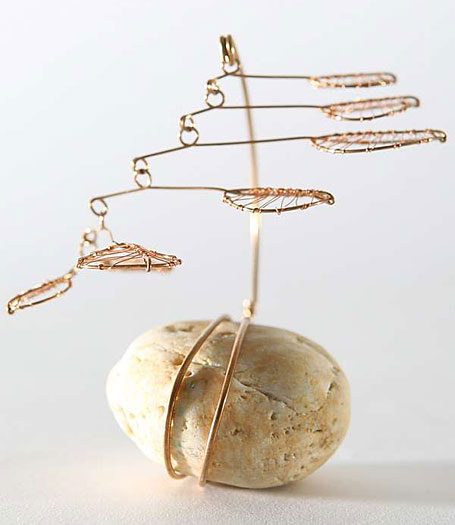 Headland is an exhibition of mobiles inspired the memory of a place. The works are meditations on the bush, the coastal heathland and waves breaking over rocks. The colour palette for the paper mobiles is drawn from the sea and the forest – flecks of cerulean and ultramarine amidst the ochres and umbers of the bush. The viewer becomes like a bower-bird, gathering the flecks of blue by glancing from one blue element to the next.
In addition to 32 stainless steel and paper mobiles, which are intended for interior spaces, Jade has introduced mobiles that are designed for the outdoors. The mobiles from the 'Shoreline' and 'Waterline' series are free-standing and robust, made from copper, stone steel and bronze. The mobile elements are filled with a delicate web of hand-woven copper wire.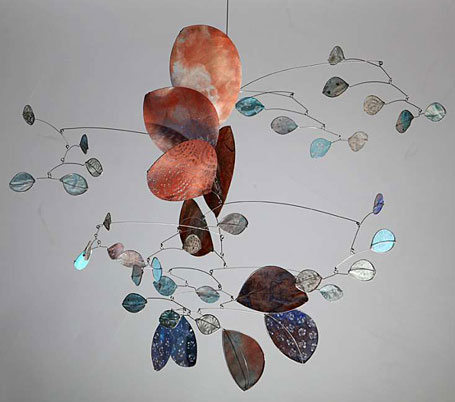 Jade describes the Headland exhibition as follows: "There is a place in my mind's eye where a house is perched on a cliff, as lightly as an insect. Where I have walked barefoot along a ridge top over sandstone and fallen banksia leaves, looking down through the angophora forest to see glimpses of the sea below. Through the forest and out into the heathland, thick with birds and bottle brush and whispering grasses tossed by the wind. Beyond that are the cliffs where waves break and pool over the rocks – and past that is the great sighing sea. This is my dream place – where I flee to in my mind to escape my noisy urban home – this is the Headland."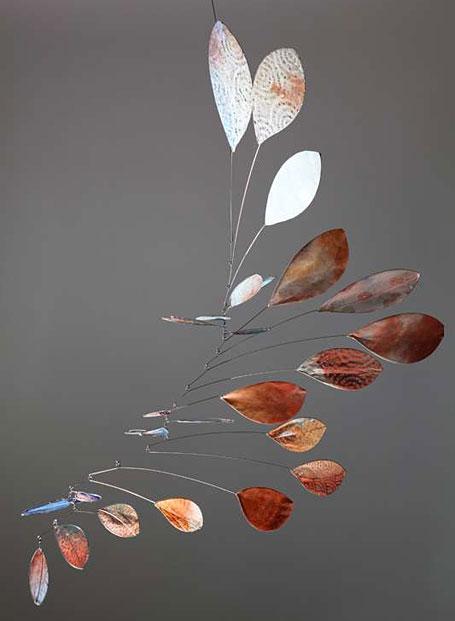 If you're in Melbourne, make sure you get along to Jade Oakley's Headland. Her mobiles are stunning individually, but it's really worth seeing them installed in a gallery setting - a gently moving skyscape of graduated colour! The exhibition opens tonight, Thursday, 13th May 2010, 6pm-9pm, and continues until Sunday 6th June at:
Australian Galleries
Smith Street
50 Smith Street, Collingwood, VIC, 3066.
Opening Hours:
10am - 6pm Monday to Saturday
12pm - 5pm Sunday
Phone: 03 9417 0800