indie art & design blog
akina's poems for piotr
Wednesday, October 07, 2009 | by Carolyn Price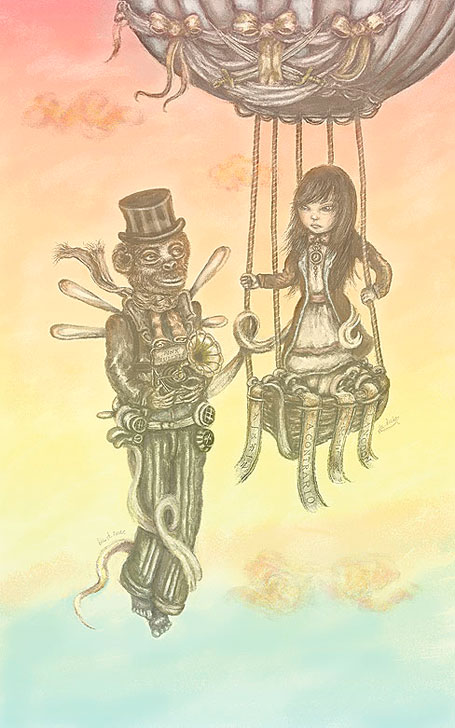 Devilishly talented Akina (Sydney-based artist Lang Leav) has just released an exquisite hand-crafted music picture book titled "Poems for Piotr". This is the fourth book in her series of sell out releases, and this time round, she has collaborated with music composer Cyrus Meurant. The book contains all new artwork by Lang Leav, and Cyrus Meurant's compositions feature the beautiful vocals of Angela Little (who was chosen by Baz Luhrmann to perform in "Australia"). Only 100 copies of Poems for Piotr are available, and you can order yours at www.akina.com.au (AUD $199.00 + P&H). You can also listen to music samples from the accompanying album.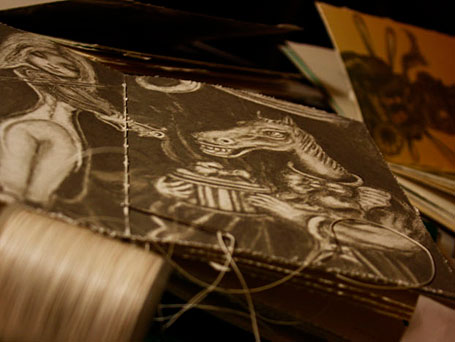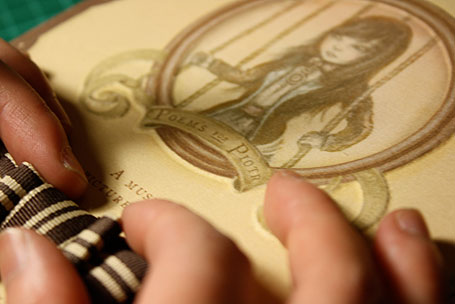 Drawn from her own experiences, Poems for Piotr reveals a stylistically written dialogue between two mismatched lovers – in a heartfelt exchange of poetry and prose. As the story unfolds, their disjointed conversation stretches further across a growing divide of time and distance.
Lang's stunning artworks, together with her innate ability to speak volumes in few words, evokes a quiet yearning throughout this bittersweet love story. Her characters inhabit a world of abject loneliness – one devoid of other humans, where only the company of strange creatures are kept. The atmospheric quality of Cyrus' music blends seamlessly into this desperately sad, yet beautiful world.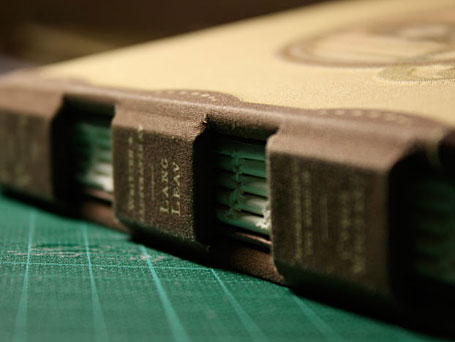 The finishing on Poems for Piotr is incredible. So much love has been stitched into each and every volume!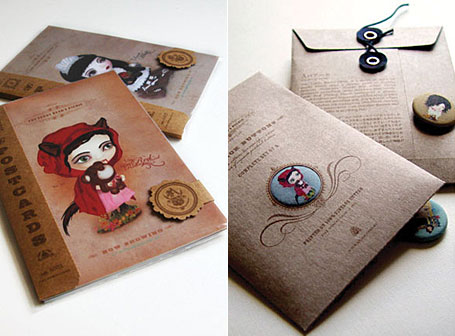 Lang Leav is well known for her dark depictions of fairytale characters. You can find Little Miss Hood and her friends & foes among the postcards & buttons available at www.akina.com.au. These are the perfect price for a birthday or Christmas present - that's if you can part with them!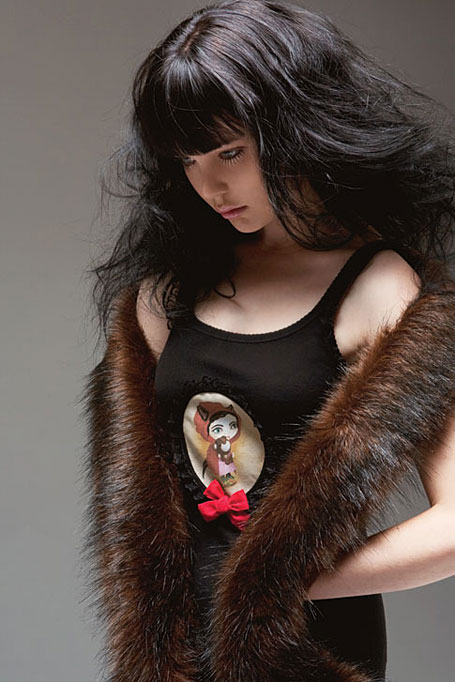 You'll also find a range of gorgeous fashion pieces at www.akina.com.au. The unique styles of Akina's tops and dresses match the mood of the artworks, which have been incorporated in cute lace frames. Garments include the versatile Little Miss Hood (above, AUD $78) and Snow White (AUD $78) camisoles, stylish Liliput Tuxedo Top (second image below, AUD $129), sweet Pandora Blouse (AUD $98) and the stunning dark red Goose Girl Gown (below, AUD $198).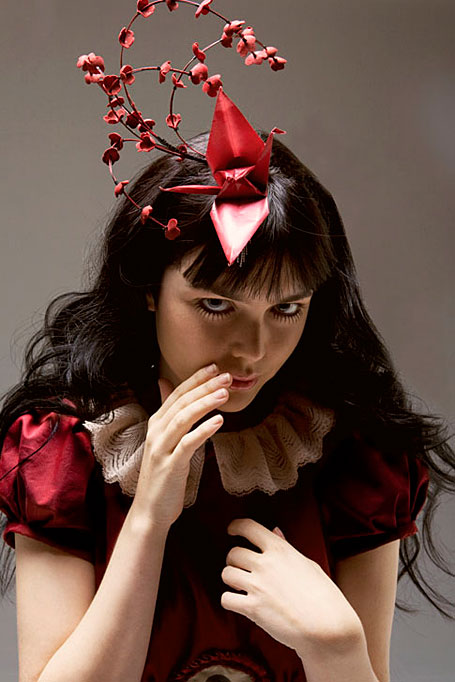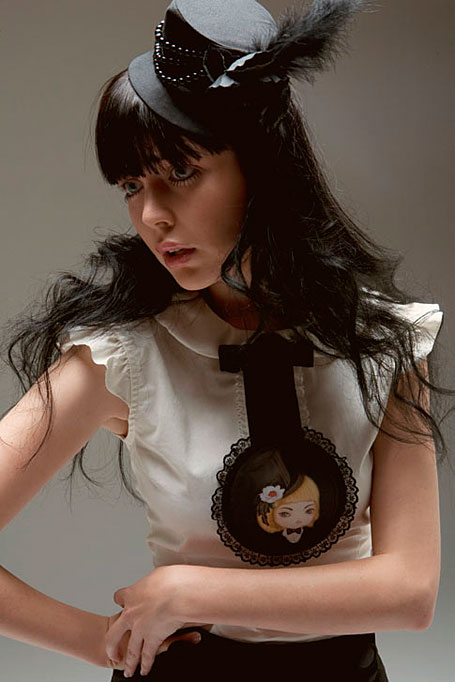 "Akina is a villain with a button fetish. She attacks teddy bears to steal their button eyes!"
Lang Leav has created her own fairytale world for Akina - encompassing a wide range of projects and disciplines - fashion, art, poetry, books... Her work alternates between the whimsical and melancholy, expressing an underlying complexity beneath its child-like facade.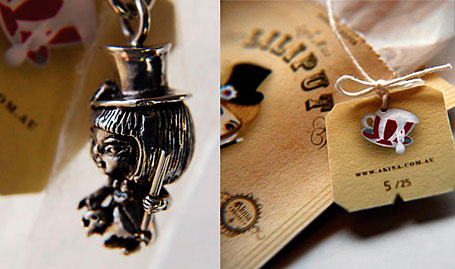 Lang has worked on projects both independently and through a number of collaborations with other artists. One previous joint project was AKINAxZM. Lang and Zoe Sernack brought their talents together to create miniature sterling silver works of art with movable heads, housed in limited edition handmade packaging, and worn close to the hearts of farytale villians far and wide.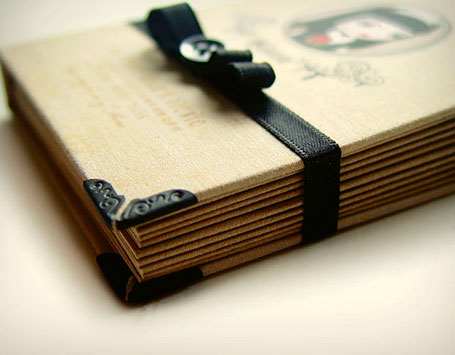 The following images show two of Lang Leav's previous book projects, "The Teddy Bear's Picnic" and "The Little Mermaid". Limited editions of both titles have sold out, but it's wonderful to admire the imagery and detailing - and see the body of work from which Lang's latest book, Poems for Piotr, has emerged.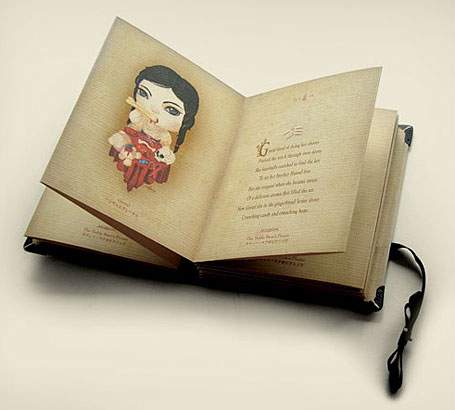 "The Teddy Bear's Picnic is a collection of stories with a sinister twist to your favourite fairytale characters. Within this world, Gretal discovers something more delicious than candy, Little Red Riding Hood undergoes a ghastly transformation and Repunzel uses her long, golden locks to commit atrocious acts. It is a world where button fetishes are contagious, childhood nursery rhymes are interwoven with macabre themes and happily ever after is anything but."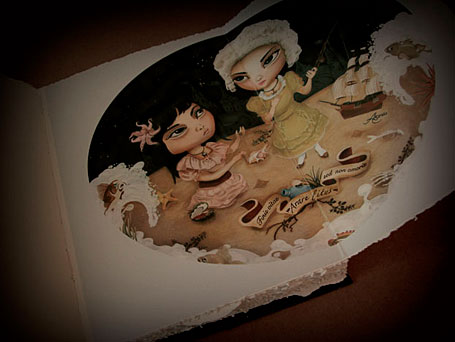 The Little Mermaid features original artworks and stories by Lang Leav, based on the haunting fairytale by Hans Christian Anderson.
The sea will sing
in stormy swells,
a song forewarning,
of a love to end
tomorrow's dawning.
As the castle bells
begin their chime,
across the land
tolls mournful curse-
when his ring will find
another hand
that isn't hers.
EPILOGUE
The Little Mermaid
I really love the final two images - scenes from the making of The Little Mermaid.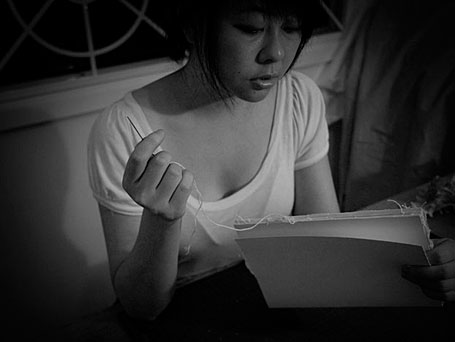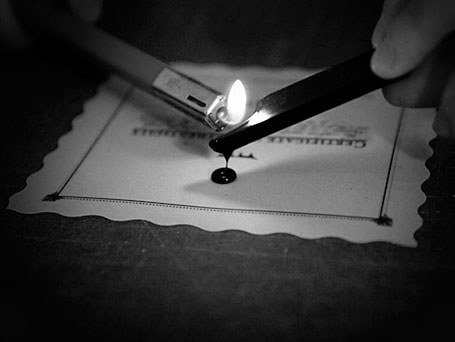 The End.