indie art & design blog
finders keepers heads north
Thursday, September 10, 2009 | by Carolyn Price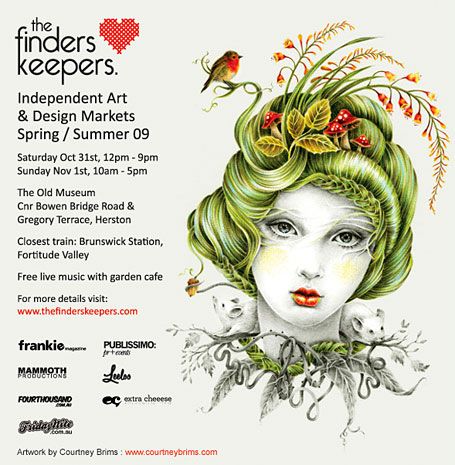 The Finders Keepers markets are heading north, with the first Brisbane markets planned for Saturday 31st October and Sunday 1st November.
The markets have been hugely successful in Sydney, and now independent Brisbane makers will have a chance to showcase their designs locally! Indies from interstate will also have the chance to expose their talents to an eager Brisbane audience.
Applications are about to close (Friday 11th Sept - that's tomorrow!), so if you're interested in a stall, get along to www.thefinderskeepers.com where it is easy to apply online.
The Finders Keepers are always looking for fresh, new talent to keep the markets interesting & diverse, and encourage applications from makers who produce creative, original work, have a commitment to developing their label, and have a professional approach and uniqueness in the marketplace.