indie art & design blog
abundant at object
Wednesday, March 25, 2009 | by Carolyn Price
Abundant is an exhibition of Australian architectural models shown at the 11th International Architecture Exhibition in Venice, Italy, 2008, which is currently on display at Object (in Surry Hills, Sydney).
100 models are showcased in a reinstallation of the original garden of architectural 'sculpture' that was organised by the Australian Institute of Architects and developed by a creative team including Neil Durback, Vince Frost, Wendy Lewin, Kerstin Thompson and Gary Warner.
The exhibition highlights the breadth and creativity of Australia's architectural practice. Architects were asked to create interpretive models based on the theme: 'Out there: architecture beyond building'. The small scale of the models gives us a completely different way of viewing architecture. We can see more of the structure & form from a single viewpoint, and the detail in each model looks incredible.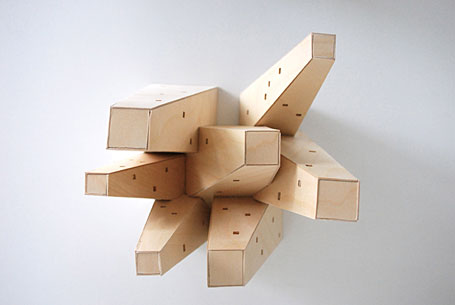 From these images, I'm particularly drawn to Cubby Conglomorate by Super Colossal - (above, those shapes demand attention!), and New Holland Folly by Studio505 - (below, I love the unusual shape and intricate detail).
Cubby Conglomorate is actually a plywood version of a cardboard cubbby house, "re-imagined as an apartment building" (Super Colossal). The original version was designed as a 'Sustainable Room' for the tradeshow 'Design and Decoration Sydney', then reused the following weekend for a family member's 3rd birthday - where it remained a play thing until heavy rain turned it back into pulp and it was recycled.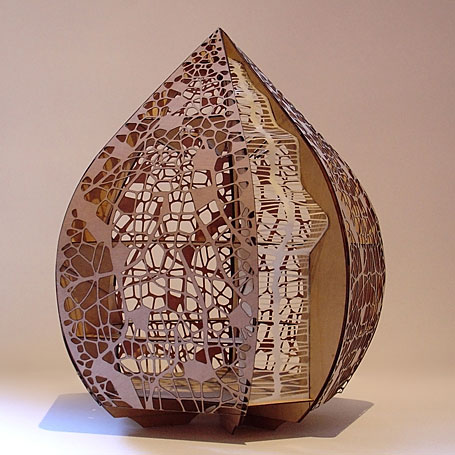 New Holland Folly is a present to the port city of Rotterdam from designers in Australia. It is actually a glasshouse containing Australian seedlings to be used in the development project to follow on the Heijploot site. "The folly draws upon the Port's past connection with the exploration of the new world and is the beginning of the future of the site. Its built language is inspired by Australian historical corrugated iron constructions, Victorian era cast iron lacework, and native Australian flora. These elements are then translated into contemporary ideas of form, material and process. It is a metaphorical seed, rich in the design DNA of our shared history, ready to catalyze the growth of the new world where it is planted." (Studio505)
I'm looking forward to visiting Object this weekend to see the exhibition in full and learn more about the designs pictured here...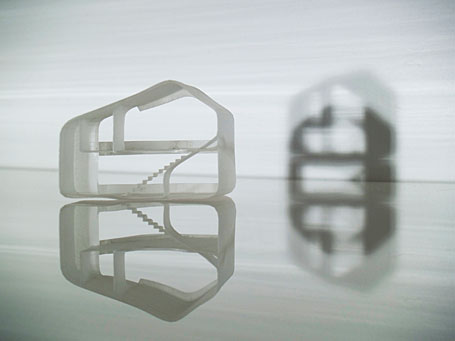 Abundant is showing at at Object until 5.4.2009. (St Margarets 417 Bourke Street, Surry Hills NSW 2010. T. 02 9361 4511)