indie art & design blog
finder keepers sydney applications
Monday, March 29, 2010 | by Carolyn Price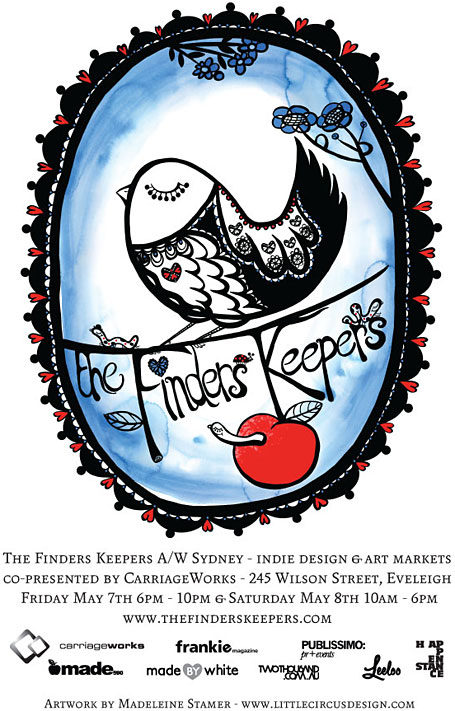 Have you submitted your application yet for the upcoming Autumn/Winter Finders Keepers Markets in Sydney? If not, you'll want to get a move on! Applications close this Friday (2nd April) and with thousands of design & art fans visiting, you don't want to miss out on the opportunity to showcase your own products!
There are 80 stall spaces available, and Finders Keepers directors Sarah & Brooke are always looking to introduce new designers and new products to keep the lineup fresh & exciting for customers & supporters. The application process is straightforward and you'll find links to online application forms at www.thefinderskeepers.com/apply.php.
The Sydney Autumn/Winter markets will be held on the 7th and 8th May 2010 at Sydney's best contemporary art centre CarriageWorks in Sydney's Inner West. First round designers announced include Dreamers & Believers (NSW), White Square (WA), Blinking Flights (NSW), Hideyo (TAS) and indie fave temono (VIC). We'll be bringing you more news about the stallholders closer to the date...
The gorgeous flyer artwork is by another indie fave, Madeleine Stamer of Little Circus Design - so pretty! We most recently featured Madeleine's work when we supported the Three of a Kind exhibition last year...
Applications have also just opened for the Brisbane Autumn/Winter markets (to be held on the 26th and 27th of June) but we'll remind you again before applications close!